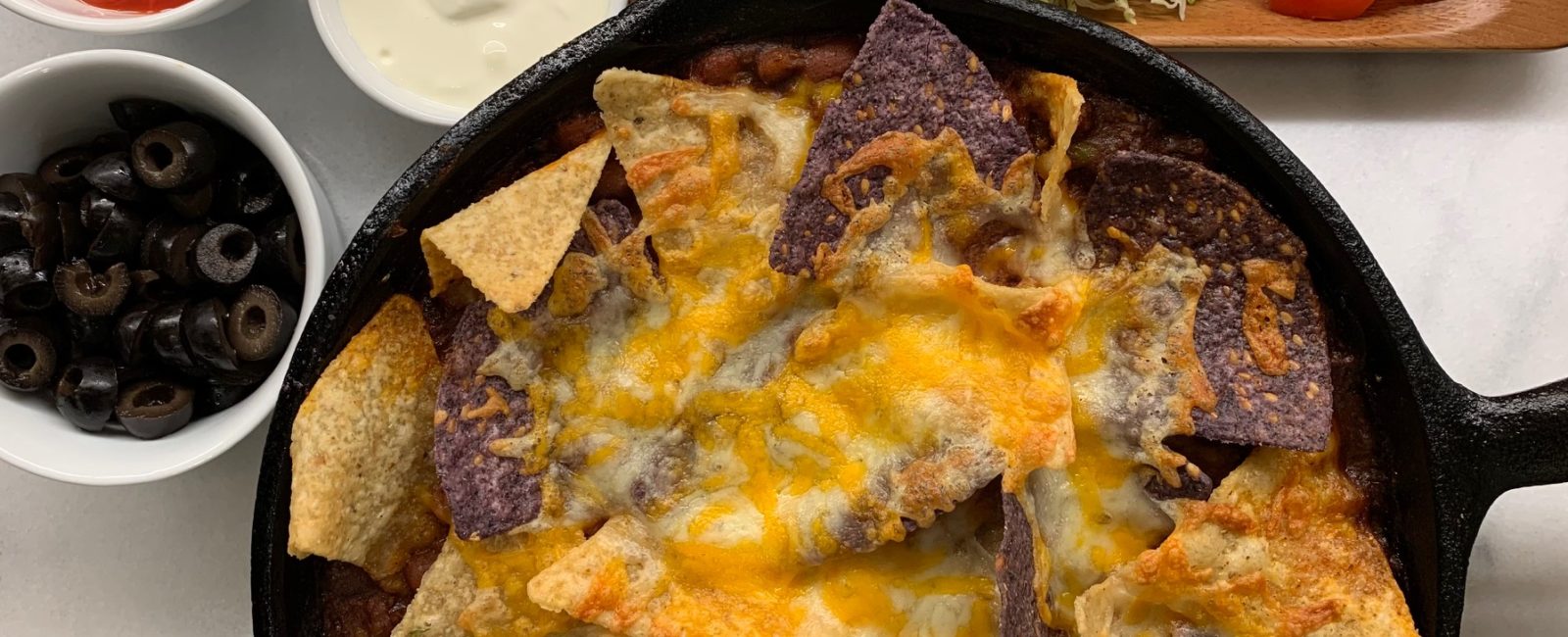 Grab a fork, it's taco night! Beefy, cheesy and delicious this Skillet Taco Casserole is all the fun of tacos in a one dish, easy cleanup casserole. Served with traditional taco toppings alongside, it has happy-crunchy-taco loaded into every bite. No messy fingers here, just everything you love about tacos. 
We are all craving the comfort of a good meal right now. When we gather around the table with something warm from the oven and the company of those we love, it really soothes the spirit. What we don't need is a dinner that requires a full orchestra of dishes and a symphony of spices. We need something good, and we need it fast.  
I frequently swap ground turkey for beef, but for this recipe I suggest using beef. You can drain your beef after cooking if you want to reduce the fat a bit. Add another can of beans to stretch the meat in this recipe, or use your favorite meatless crumbles or lentils in place of the beef to make it meatless. Get in the habit of seasoning things to suit your taste. Add spices conservatively, then taste and adjust. Want more spice? Try adding half a can of fire roasted jalapeños. Adjust the cheese to your liking. If 1 cup seems like enough, then just stop there. I do, however, recommend that you salt conservatively, just barely salting the beef and beans. The salt from the tortilla chips will add a lot of salt to this dish and you won't be aware of that until you're eating it. The beef and bean mixture can be made a day ahead and refrigerated. Add the tortilla chips and cheese just before baking. I used a mix of yellow and blue corn tortilla chips to add visual interest, but you can use any kind of tortilla chips that you like. 
Carry on, home cooks. I applaud your efforts to make mealtimes happy ones for your family.  
Skillet Taco Casserole 
1 pound ground beef

 

2 Tablespoons chili powder
1 teaspoon ground cumin
1/2 teaspoon dried oregano
2 teaspoons garlic powder
Kosher salt and freshly ground black pepper
3/4 cup diced onion
1 15-ounce can pinto beans, drained and rinsed
1 1/4 cups salsa, plus more for serving
1/2 cup water

 

yellow corn tortilla chips
1 1/2 cups shredded Mexican-Style Cheese

 
toppings:
sour cream
shredded iceberg lettuce
diced tomato
diced avocado
sliced ripe olives
Preheat oven to 375º F. Add ground beef to a large ovenproof skillet. Cook over medium high heat, breaking up meat with a wooden spoon as it cooks. Add chili powder, cumin, oregano, garlic powder, a generous pinch of salt and a few grinds of black pepper. Continue to cook until meat browns, then add onions and cook until soft, about 5 minutes more. Stir in beans, salsa and water. Bring to a simmer, then cook until sauce thickens, about 5 minutes. Stir in 1/3 cup of shredded cheese. 
Top beef and beans with tortilla chips. Sprinkle cheese over all. Bake uncovered for 20 minutes, or until cheese melts and casserole is hot. Serve with tortilla chips and toppings.