Shrimp Tacos and Chicken Tacos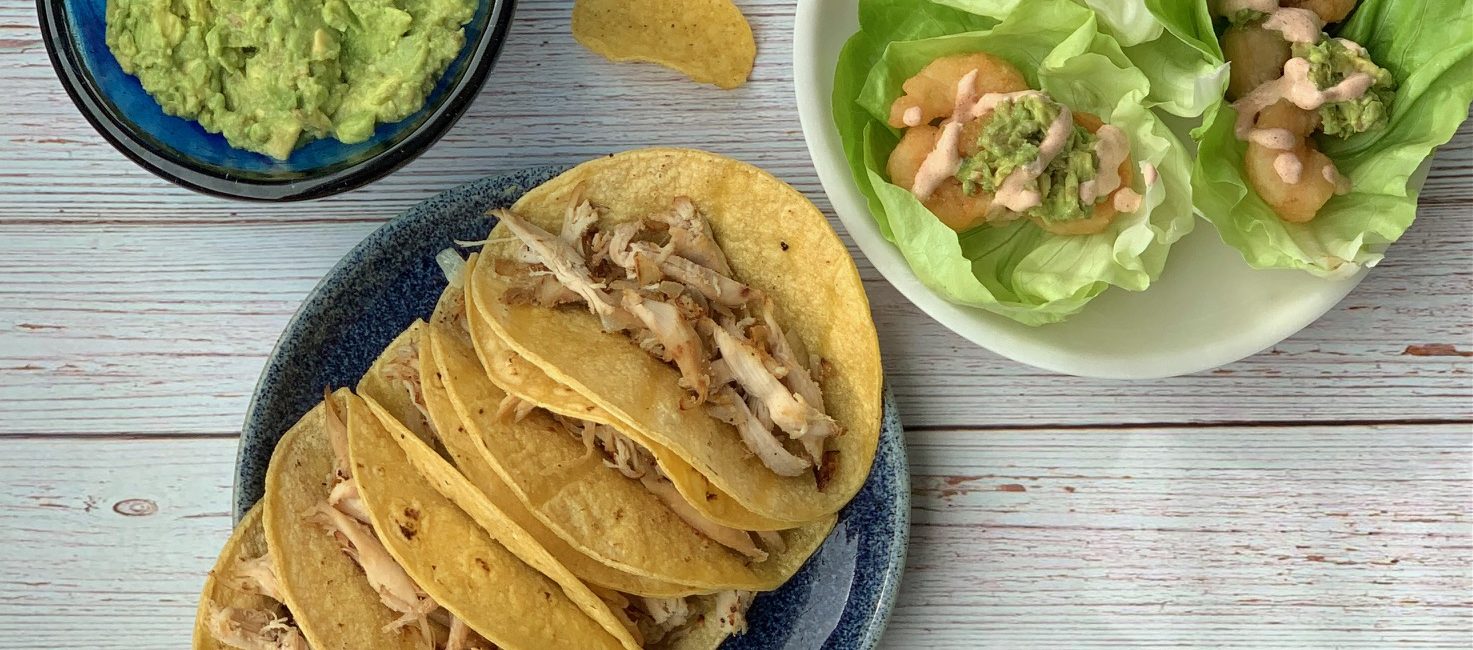 It's Cinco de Mayo and I'm thinking tacos. A restaurant we liked had the most amazing shrimp ones. Rather than the usual corn or flour tortillas, they were wrapped in butter lettuce, and instead of the shrimp being grilled, they were very lightly coated in something that was gluten-free (I'm guessing cornstarch or arrowroot). They would arrive piping hot, golden and crispy, nestled in the cool lettuce leaves and topped with chunky avocado and a creamy pink drizzle that was just a bit spicy. They were heaven! I tried calling the restaurant for their recipe, but was sad to discover they are now closed. 
Several months ago, Trader Joe's started selling bags of lightly breaded gluten-free shrimp that are frozen. I used them to see if I could make the shrimp tacos I loved so much and I think I have deciphered their recipe. You can use other frozen breaded shrimp, but try to find something that's lightly breaded, and be sure it has the tails removed. I like using the air fryer for the shrimp because it gives you the hot, crispy results that you want for this recipe. Follow the cooking directions on the bag you are using to make these on the stove or in the oven. 
If you can, enlist a helper to wash the lettuce leaves while you prep the avocado. They can get the sour cream and salsa together also, while you cook the shrimp. I use green or red salsa when I make these, but you could also use a hot sauce like Tabasco or Louisiana instead. Whatever you use, be careful not to make the sauce too runny. The consistency should be thick enough to drizzle but still hold its shape. This comes together very quickly, so be sure to have everything ready. You want to assemble the tacos right away while the shrimp is hot. 
Next up, Chicken Tacos, just like the ones my dad used to make. My dad loved to cook and he especially loved making Mexican food. It was always spicy, and often it was very, very spicy. He did however have a few recipes, like these chicken tacos, that were not spicy. He used a whole, cooked chicken when he made these, but you can use a rotisserie chicken to make things easier. He also cooked the corn tortillas in a pan, dipping them briefly in oil to coat and soften them. I mist them with oil and microwave, which is a lot less oil. If you don't have oil spray, you can brush your tortillas lightly with oil on both sides. It's amazing how delicious these are given that there are so few ingredients. 
Nothing brings the fun like a taco party, so grab your guacamole and fiesta!
Shrimp Tacos
1 head butter lettuce

 

3 ripe haas avocados
1 lime, juiced
1/2 – 1 teaspoon salt
2 Tablespoons sour cream
1 – 2 teaspoons salsa

 

1/4 – 1/2 teaspoon smoked paprika, optional
1 10-ounce package lightly breaded frozen shrimp
Line a sheet pan with a clean kitchen towel. Gently tear butter lettuce leaves from core one at a time, rinsing each leaf well; shake gently to remove excess water, then place on towel. Repeat with remaining leaves. Cover with another clean towel and transfer to refrigerator. 
Cut  avocados in half, remove pits and scoop flesh out of shells into a medium bowl. Add half of lime juice and 1/2 teaspoon salt. Using a sharp knife, slice through the avocados in the bowl until they are somewhat chopped. Use a spoon to mash lightly, keeping chunky consistency. Taste and adjust with more lime and salt, if needed. Set aside.
Preheat air fryer to 350° F. Combine sour cream, 1 teaspoon of salsa and smoked paprika if using, in a small bowl and stir together. Taste and adjust, adding more salsa or smoked paprika, being careful not to over thin. Set aside.
Add shrimp in a single layer to basket of air fryer, leaving space between shrimp so air can circulate. Cook for 6 minutes, turning shrimp over halfway through, until shrimp is opaque and reaches an internal temperature of 145º F. Remove from air fryer.
To make tacos: Using two lettuce leaves per taco, place three shrimp onto lettuce. Add a generous dollop of avocado, then drizzle with sour cream and salsa mixture. Serve immediately. 
Chicken Tacos
2 Tablespoons avocado or canola oil
1 medium onion, roughly chopped (about 1 cup)
3 cups pulled chicken
salt and pepper
garlic salt (optional, to taste)

 

1 10 ounce package yellow corn tortillas
avocado, canola or olive oil spray
for serving:
shredded lettuce
shredded cheese
salsa

 
Warm avocado or canola oil in a large skillet over medium high heat. Add onion and cook a few minutes, stirring occasionally. Stir in shredded chicken, season with salt and pepper, then allow to cook undisturbed for several minutes so that chicken browns. Continue to cook, stirring as needed, until onions are golden and chicken browns and becomes somewhat crispy, about 10 minutes more. Taste and adjust seasoning with garlic salt, if desired, and more salt and pepper, if needed. 
While chicken is cooking, prepare corn tortillas. Remove 6 tortillas from package and place between two paper towels. Working one tortilla at a time, lightly mist on both sides with avocado, canola, or olive oil spray. Microwave tortillas inside paper towels on high power until they are steamed hot and are pliable, about 1 minute or less. Spoon warm chicken filling into corn tortillas. Repeat with remaining tortillas and filling. Serve with shredded lettuce, shredded cheese, and salsa.