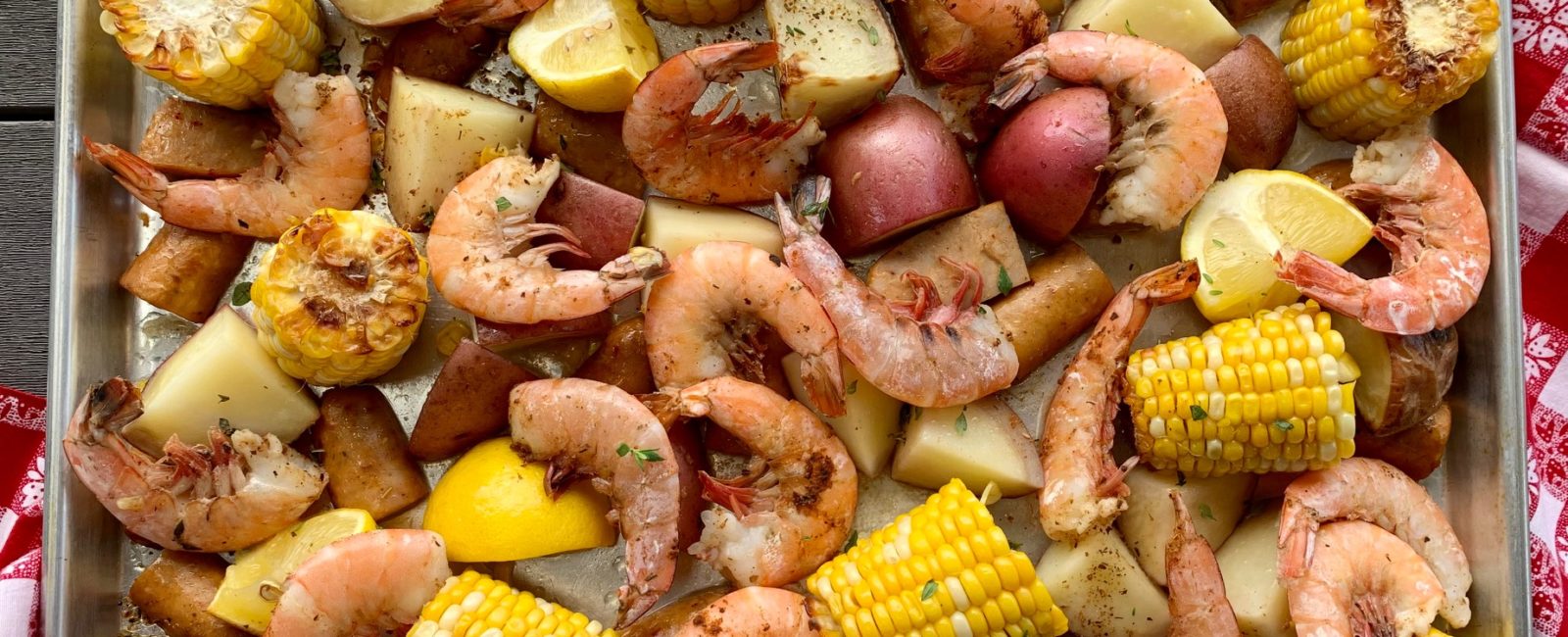 A Northwest summer would not be complete without seafood – clambakes, cedar planked salmon or a fish fry featuring something freshly caught. Make dad's day with a winner of a dinner that's just right for Father's Day. Recreate the fun of his favorite seafood spot with a quick, easy Sheet Pan Shrimp Boil you can pull off in your own kitchen. It's low mess, low stress so that you can enjoy Father's Day, too. 
Buy yourself a bag of big, beautiful shell-on shrimp – the jumbo or colossal size. You want them to look just like what you'd get when you order this out. You could add other seafood, too, like mussels or crab legs, just be mindful that they thoroughly cook. I used loose red potatoes when I made this because I couldn't find the ones that steam in the bag. They didn't soften as much as I would have liked, so next time, I'll give the steamable ones a try. To lighten this up a bit, I used chicken andouille sausage and used all of the 12-ounce package, deciding to make the portion in this more generous.
If you have kids, let them help with dad's special dinner. They can add the ingredients to the large bowl, pour the melted butter, and then gently toss everything together with clean hands. Let them help place the corn, potatoes and sausage on the sheet pan, too. 
The shrimp steams in a foil pouch set on top of the rest of the ingredients on the sheet pan. Pour the beer over the shrimp, seal the pouch, put the pan in the oven and set the timer. Enjoy the rest of the beer while you wait and have a very happy Father's Day.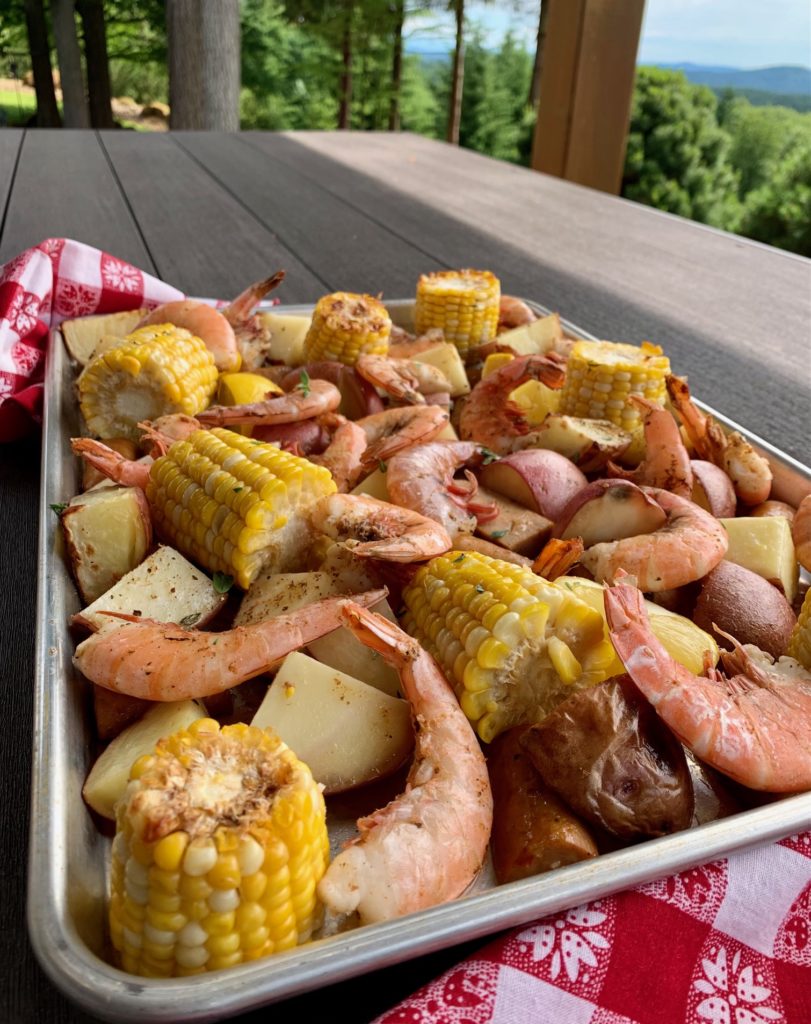 Sheet Pan Shrimp Boil
One 1 1/2-pound bag steamable red potatoes
2 ears corn, cut into thirds
1 lemon, cut into quarters
1/2 pounds andouille sausage, sliced in half lengthwise, then cut into three 1 1/2-inch sections
4 Tablespoons salted butter, melted
6 to 8 sprigs fresh thyme, finely chopped
2 pounds jumbo or colossal deveined shrimp (20 to 30 total)
2 heaping Tablespoons seafood seasoning
8 ounces pilsner beer
Preheat oven to 400º F. Microwave bag of potatoes for 6 minutes then cut potatoes in half or quarters, depending on their size. Transfer potatoes to a large bowl then add corn, lemon, sausage, butter and thyme. Toss gently then place everything on a sheet pan, adjusting so that the corn is standing on end and the sausage pieces are sliced-side down.
Make a pouch using two large sheets of heavy duty aluminum foil, one placed about halfway over the other to make the pouch wider. Place another sheet over the seam to form a solid bottom. Add shrimp to pouch then sprinkle with seafood seasoning. Place pouch on sheet pan, add beer then close pouch, sealing well. Transfer sheet pan to oven and roast until potatoes soften and sausage is sizzling, about 35 to 45 minutes. Remove from oven and carefully open pouch. Pour contents of pouch over sheet pan and serve. 
– recipe by Sunny Anderson, foodnetwork.com