Sheet Pan Cider-Ricotta Pancakes with Pear Compote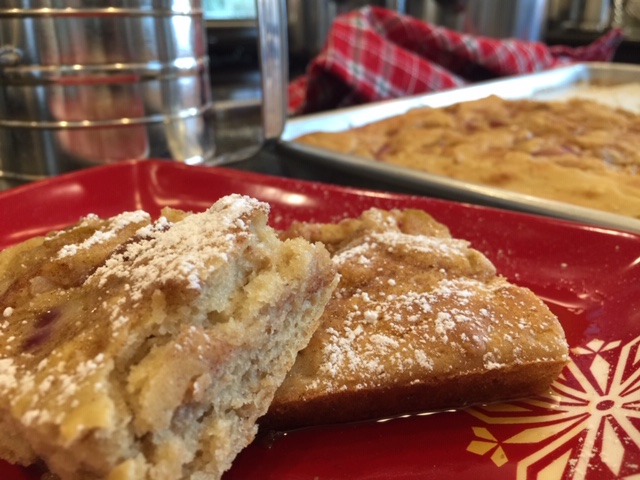 While you've got that sheet pan out, use it to make a big batch of crowd-sized pancakes for your family.  We are just 10 days away from Christmas and there is still plenty left to do.  You've got gifts to take, cookies to bake, and a whole lot of merry to make before Santa hits your chimney.  Make this giant pancake now and you'll get a breakfast, or two, right this minute, and have some for Christmas brunch neatly tucked in your freezer.
Don't be intimidated by the longer ingredient list.  The compote comes together quickly and can simmer away on the stove while you combine the ingredients for the pancakes.  The original recipe instructed to mash the pears while they cooked, but I skipped over this and just cooked the pears, leaving them somewhat chunky.  If you are so inclined, you can make the compote up to 5 days ahead and store it in a covered container in your refrigerator.
These protein-rich pancakes reheat well.  You can reheat the slices in your toaster oven until warmed through, about 8 minutes, or a bit longer, if frozen.  Or, wrap in a damp paper towel and microwave for 30 seconds (60 seconds if frozen).  If you are planning to freeze some, transfer slices to a parchment lined baking sheet and freeze.  Once frozen, you can remove from tray and store slices in a zip-top bag until ready to reheat and serve.
Warm some maple syrup with a few cinnamon sticks on your stove to serve alongside your pancakes.  Pour a mug of cocoa or coffee and enjoy all the sights, sounds and delicious smells of this wonderful season.
Sheet-Pan Cider-Ricotta Pancakes with Pear Compote
for the compote:
4 Bartlett pears (about 2 1/2 lb.), coarsely chopped
1/4 cup unsweetened apple cider
3 Tablespoons fresh lemon juice
3 Tablespoons honey
3/4 teaspoon ground cinnamon
1/4 teaspoon kosher salt
for the pancakes:
butter or nonstick vegetable oil spray (for pan)
1 cup old-fashioned oats
1 1/2 cups unsweetened apple cider
2 1/2 cups all-purpose flour
3 teaspoons baking powder
1 teaspoon baking soda
1 teaspoon kosher salt
4 large eggs
2 1/2 cups whole-milk ricotta
1/4 cup honey
1 Tablespoon finely grated lemon zest
powdered sugar (optional, for serving)
Compote:
Combine all ingredients for compote in a medium saucepan.  Cover and heat over medium-high.   When mixture boils, stir and reduce heat to medium-low.  Cover, and simmer, stirring occasionally, until pears are softened, about 15 minutes.  Uncover and continue to cook and occasionally stir until compote is the consistency of chunky applesauce, about 25-30 minutes.  Remove from heat and let cool.
Pancakes:
Preheat oven to 350º F.  Butter an 18×13" rimmed sheet pan.  Line with parchment then butter parchment.
Mix oats and cider in a medium bowl.
In another medium bowl, whisk flour, baking powder, baking soda, and salt to combine.
In a large bowl, whisk eggs, ricotta, honey, and lemon zest until combined, making sure eggs are fully incorporated.  Add one-third of dry ingredients to egg mixture and whisk to combine.  Add half of cider mixture to egg mixture and whisk again.  Add half of remaining dry ingredients, whisk, then add remaining cider mixture and whisk to combine again.  Using a rubber scraper, fold remaining dry ingredients into batter until just combined.
Pour batter into prepared pan, spreading evenly into corners with a spatula.  Dollop tablespoonfuls of pear compote across top of batter.  Use a butter knife to drag compote into batter, swirling in a figure eight pattern.
Bake pancake until top is golden brown and center springs back when pressed with a finger, about 35-40 minutes.  Let cool at least 10 minutes.  Dust with powdered sugar, if using.
– recipe by Joe Sevier, as seen on Epicurious, November 2018