Sausage French Toast Roll-Ups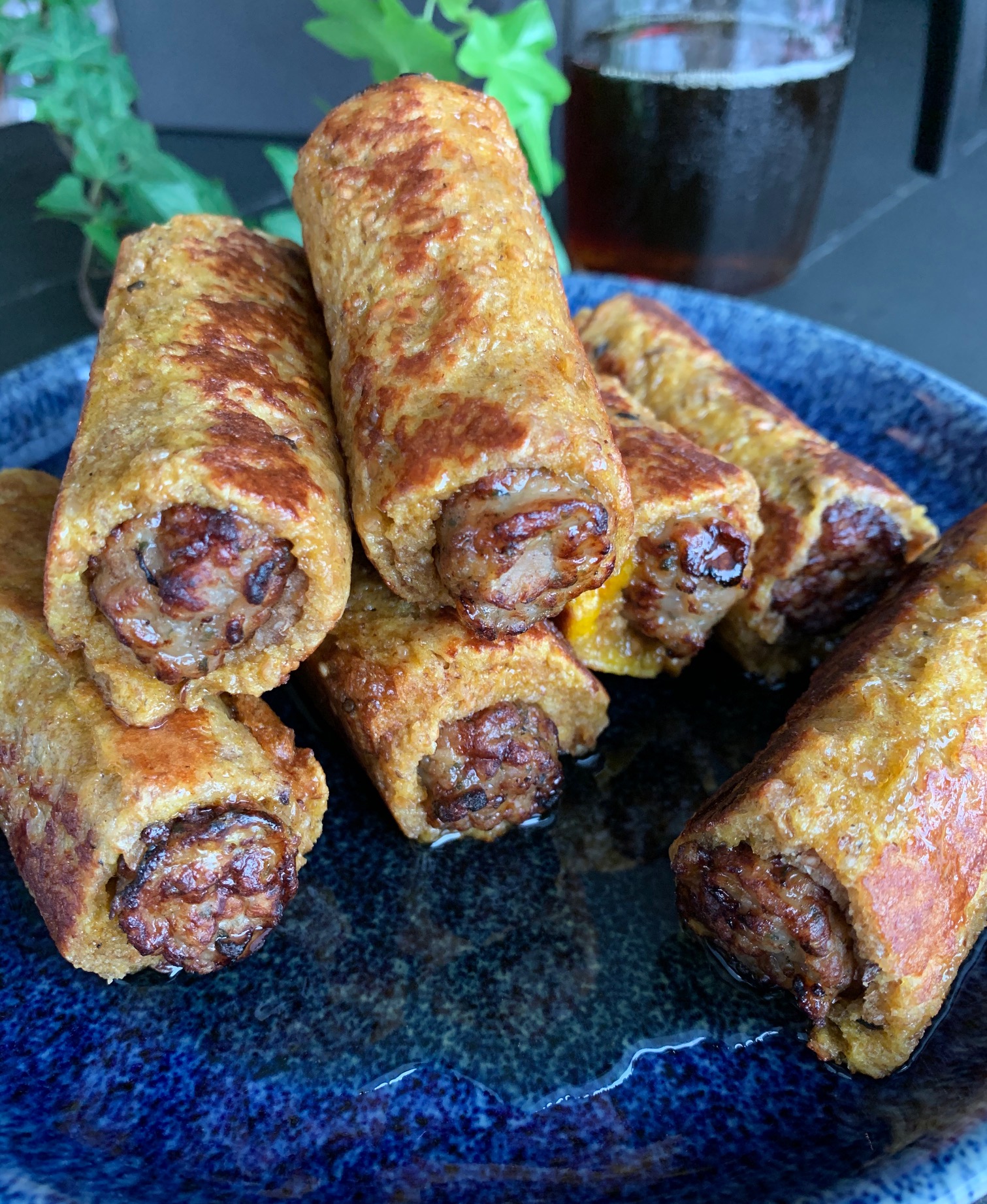 Back to school may be different, but what hasn't changed is your desire to help your kids get off to a good start and your commitment to feeding them a nutritious breakfast. Take advantage of the new routine momentum and resolve to involve. Let your kids help with the meal prep. Let them help with the planning. And of course, let them help with the clean up. Get your kids more involved in the kitchen. No matter what you are making, there are steps in every recipe that kids of all ages can handle. While you're home schooling, use cooking as a fun way to apply math, science, and chemistry skills. Fractions are much more fun when they're being used to make cupcakes and before you know it, all those small steps will pay off in a kid who's able to manage the family's dinner. 
Here is a perfect recipe to kick off the brand new school year. These Sausage and French Toast Roll-ups are so easy to make that you might only need to supervise. Try them as below, with sausage, or you can also fill them with other things. I made some with a spoonful of cottage cheese and a bit of lemon zest. Served warm with some home made blueberry jam, they were deliciously reminiscent of a crepe or blintz, but much easier to make. Try strawberries and cream cheese, or peanut butter and banana for some other possibilities.
I used Dave's Killer Bread which flattened large enough to cut in half and make 2 roll-ups per slice, which may be the case with the bread you use, too. Because the crusts flattened so well, I only ended up having to trim one side. Use any kind of breakfast sausage that your family likes, just microwave to warm first if you use the frozen, fully cooked variety. 
Kids will like dunking these in maple syrup and the fact that they can be eaten on the go, even if the only place they're going is the family room. Extras can be stashed in the fridge for reheats or the staggered eating times we still seem to have in the morning. Have fun cooking with your kids and enjoy the new school year. 
Sausage French Toast Roll-Ups
3 eggs
1 Tablespoon milk
1/2 teaspoon ground cinnamon
1/2 teaspoon vanilla extract

 

10 slices sandwich bread

 

10 sausage links, cooked
butter
maple syrup, for serving

 
Add eggs, milk, cinnamon and vanilla to a flat bottomed bowl or pie plate and whisk to combine. Roll and flatten each slice of bread using a rolling pin. Trim crusts if needed. Place 1 piece of sausage at end of bread and roll up. Dip each roll-up in egg mixture, turning to coat all sides. Melt enough butter to lightly coat the bottom of a medium sized frying pan. Add roll-ups and pan fry over medium heat, gently turning so that all sides are golden brown. Serve with warmed maple or fruit syrup. 
– recipe by Hannah Williams, tasty.com