Roasted Squash Rings with Pear, Dried Cherries and Feta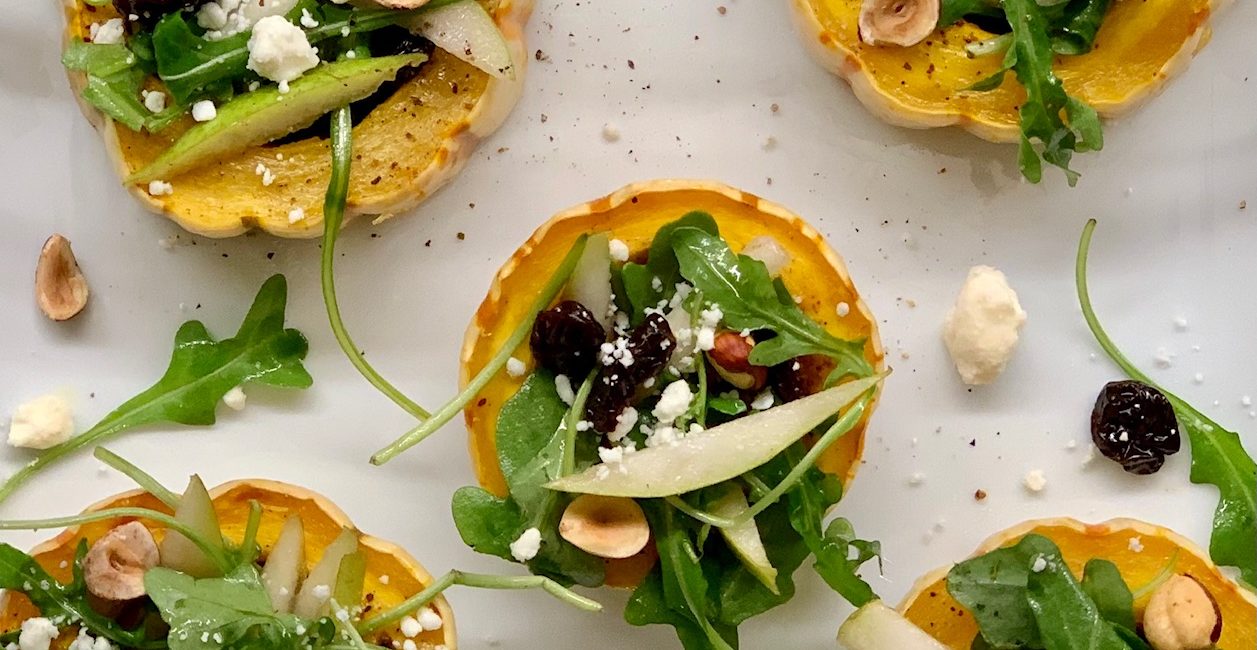 Every Thanksgiving, I think of my grandmothers, both of them gone now, but still in my heart nonetheless. They lived in opposite directions from our house, but somehow synchronized, they would arrive at exactly the same time, both of them dressed in their best for the holiday and bustling through the door carrying heavy plates of food. My dad's mom brought home made rolls, a big sheet full of them bundled under a protective dish towel. She lived 20 minutes from our house, but those rolls were always warm when she would arrive, their buttery baked aroma filling the room ahead of her. My mom's mom was the sweet potato specialist. She made the same huge casserole topped with gooey melted pillows of marshmallows every year, and every year it disappeared. She was also in charge of the gravy. After the turkey was plated, she would carefully don an apron and proceed to work magic with flour, standing in position by the stove burner until she had turned drippings into beautiful, rich brown gravy. After the meal, she would rely on me to bring a dessert plate her way. "A little of each," she would whisper, not wanting to miss any of it.  
Here's a recipe to enjoy for your holiday or after. These Roasted Squash Rings with Pear, Dried Cherries and Feta are an easy to pull off, simply delicious way to add something different to your table. With their softer, edible skin, delicata squash are much less challenging to cut than other winter varieties. Cut into rings, they make fun individual serving bowls you can eat. Be creative and use what you have – apples, dried cranberries, shaved Parmesan or blue cheese crumbles, and any toasted nut or seed, will do. Save those seeds! Rinse well, then lightly mist with olive oil and sprinkle with sea salt. Roast in your air fryer set at 350º F for 10 minutes or longer, shaking basket if needed, until toasted to your liking. Top your soups, salads or just snack on them. They are healthy and delicious!
Roasted Squash Rings with Pear, Dried Cherries and Feta
1 delicata squash (about 1 1/2 pounds)
olive oil
salt and freshly ground black pepper
fresh nutmeg (for grating)

 

1 Tablespoon finely diced shallot
2 Tablespoons seasoned rice wine vinegar
2 firm, ripe pears
1 handful baby arugula
1/4 cup dried cherries
1/3 cup crumbled feta
1/4 cup toasted hazelnuts
Preheat oven to 400º F. Line a sheet pan with parchment paper and set aside. Cut squash crosswise into rings, about 1 1/2-inch thick, then remove seeds from each ring with a spoon. Place rings on sheet pan. Drizzle with olive oil, then season with salt, pepper and fresh grated nutmeg. Roast in oven 25 minutes. Remove from oven and let stand to cool. 
While squash roasts, combine shallot and rice wine vinegar in a small bowl and let sit for 10 to 15 minutes; whisk in 2 tablespoons olive oil. Slice pears into matchsticks.
In a medium bowl, combine arugula, pears and cherries. Add dressing and lightly toss to combine. 
Arrange squash rings on a platter, then divide pear salad between all of the rings. Top with crumbled feta and toasted hazelnuts, then grate fresh nutmeg over all. 
– adapted from recipe by Erin French  
Now, for those leftovers. This Turkey Pot Pie Soup is a quick, easy way to turn them into a post-Thanksgiving meal. Served with warm bread, it's a relaxed dinner to enjoy this weekend.
If you like to make stock from your turkey carcass, you can use it in this recipe. You can also use turkey broth or Better Than Bouillon concentrated base, or swap in chicken or vegetable broth if you like. Use 3 tablespoons of cornstarch or gluten-free flour to make this gluten-free, but add it after the stock, mixed with enough water to make a slurry. This will also work if you don't have leftover gravy. 
I hope your heart is as full as your plate this holiday. Have a little of each. Make memories and have a wonderful Thanksgiving.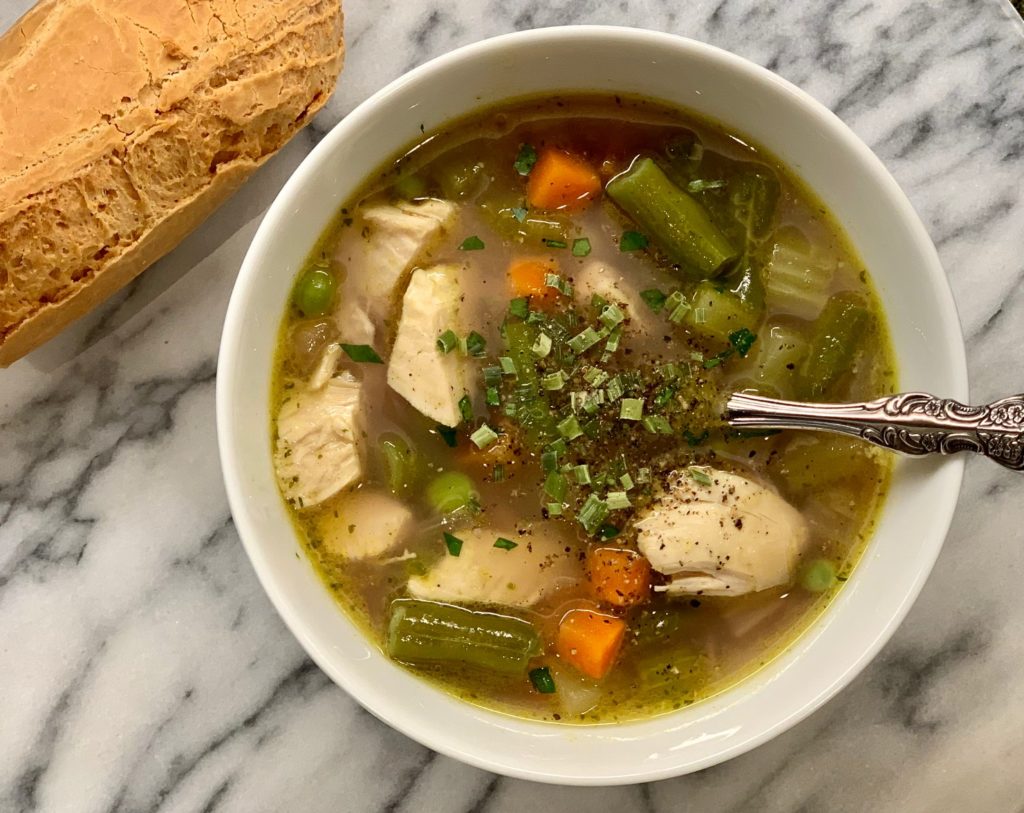 Turkey Pot Pie Soup
1 Tablespoon vegetable oil

 

1 small onion, finely chopped
2 ribs celery, diced
1 teaspoon poultry seasoning

 

4 cups turkey stock, or chicken stock

 

2 Yukon gold potatoes, diced (optional)
1/2 teaspoon garlic powder
3 cups cooked turkey meat, cut into cubes
mixed vegetables
gravy
salt and freshly ground black pepper

 

chopped fresh parsley (optional, for garnish)
Warm oil in a large stockpot set over medium heat. Add onion and celery; cook, stirring occasionally, about 3-4 minutes or until tender. Stir in poultry seasoning and cook until fragrant, about 1 minute. Add stock, potatoes, garlic powder, turkey, and vegetables. Bring to a light boil, then reduce heat and let simmer until potatoes pierce easily with a fork. Whisk in cold gravy, a few tablespoons at a time, until desired thickness is reached. Simmer 10 minutes. Ladle into bowls and garnish with fresh parsley.