Retro Roka Blue Appetizers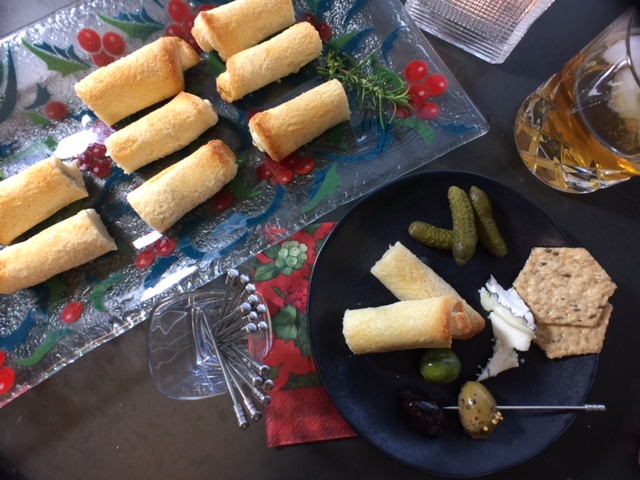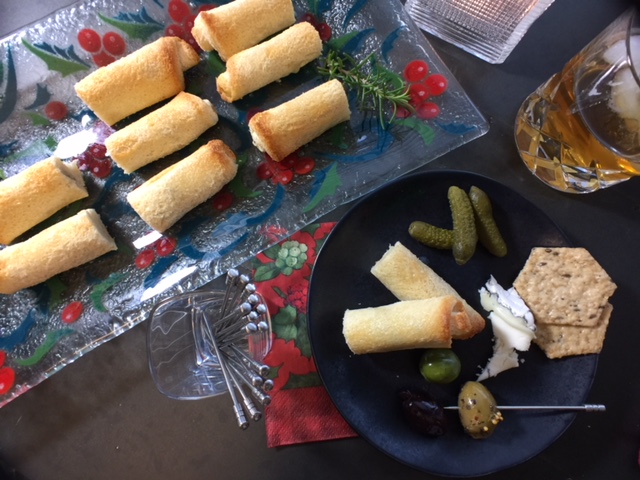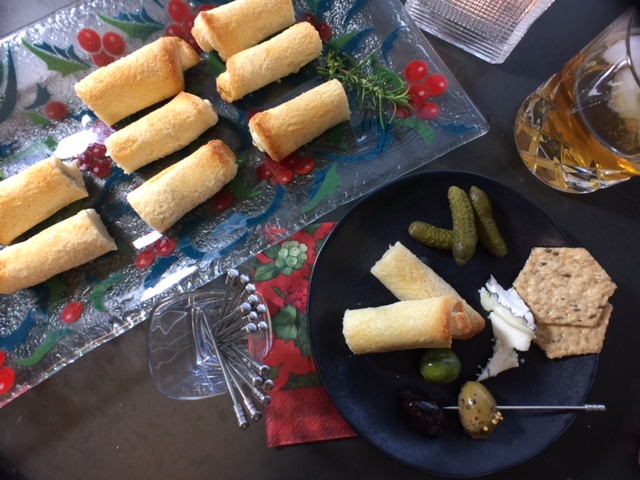 Every December, the chatter turns to cocktail parties, what to serve, and before long I am saying, "There was this recipe my mom used to make…"  Of all the holiday party recipes, this one is legendary because it contains a mythical ingredient:  Kraft Roka Blue Cheese Spread.  Discontinued for many years,  I was more than a little surprised to see that they were making it once again, and that they had it for sale at WinCo.
I tried to remember the last time I made this recipe and I am pretty sure it was for a Christmas party we had 30 years ago.  My husband was in school and I was working.  We had an odd mix of school plus work people, including the two guys from the office across the hall.  I vividly recall that they ate every single one of the meatballs I made and were also huge fans of the hot appetizers getting passed around on a tray.  This is that appetizer.
As appetizers go, it hits the mark all around.  It's bite sized.  It won't goof your hands up.  It doesn't leak anything that will stain your outfit or require any dipping.  You can balance your drink and pop one of these in your mouth at the same time.  It's hot, which is key during these very cold months.  You pass it on a tray, waaaay fancy.  And, no one will ever guess what they heck they are, which makes for very good party banter.  It's a retro recipe from the 1960s – Mad Men era, when they had the greatest cocktail parties of all time.  I know this because I was there, even if it was only to get a peek at what the adults were doing before I was sent off to bed.
This is not a healthy recipe, but this is December, and be honest, you've been drinking eggnog lattes with wild abandon and taking good advantage of every cookie that comes your way.  The holidays are all about cheese, butter, and toasty baked things and this recipe embraces it.   One thing to note:  the new Roka Blue does not have the same bold, blue cheese flavor as it did in the past.   Still gleeful at finding this product, I worked around this by adding some blue cheese crumbles.  Taste it and decide for yourself if it needs more blue cheese and if you think so, too, add the crumbles.   Also, I used a larger loaf of sliced bread and it made longer rolls, which I cut into 2 halves.  If your bread is smallish, you may not have to do this.
Hold your drink in one hand, and hold one of these in the other.  They are fabulous, fun, and festive and just what you need for Christmas or New Year's.  Practice saying, "Have an hors d'oeuvre."  And keep a tray unbaked.  Label it  "375º – 13 mins." and tuck into the freezer, ready and waiting for what lies ahead.
Enjoy your family and friends and enjoy your holiday.  It really is the most wonderful time of the year – make sure to take time to enjoy it.   And while you have your family nearby, make sure to press your relatives for those recipes.  That sweet potato casserole or eggnog bundt cake that your aunt makes every year will cease to be if someone doesn't ask her for the recipe and write it down somewhere.
So, quick!  Run to WinCo.  Pick up a jar or two of Roka Blue.  While you're feeling wistful and retro you can make a cheese ball, too.  Wishing you a safe and happy holiday.
Retro Roka Blue Appetizers
4 tablespoons butter, melted
13 slices white sliced bread, crusts trimmed
1 – 5 ounce jar Kraft Roka Blue Cheese Spread
1/3 – 1/2 cup finely crumbled blue cheese (optional)
Preheat oven to 375º F.  Line a baking sheet with parchment paper and brush lightly with butter.  Flatten bread slices using a rolling-pin, both horizontally and vertically, pressing well until very thin.  Return flattened slices to bag to keep from drying out.  Working 2 slices at a time, spread Roka Blue in a thin layer over entire surface of bread taking care to spread cheese to all the edges.  Sprinkle cheese lightly with blue cheese crumbles if using.  Roll tightly lengthwise, cigar style, pressing and pinching while rolling to form a neat, tight roll.  Place seam side down on prepared baking sheet.  Repeat with other slices of bread, working two slices at a time, using rolling-pin to re-flatten any slices, if needed.  Brush rolls with melted butter.  Bake for 13 minutes, or until lightly toasted and golden brown.  Cut each roll into two halves.  Serve warm.