Quick – Slow Cooked Chicken Enchilada Casserole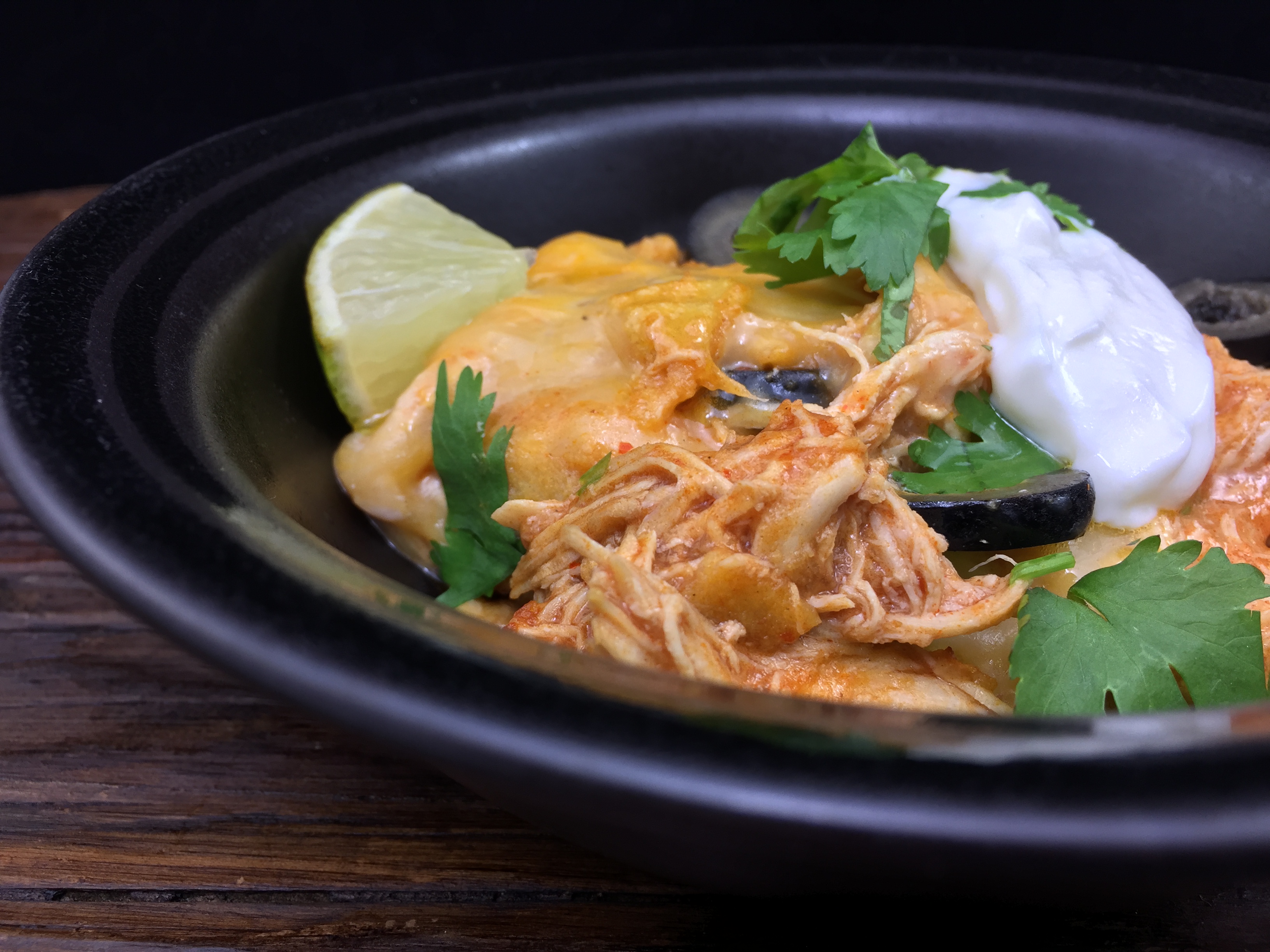 The countdown to Cinco de Mayo has begun.  While you are busy stockpiling cerveza and lime, pick up a can of enchilada sauce and make that dinner happen in a hurry with this super speedy crock pot enchilada casserole.  This recipe, from The Magical Slow Cooker, looked so simple and quick, I couldn't wait to try it myself.  There is literally no prep work, and the finished product is truly impressive.  Ready to make dinner faster than you can say Olé?
Here's how it works.  Toss raw chicken into the crock pot and smother it with enchilada sauce.  Turn your crock pot to low and go do something else for the next 4 hours.  (I happened to be in Seattle, so I went to the Pike Market, admired the flowers, and watched them toss fish while this was happening.)  Next, shred your cooked chicken right in the crock pot. Stir in the tortilla wedges, cheese and olives, top with more cheese and olives and let cook another 25 minutes.  Dinner!
Your chicken may be cooked before 4 hours, so it's okay to check it and shred it earlier if it's done.  It's also okay to let it continue to cook longer, as may be the case if you are starting it before you leave for work.  Someone asked about using frozen chicken in the comments, and this would probably be a good way to do just that.  The recipe recommends using a 6 quart slow cooker, and setting on high for 8 hours, but I made this three times, using two different crock pots and each time the chicken was fully cooked after 4 hours on low.  I used 3 large breasts (not frozen) and have no idea how much the chicken weighed, but it worked just fine.  You can add more or less than the 3 cups of cheese, and I used the lite shredded blend I get from Trader Joe's.  And a little note about the enchilada sauce…  I used a different brand every time I made this, all with good results, but the original recipe uses El Pato brand, which it says you can buy at the dollar store.  Finally, why not add some garnishes?  I put some suggestions at the end, which are by no means necessary, but will definitely up the fun factor because it lets everyone add what they want to their bowl.
Quick – Slow Cooked Chicken Enchilada Casserole
1.5 pounds boneless, skinless raw chicken breasts
1 – 28 ounce can red enchilada sauce
1 bag of corn tortillas (8 or 10, depending on bag size) 
3 cups grated cheddar cheese, divided
1 – 3.8 once can sliced black olives, divided
optional garnishes
Put chicken in slow cooker and pour enchilada sauce over.  Cover and cook for 4 hours on low.  Uncover and shred chicken inside slow cooker with 2 forks.  Stack 2 tortillas and then cut into 8 triangle/wedges, repeating with all tortillas.  Add to slow cooker, along with 1 cup of the shredded cheese and half of the olives.  Stir to combine.  Top with additional cheese and olives.  Cover slow cooker and cook on low another 25 minutes, until cheese melts.  Serve and top with optional garnishes.
optional garnishes:
sour cream
cilantro
lime wedges
sliced green onion
pickled jalapeńo
hot sauce
tortilla chips
adapted from "Slow Cooker Chicken Enchilada Casserole" – The Magical Slow Cooker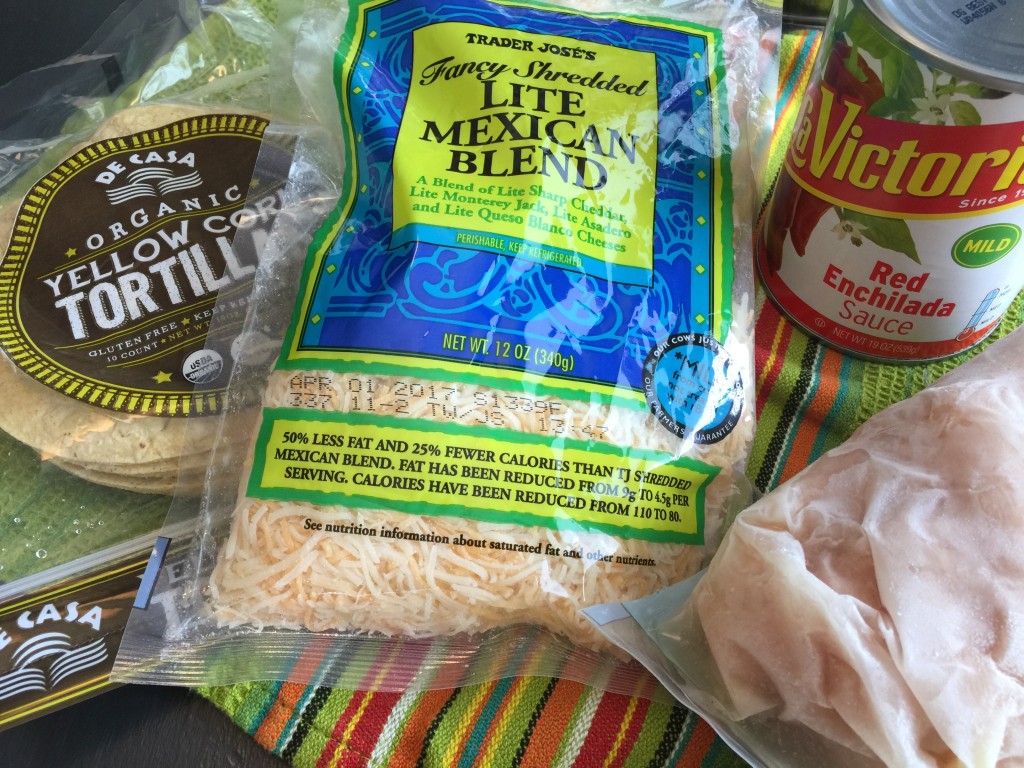 (Please note that photo is missing the olives!  Don't forget the olives!)