Pressed Italian Picnic Sandwiches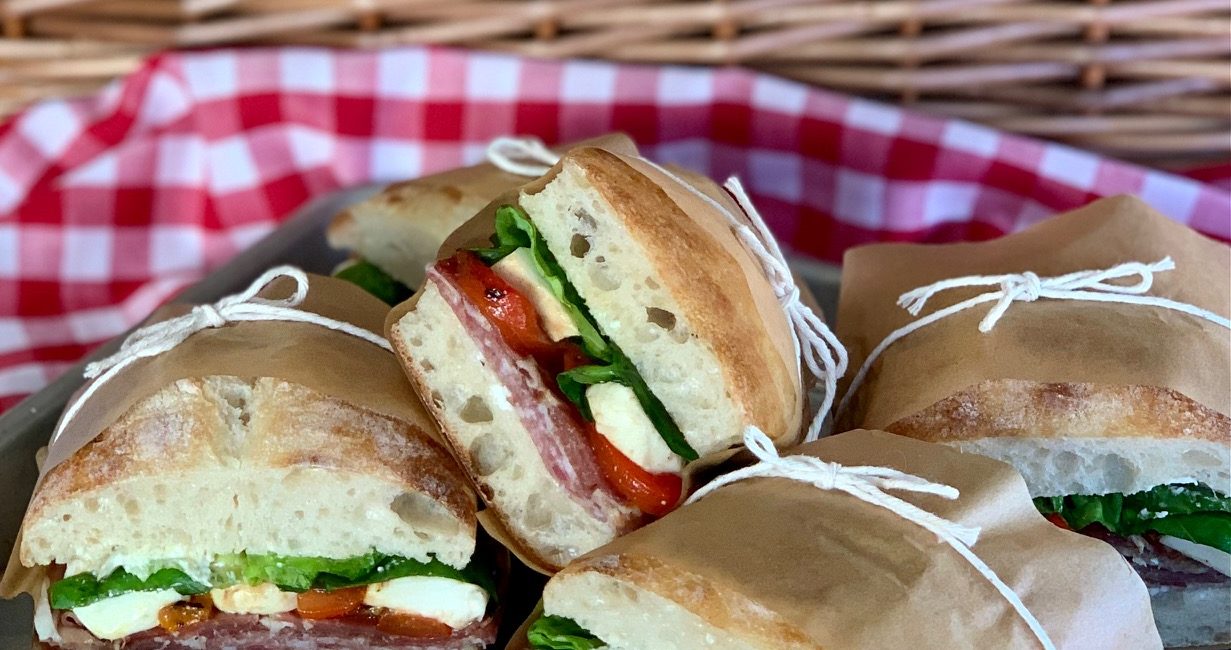 Clear, sunny skies and fruit and veggies galore, it's a perfect time to get outdoors and celebrate National Picnic Month. A picnic captures all the joie de vivre that is summer and delivers it in food form. In the park or at the beach, or even in your own back yard, the addition of fresh air and blue sky make any meal feel like a vacation. A picnic can be as much or as little as you want it to be. What you put in your basket is entirely up to you. 
Pack your picnic basket with reusable, unbreakable plates, cups, and cutlery. Bring a roll of paper towels, cloth napkins or bandanas for napkins. Don't forget serving spoons and a small, wrapped knife and cutting board. Pack wet wipes, trash bags, sunscreen and bug spray. Add a large picnic blanket, or if you're like me, keep one in your car at all times. 
A hard-sided cooler protects your food and helps to keep it at the proper temperature. Pack food into stiff, resealable containers to avoid spills or crushing and tote drinks in a separate cooler, if possible. Use plenty of ice packs to keep your food cold. Skip salads with mayonnaise and take hardy bean, grain or pasta salads with vinegar and oil dressing instead. For food safety, don't leave perishables out of the cooler for more than 2 hours.
Bring veggie sticks and hummus. Olives, pickles, fruit jam, cheese and crackers. Homemade iced tea or lemonade in a thermos. Pack fresh cherries, berries, or cut melon, and cookies, brownies, or hand pies for dessert.  
For a sandwich that's good to go, try these Pressed Italian Picnic Sandwiches. Delicious and filling, they are just perfect for picnics and summer entertaining. They will keep well in the fridge for several days, so you can make them well ahead of time. Take time to wrap them before serving. The wrappers help hold everything together, making them neater to eat as well as easier to hand out.
You can make these as you like, swapping in other ingredients like sun dried tomato or pesto for the roasted red pepper, or spinach for the arugula. Use any size ciabatta, or try using rolls. When you trim the edges, save the trimmings. You can chop them up to add to a crisp green salad tossed with Italian dressing.  
To prevent your sandwich from becoming soggy, use peppers that you roast yourself, not jarred ones. You can do this under your broiler as below, or outdoors on the grill, roasting the peppers over medium to high heat until they char enough that the skin softens. I did this a day ahead and refrigerated the peppers overnight in a sealed container, so that they were easy to peel the next day. If you are buying a big bag of peppers, roast more than you'll need. You can use the extras for sandwiches, pizza, salads or in anything that needs a little punch of flavor. 
I found deli meat, bell peppers, bocconcini, and artisan rolls for this recipe at Costco. If you use rolls, trim one side of your sandwiches before serving so that you can see all the wonderful colors of the filling. I didn't have any arugula, so I used some butter lettuce from the garden and added some fresh basil leaves to the sandwiches. I used balsamic glaze in place of the balsamic vinegar, drizzling it lightly over the filled sandwiches. I also added a heavy splash of red wine vinegar to the peppers when I dressed them with the olive oil, salt and pepper. 
Don't waste another minute. Get out there and picnic!
Pressed Italian Picnic Sandwiches
1 ciabatta baguette, cut in half to make two 12-inch pieces
3 Tablespoons butter
3 medium red peppers
3 cups arugula, rinsed and patted dry
2 cups bocconcini, sliced in half
10 ounces assorted Italian deli meats (soppressata, capocollo, salami)
Balsamic vinegar, or balsamic glaze
olive oil
salt and pepper, to taste
Peppers
Set oven to broil. Slice sides off peppers and trim ends off so that pieces are flat. Place sections skin up on baking sheet. Broil until very well charred (mostly black on top), watching closely, about 5-10 minutes. Remove from oven and immediately place peppers in a resealable bag. Refrigerate for 30-40 minutes. Remove peppers from bag and peel off blackened skin, then discard skin. Slice peppers into strips. Place peppers in a small bowl and drizzle with olive oil; sprinkle with salt and pepper. Set aside.
Sandwiches
Cut ciabatta in half, buttering each side lightly. Layer bottom half generously with cold cuts (4-5 overlapping layers), then top with red pepper strips. Pat bocconcini dry with a paper towel, then add over peppers. Drizzle balsamic vinegar over sandwich filling; sprinkle with salt and pepper. Top with a generous layer of arugula and cover with top slice of ciabatta. 
Wrap tightly with plastic wrap and place on a baking sheet. Refrigerate, pressing with a heavy skillet set on top of another baking sheet to weigh down, 6 hours or overnight. Remove from plastic wrap, trimming ends and sides to make neat sandwiches. Wrap sandwiches with parchment paper and twine.  
– seasonsandsuppers.ca