Pomegranate-Chia Seed Yogurt Parfait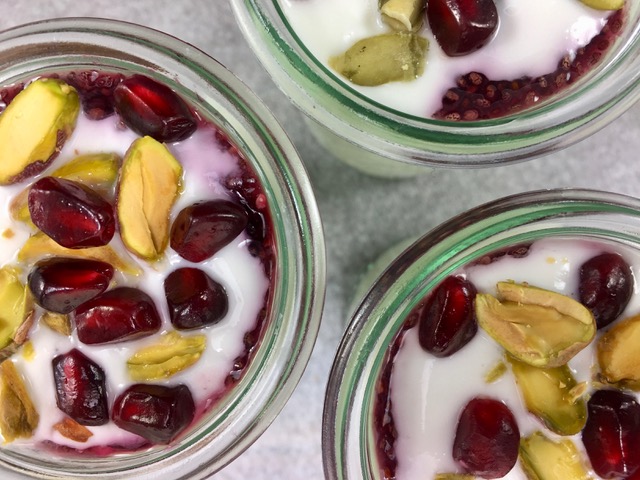 Taking good care of yourself can be especially challenging this time of year.  Extra stress, lack of sleep, and a little too much holiday indulging can leave you feeling not too merry.  Press the reset, or at least press pause, with a healthy breakfast or snack.  Pomegranate-Chia Seed Yogurt Parfaits take just a few minutes to prepare, and are made using 4 ingredients that you might just happen to have in your fridge right now – a healthy little something that looks festive to carry you into the New Year.
Each serving is approximately 150 calories.  Greek yogurt provides protein, calcium, and potassium and has stomach soothing, good-for-you, probiotics.  Pomegranates are high in vitamin C, potassium, and fiber, and contain high amounts of all three types of polyphenols.  Now add more protein, beneficial fats, and fiber from the pistachios and you've got something that's not just good, but good for you, too.
If you have a pomegranate, you can make your own juice.  Put seeds in the blender and pulse a few times, then strain.   Save any left over arils in an airtight jar in your fridge.  Add them to salads and cheese plates, or use them to garnish with.  Put them in a small bowl so everyone can add them to their drinks, or spoon them into champagne when you ring in the new year.
Happy 2017!
Pomegranate-Chia Seed Yogurt Parfait 
  2 servings
1/4 cup pomegranate juice
2 tablespoons chia seeds
1 cup Greek yogurt or sheep's-milk yogurt
2 tablespoons shelled pistachios, chopped
2 tablespoons pomegranate seeds
Combine pomegranate juice and chia seeds in a small bowl and stir well.  Refrigerate overnight.
Layer chia mixture with yogurt, and top with pistachios and pomegranate seeds.
– Bon Appetit, December 2014