Pig Beach Burger and Mexican Street Corn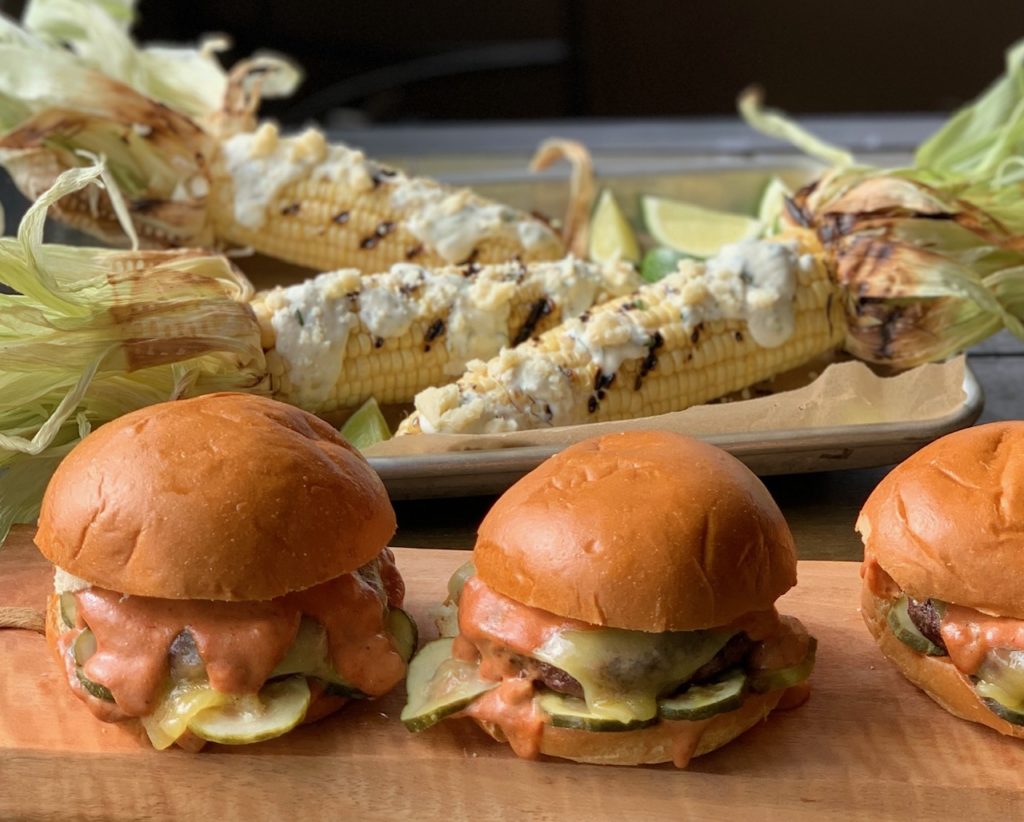 Don't just throw a burger on the grill this weekend. Go beyond a good burger and make a great burger. For the best-dressed burger on the block, go whole hog and make the Pig Beach Burger, a two-handed juicy beef number that features house pickles, white American cheese, and secret sauce snuggled into a potato roll. This big flavor burger from chef Matt Abdoo of the award winning Pig Beach BBQ team is every bite your favorite restaurant-style burger, but making it at home is a lot easier on your wallet. 
Despite the long ingredient list, the Pig Beach Burger is incredibly easy to make. The seasoning and sauces can, and should, be made a day or two in advance, and since everything on the spice list is most likely in your pantry, it's just a matter of measuring. You can safely reduce the sugar in this recipe, so taste as you go. 
The addictively flavorful Pig Beach Burger Sauce yields a generous 4 1/2 cups. If your cookout is a smaller one, make a full recipe of the barbecue seasoning, but cut the mustard and burger sauce recipes in half. After you make the sauce, you can use some of the remaining seasoning to make Mexican Street Corn. Keep your seasoning on hand to use all summer long. It will add fantastic flavor to steaks, chicken, vegetables or anything else you are grilling.  
Save money by making your own hamburger patties, especially if you buy meat on sale. I used an 85-15 blend ground beef for my burgers. Form the patties larger than your buns and create a small dimple in the center by pressing down with your fingers. This will keep your burgers flat and even and prevent them from shrinking too much. To save time, you can use jarred pickle slices in this recipe. 
Do your first barbecue of the season right. Make something worthy of the long weekend. Enjoy a big juicy burger and say hello to the first taste of summer! 
Pig Beach Burger
All-Purpose Barbecue Seasoning
1/2 cup granulated sugar
1/2 cup sweet paprika
1/4 cup kosher salt
2 Tablespoons granulated garlic
2 Tablespoons granulated onion
1/3 cup dark brown sugar
1 teaspoon dried oregano
1/4 teaspoon fennel seed powder
1 teaspoon cumin
2 teaspoons chile powder
1/2 teaspoon cayenne
1/2 teaspoon dried thyme
2 Tablespoons freshly ground black pepper
Pig Beach Mustard Sauce (makes 1 1/2 cups)
1/2 cup yellow mustard, preferably French's
1/4 cup ketchup
2 Tablespoons hot sauce, preferably Frank's Red Hot Sauce
1 1/2 teaspoons All-Purpose Barbecue Seasoning (recipe above)
1/4 cup honey
1/4 cup light brown sugar
1/2 teaspoon Old Bay seasoning

   
Pig Beach Burger Sauce (makes 4 1/2 cups)
1 1/2 cups ketchup
1 1/2 cups mayonnaise
1 1/2 cups Pig Beach Mustard Sauce (recipe above)
1 Tablespoon chopped shallots
2 Tablespoons chopped dill pickles
1 Tablespoon All-Purpose Barbecue Seasoning (recipe above)
Pig Beach Quick Pickles (makes 1 quart)
2 pounds Kirby cucumbers
2 cloves garlic, smashed
1/4 cup granulated sugar
3 Tablespoons salt
1 teaspoon whole mustard seeds
3 Tablespoons white vinegar
2 Tablespoons rice wine vinegar
Burgers
nonstick cooking spray
6 (4-ounce) brisket short rib burger blend patties
kosher salt

 

freshly ground black pepper
6 slices white American cheese
3/4 cup Pig Beach Burger Sauce (recipe above)
1 cup Pig Beach Pickles (recipe above)
6 potato rolls
For the seasoning:
Combine all ingredients in a food processor and pulse until evenly incorporated. Transfer to an airtight container until ready to use. Keeps 3 months in pantry.
For the mustard sauce:
Combine all ingredients and mix with an immersion blender. Keep refrigerated until ready to use. 
For burger sauce:
Combine all ingredients in a nonreactive container and mix well. Cover and refrigerate overnight. Mix again before serving. 
For burgers:
Preheat grill to high heat. Spray grates with nonstick cooking spray. Season burgers with salt and pepper and arrange on grill. Cook 2 minutes, then flip and cook an additional 2 minutes, topping each burger with a cheese slice so that it will melt. Cook until internal temperature measures 160º F. Transfer to a cooling rack and let rest 1 minute. 
While burgers rest, spoon one tablespoon of Pig Beach Burger Sauce on the bottom of each bun then top with 6-8 pickles. Place burger patties onto buns and dollop more sauce on top of each burger. Finish with top buns and serve immediately. 
Mexican Street Corn
1/2 cup sour cream
1/2 cup mayonnaise
1/2 cup chopped cilantro
1 clove garlic, minced
1 lime, zested and juiced
6 ears sweet corn on the cob, husks removed
1 cup crumbled cotija cheese
1 Tablespoon All-Purpose Barbecue Seasoning
6 lime wedges, for serving
Combine sour cream, mayonnaise, cilantro, garlic, lime zest and lime juice in a mixing bowl; set aside. Heat grill to high and spray grates with nonstick spray. Grill corn on all sides until nicely charred then transfer to serving dish. Spoon or brush sour cream mixture onto corn, then top with cotija cheese and barbecue seasoning. Serve with lime wedges.  
– recipes by Matt Abdoo, chef and owner, Pig Beach BBQ