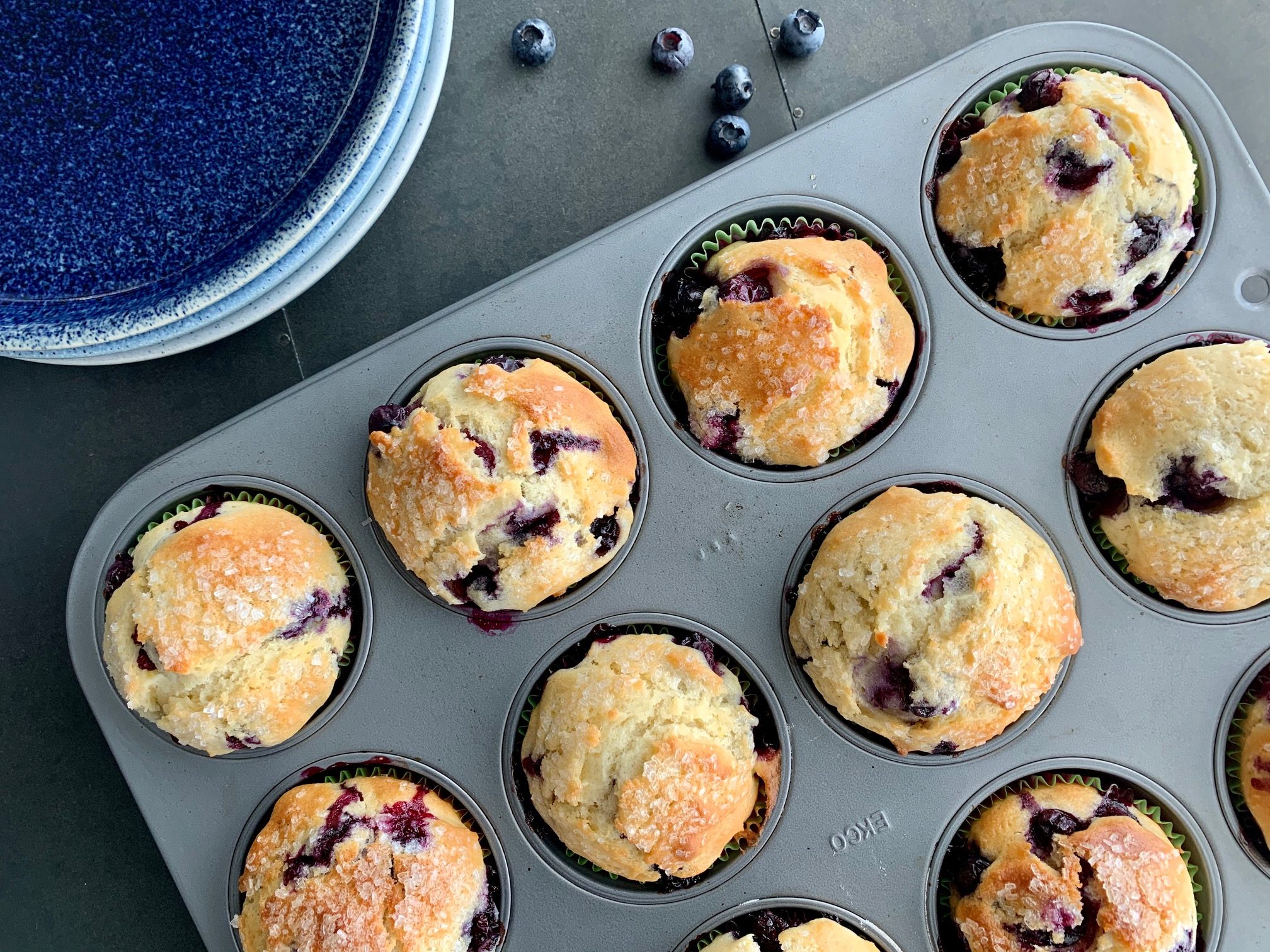 Yes, it feels like an oven, but it won't be much longer before we are up to our ears in all things pumpkin. Baking a little something might just be what's in order. Swoon worthy and picture-perfect, these Blueberry Muffins are delicious. Moist and densely studded with juicy berries, they're just the thing to share. We could all use a little kindness right now. Why not spread some joy?
You be the judge on how many berries to use. You may not use all of what's called for here, or you may use more, but go ahead and err on the side of too many. You won't be sorry. I filled the cups two-thirds full before adding berries, but you could also fill the cups 1/3 full, add berries, add more batter, and then add more berries, finishing with the teaspoon of batter and sugar. (This is a good job for kids, by the way.) Don't have turbinado, or demerara sugar? Scan your pantry for sparkly, large crystal sugar you would use for your cookie decorating. The teaspoon of sugar topping seems like a lot, but it makes a perfect crunchy lid. 
Brighten someone's day with something freshly baked. Be diligent about using clean hands, and be safe by using gloves or tongs when you package what you baked. Delivering food to someone – even at a safe social distance – will do a world of good. Hold tight to those friendships, keep your family close, and keep forging those connections. Bake some happiness. And don't forget to share. 
Blueberry Muffins
makes 15 muffins 
2 1/2 Tablespoons unsalted butter, melted

 

2 1/2 Tablespoons canola oil
1 cup sugar
finely grated zest from 2 small lemons
1 1/2 cups plain unsweetened yogurt or sour cream
2 large eggs, room temperature
1 Tablespoon vanilla

 

3 teaspoons baking powder
1/2 teaspoon baking soda
1/2 teaspoon sea salt
3 cups all-purpose flour
1 1/2 cups frozen blueberries

 

6 Tablespoons turbinado (sugar in the raw) or demerara sugar

 
Preheat oven to 375º F. Line muffin tin with 12 paper liners or use nonstick spray in each cup. Melt butter in a large bowl and stir in oil. Add sugar and lemon zest and mix on low speed until smooth. Add yogurt, eggs, and vanilla and mix, about 3 1/2 minutes. Lightly mix in baking powder, baking soda and salt. Fold in flour, 1/2 cup at a time, while mixing at low speed. Batter will be very thick, almost cookie doughlike. Fill each prepared muffin cup two-thirds full, then add about 10 frozen berries to each cup and press down slightly. Add about 1 teaspoon of batter to top of each muffin, then sprinkle each with a generous teaspoon or sugar.  Bake 27 minutes, or until tops are golden and a tester inserted in the center comes out clean. Let cool in pan 10 minutes, then remove to rack. 
– adapted from Perfect Blueberry Muffins, smittenkitchen.com