Peanut Butter Banana Overnight Oats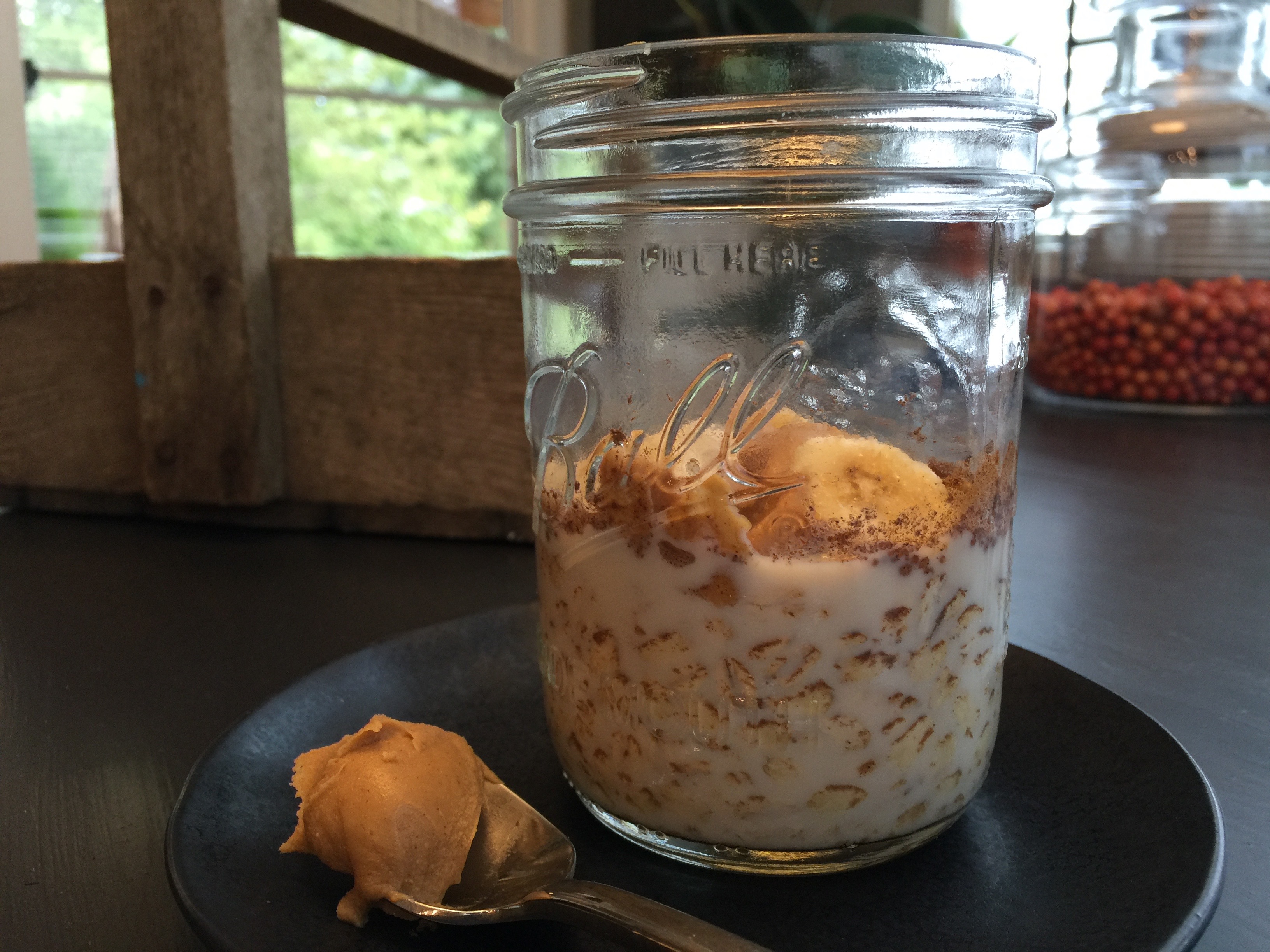 September is national breakfast month. Overnight Oats are a quick, easy, make-ahead way to guarantee you and your family will have something nutritious to eat, no matter how rushed you may be.  Layered into a canning jar, they're ready to eat the next morning, or to toss in your bag and go.
Change out the add-ins and you can easily customize to whatever suits your mood.  If you have kids, they can have fun with this, making their own breakfast for the next morning.  Making it themselves means a good chance they will eat it, and eating a good breakfast ensures that they'll start the day off on a good note.
Oats are a good source of fiber and a whole grain.  They have no preservatives, additives or added sugars like boxed cereals do and compared to buying boxed cereal, oats are very economical.
You can make this gluten free by using gluten free oats.   Substitute any non-dairy milk and make it dairy-free.  Use a one-to-one ratio of raw oats and your choice of milk.  You can also add in yogurt.  For added crunch, top with nuts, seeds, or granola just before serving.  There are lots of other great mix-in ideas on the Quaker Oats website.
Peanut Butter Banana Overnight Oats
1/2 cup rolled oats
1/2 cup milk
1/2 teaspoon vanilla
1 teaspoon cinnamon
1/2 cup sliced bananas
1 – 2 tablespoons peanut butter
1 teaspoon chia seeds (optional)
1 teaspoon honey
Add oats to container of your choice, pour in milk and vanilla.  Add cinnamon and stir. Top with banana slices, peanut butter, and chia seeds, if using.  Drizzle with honey.  Refrigerate, and enjoy in the morning.