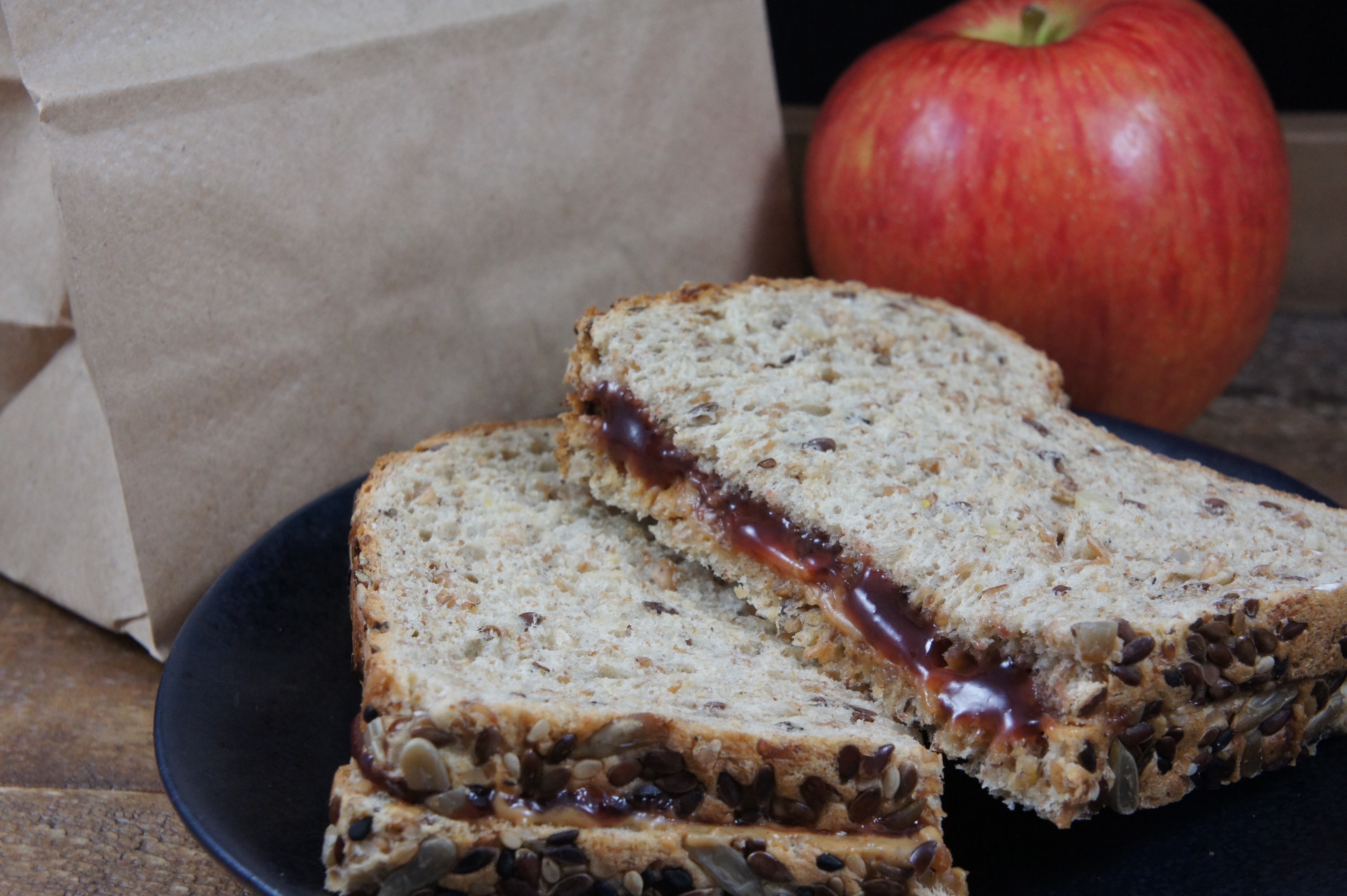 This time of year always makes me sad.  Your kids have been around all summer, you have had lots of time to do things together, and now all that is coming to an end.  It has been a long time since I went back to school myself, and a while since my own kids left the nest, but I still keep a box of crayons handy for a wistful sniff.   September has arrived.
Now is a great time to make a sandwich.  Yes, a sandwich.  Before you think "but I don't have any kids" and stop reading, this is for you, too.  A sandwich is a great way to feed yourself an inexpensive, goes-anywhere lunch and it is also a great solution for an "I don't want to cook tonight" dinner.  Sometimes we forget about doing something easy because it's just too obvious.
Making a sandwich is an easy place to start teaching your kids to cook.  With cooking, as with most things, technique builds over time.  Today's learning how to mince onion builds into tomorrow's being able to pull together a stew.  Every small skill you teach your kids builds into something larger.  Spreading peanut butter and jelly may seem pretty basic, but it's the mastery of these basic things that builds confidence and pretty soon all the basic skills gel together into making something more complicated.  Something you can feed yourself, and hey, maybe even feed others.
Why does your kid need to learn this?  Because you won't always be able to make his or her lunch.  Because they may have to take over if you get sick.  Because they may have to feed younger siblings.  Because it's good for them to know how to take care of themselves!  (Because they will grow up and get a job and lunches out are expensive…)
Wielding a butter knife is something most kids can handle from a very young age, but if this makes you nervous you could always hand them a spatula.  Your peanut butter needs to be easy to spread.  I'm a big fan of natural peanut butter, but sometimes it can be stiff and dry.  Warming it a bit in the microwave will help, as well as pre-stirring.
I asked my youngest son for some sandwich help, because he quite honestly makes the best PB&J ever.  Here's what I learned from him:
Put some peanut butter in the center of one slice of bread.  Put bread in toaster oven along with another slice.  Toast over very low heat for two minutes, or until peanut butter begins to soften and bread begins to crisp a bit, but not brown.
Open toaster and let bread cool.  Don't put it on the plate while it's still warm or it will get soggy.  Remove from toaster and spread peanut butter carefully over entire piece of bread, spreading thinner as you get to the edges.
Stir jam in jar using a clean knife.  This softens it and makes it smoother and easier to spread.  Spread jam on other slice of bread, thinning at edges.
Put bread slices together and cut in half with a serrated knife.
Just for the heck of it, I did some online research and there were two notable points.  One was spreading peanut butter on both halves of the bread to keep it from getting soggy.  The other was that there is no wrong way to make a PB&J and that most of it just comes down to personal preference.  So no matter how you do it, it's all going to be fine!  What's important is finding the way that works for you.  And just for the record, I think the method above turns out a darn good sandwich.
You can take your sandwich to the next level by warming it.  Maybe change the fillings a bit by adding slices of banana, a sprinkle of cinnamon, and a drizzle of honey over the peanut butter (instead of using jelly) and toasting it in a pan, grilled cheese style.   Use the things that you like.  A little Nutella or a few chocolate chips?  When you make it at home you can make it the way you want.
Now it's time to have some fun.  My grandma made the most amazing peanut butter sandwiches.  They had homemade strawberry jam, peanut butter, and dark brown pumpernickel bread.  As a kid, the dark bread scared me off a bit, but I was sold once I tried it.  As memorable as these sandwiches were, what really stayed with me was what followed.  A blanket would appear, it would go down on the living room floor, and we would have an indoor picnic.  This was truly special.  It was amazing to me that my grandma, a great big grown up, would sit down on the floor and just have fun.
At long last, there is rain in the forecast.  Make some sandwiches this weekend, spread a blanket on your floor, and make a memory with your kids.  (Or your spouse, or your date, or your grandkids.)