Pan Roasted Filet Mignon with Green Peppercorns
Merrier by the minute, here are two delicious ideas to make your holiday meal a special one. Fancy, but not hard to do, Pan Roasted Filet Mignon with Green Peppercorns is impressive, yet simple to make. For a juicy, perfectly cooked, just like you'd get at a restaurant steak, try a dry brine. It seasons your steak, so it's ready to cook, dries out the surface, so it has a great crust, and it locks in moisture and tenderizes the meat in the process. Start with thawed meat, preferably a day ahead of time. Pat steaks dry with a paper towel. Liberally season both sides of your steak with coarse, kosher or sea, salt and pepper and place on a baking rack set over a tray to allow airflow on all sides. Refrigerate at least one hour or up to 2 days. Take meat out of the refrigerator and let sit at room temperature at least 30 minutes before you plan to cook it. 
This recipe comes together very quickly, so have all of your ingredients prepped and ready before you start. Use a cooking oil with a high smoke point, like canola or grapeseed oil, because you will be cooking with high heat. If you have a well-seasoned cast-iron pan, you can get away with using about half of the oil in this recipe. Once you add your meat to the pan, don't touch it. Let it cook, undisturbed, at least 3 minutes and it should release easily. I found green peppercorns at New Seasons market. You can also order them from Amazon, but you can make this recipe without them and it would still be every bit as special.
If you're looking for something a little more hands-off, you can't go wrong with this Roasted Pork Loin. This no stress, quick prep option feeds a crowd and is also budget friendly. Everything cooks in one dish and in just one hour, the dried fruit and cider deliciously mingle with that wonderful aroma of roasted meat, leaving you free to put your feet up and wonder how you did it all. 
Pan Roasted Filet Mignon with Green Peppercorns
Four 6-ounce filet mignon steaks, at room temperature, lightly pounded
kosher salt
fresh, coarsely ground black pepper
3 Tablespoons canola or grapeseed oil
1 shallot, minced
2 Tablespoons green peppercorns in brine, drained
2 ounces brandy
3/4 cup beef stock
1/2 cup heavy cream
dash Worcestershire sauce
2 Tablespoons unsalted butter
chopped fresh parsley, for sprinkling
1 teaspoon red wine vinegar
About 24 hours ahead, dry brine steaks as directed above, then bring to room temperature 30 minutes before cooking.
Heat 2 tablespoons oil in a large heavy sauté, or cast-iron, pan set over medium-high heat until very hot. Add steaks to pan and sear 3 to 4 minutes per side, until internal temp reaches 125º F for medium-rare. Remove from pan and let rest.
In same pan, add remaining oil, shallots, and green peppercorns. Cook 2 to 3 minutes, until shallots are softened and lightly browned. Turn off heat, add brandy, then return heat to medium. Cook for 1 minute. Add beef stock and cream, then cook 8 to 10 minutes until liquid is reduced by half and thickened. 
Turn off heat. Add a dash of Worcestershire sauce and swirl in butter, stirring often until melted. Return steaks to pan and coat with sauce. Sprinkle with parsley, then add a splash of red wine vinegar to balance the richness. Plate steaks, then spoon sauce over and serve. 
– recipe by Geoffrey Zakarian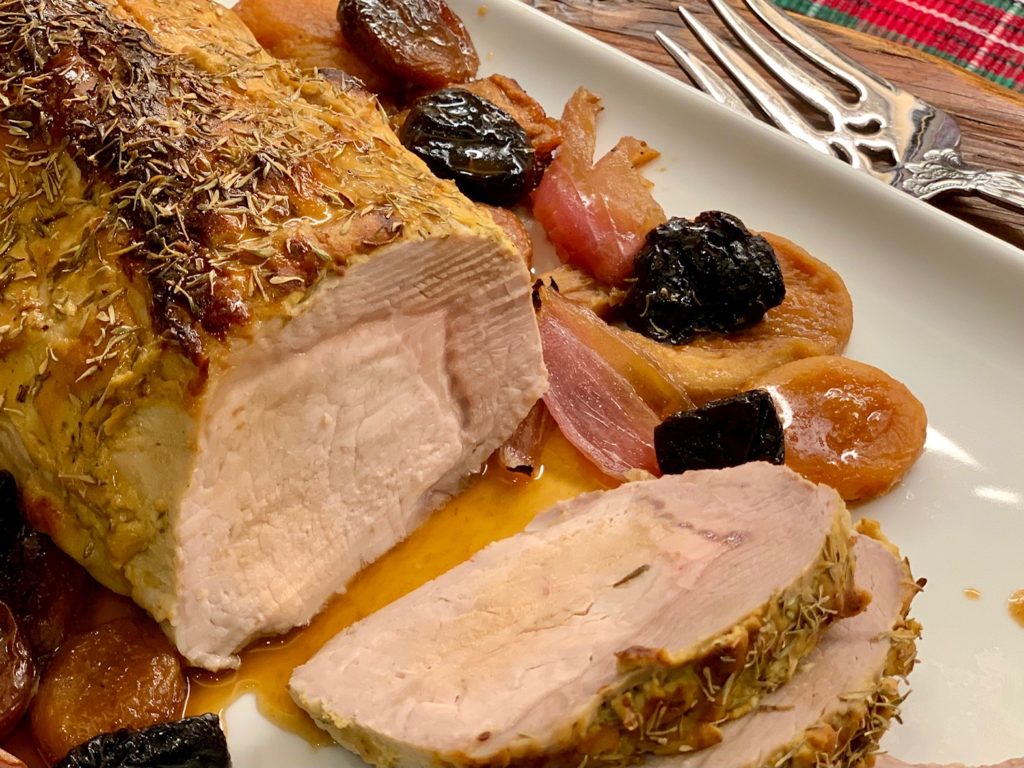 Roast Pork Loin
2 Tablespoons Dijon mustard
1 Tablespoon fresh thyme leaves, chopped
One 3- to 3 1/2-pound boneless pork loin (string removed)

 

kosher salt and freshly ground black pepper
1 Tablespoon vegetable oil
2 medium red onions, each cut through the core into 8 intact wedges
2 cups hard apple cider
One 7-ounce bag mixed dried fruit, or 1/4 cup each dried apples, apricots, pears, prunes, and golden raisins
Preheat oven to 400º F. Stir mustard and thyme together in a small bowl. Season pork all over with salt and pepper, then brush mustard-thyme mixture over top only. 
Heat oil in a large, ovenproof skillet over medium-high heat. Add onions and cook, undisturbed, until dark golden brown in spots. Turn onion wedges and cook about 2 minutes more. Add cider and stir, scraping any brown bits from the bottom of pan. Scatter dried fruit evenly into skillet and remove from heat. 
Put roast in skillet mustard side up. Bake about 1 hour, until instant read thermometer inserted in middle of roast reads 145 to 150ºF. (Roast will continue to cook once you remove it from oven.) Transfer roast to a cutting board and tent with foil; let rest 15 minutes. Cut into 1/2-inch-thick slices. Serve with pan sauce, onions and dried fruit. 
– recipe from foodnetwork.com