Northwest Apple and Peach Compote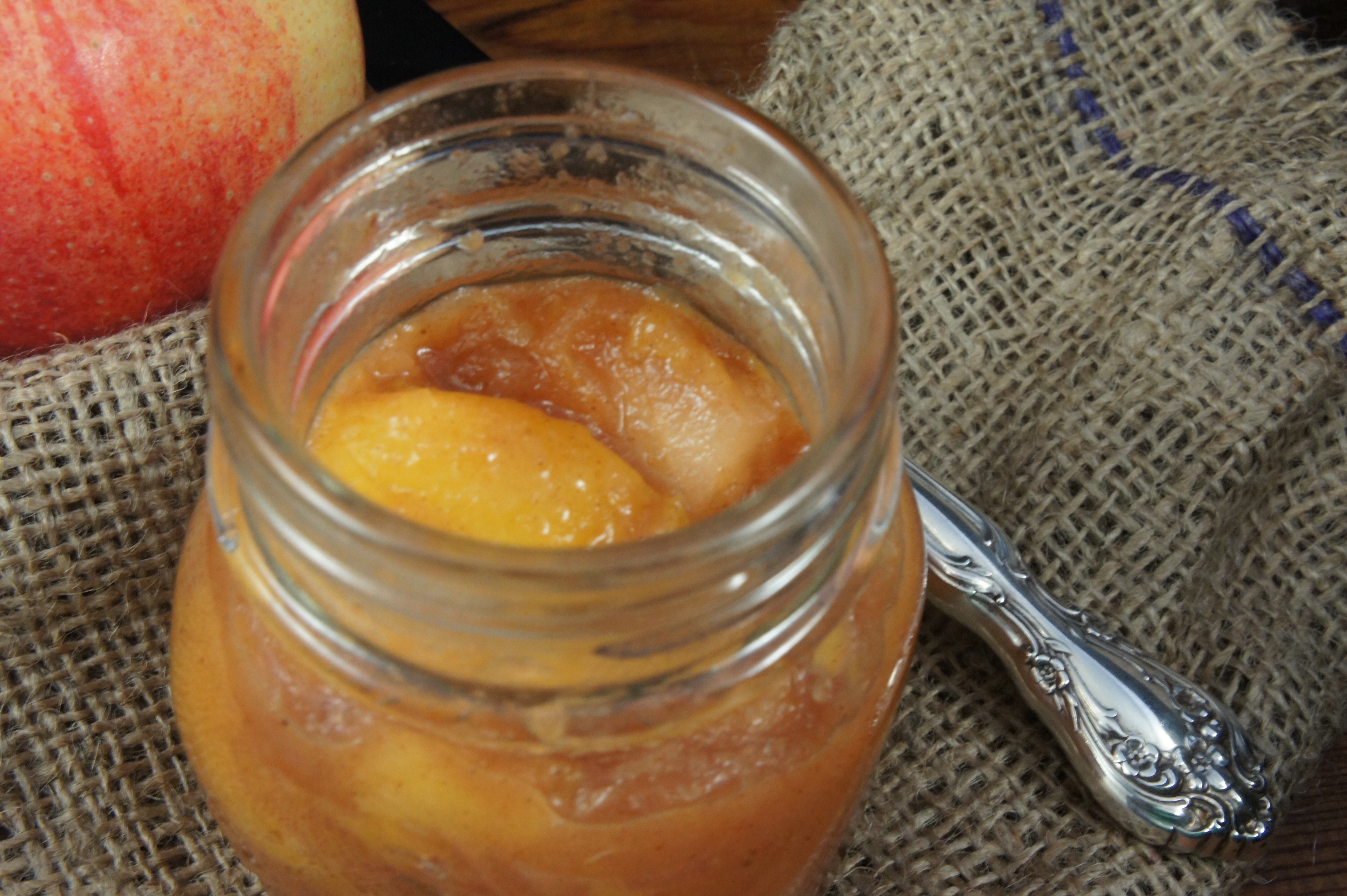 The first bit of a cool breeze, a little rain, and I am ready for fall.  Fall is my favorite season and I am such an enthusiast that I already have some pumpkins stashed and ready to pull as soon as we get the flags put away.
How about making a little something to celebrate the return of our Northwest apples?  We still have lots of big, beautiful peaches, too, so this apple and peach compote from Bon Appetit is the best of both worlds – a bit of what's left of the summer and a taste of what's yet to come.  Fast and easy to make, you can use it to top pork or chicken, serve it warm with vanilla ice cream, or set it alongside your cheese plate and say welcome to fall.
Northwest Apple and Peach Compote
1 Honeycrisp apple, peeled, cored and cut into wedges
1 ripe peach, cut into wedges
1 tablespoon brown sugar
4 cardamom pods, or 1/8 teaspoon ground cardamom 
1/8 teaspoon ground cinnamon
1/8 teaspoon ground ginger
1/8 teaspoon kosher salt
1 tablespoon butter
1/4 cup apple cider
1/2 tablespoon fresh lemon juice
ground cloves (optional)
Melt butter in medium pot over low heat.  Add apple, peach, brown sugar, cardamom, cinnamon, ginger, and salt.  Stir to combine and cook over medium to low heat, stirring occasionally, about 5-7 minutes or until fruit caramelizes and becomes golden brown.  Add cider, reduce heat to low, and continue cooking, stirring occasionally and adding small bits of water if liquid is reducing too much.  Cook until fruit is tender, juice is thick, and mixture resembles pie filling, about 15-20 minutes more.  Remove cardamom pods, let cool slightly, then stir in lemon juice and a sprinkle of ground cloves, if desired.
As usual, I changed things up a bit because I wanted to use Northwest ingredients, and also because I didn't have any apple cider.  The original recipe made 4 servings, but because the apple and peach I had were so Northwest big, I decided to make a half recipe.   I did not have ground cardamom, but I did have whole cardamom pods from making last year's chai.  The recipe called for Granny Smith apples, but I used Honeycrisp, because that was the first local variety I saw at the store, and that's what I had in my bin.  I used brown sugar instead of white.  I cut the apple wedges into halves, because the 8 slices as instructed just seemed too unwieldy.  And I just shook a generous amount of the spices right on top of the fruit.  Who has time to measure, especially with such small amounts?
By the time I got done, there was not a lot of the original recipe left. .  The one thing I will say with one hundred percent certainty is you need apple cider.  I was making this very late at night (don't ask), and tried substituting some apple brandy.  While it did give it a certain "oomph!", it did not have enough sweetness.  You need the apple cider.  The sad batch went into the fridge and I went to bed.
The closest grocery store opened at 6 a.m. and they had local cider front and center.  I started over, this time using the cider.  What resulted was a warm, autumn-colored, golden brown compote that scented the entire house with the happy smell of fall.  Adding the cider even resuscitated the forlorn batch from the night before, with no adverse effects.
Compote can be made 3 days ahead and kept refrigerated, or, if you want your whole house to smell delicious, make it right before you serve it.   Feel free to use what you have, and change what you want.  But make sure you use cider.