Mini Buffalo Chicken Meatballs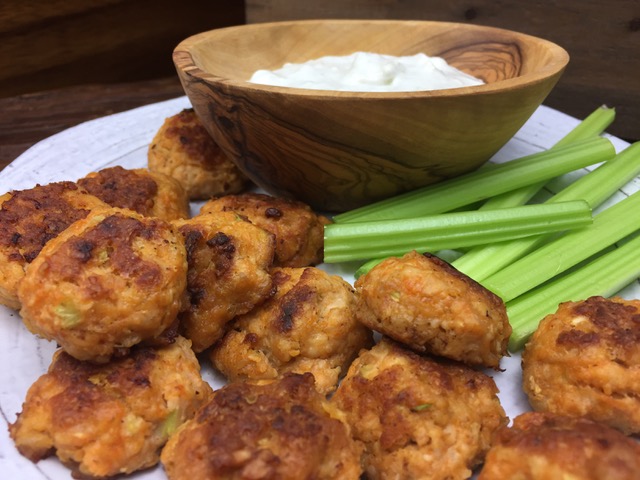 Still looking for something fun to add to your Super Bowl lineup?  Mini Buffalo Chicken Meatballs taste just like the real deal, but without the bones and mess. You won't miss the fat or the calories, and you can make them ahead and reheat when you're ready.   Seriously good, and not hard to make at all!
The original recipe from The Meatball Shop Cookbook had rave reviews on Epicurious.  It also had more than a few comments about how the meatballs were too soft and tended to fall apart.  I have made some respectful adjustments to their recipe, hoping to correct the consistency a bit but still keep all the delicious flavor.  The meatball mixture was still soft, but workable.  Partially cooking the meatballs in the microwave helped to firm them up, and finishing them in a frying pan with some butter browned them and amped up the buffalo chicken flavor.
I used a mini processor to make quick work out of mincing the celery, and then transferred it to a paper towel to wring out as much moisture as possible.  Using oats instead of bread crumbs adds fiber and makes this recipe gluten free.  You can use the processor, or your blender, to grind the rolled oats until they resemble bread crumbs.  Parmesan cheese is a great binding agent, plus it adds extra flavor.  Your hands are the best way to mix meatballs, but Frank's Sauce is hot.  Don those disposable gloves!
Mini Buffalo Chicken Meatballs
1 pound ground chicken, preferably thigh meat
1 large egg
1/2 cup finely minced celery
1/3 cup Frank's Red Hot Sauce, or any favorite hot sauce
1/2 – 3/4 cup bread crumbs, or ground rolled oats
2 tablespoons grated Parmesan cheese
1 – 2 tablespoons butter
Lightly coat a 13 x 9 baking dish with vegetable oil or non-stick spray.  Combine chicken, egg, celery, hot sauce, 1/2 cup of bread crumbs (or oats), and grated cheese in a medium bowl.  Mix by hand, until thoroughly incorporated, adding remaining bread crumbs, or oats, as needed.  Roll into 3/4 inch balls and place in baking dish leaving space between meatballs.  Microwave on 70 % power for 3 – 5 minutes, until meatballs partially cook and become somewhat firm.   Melt 1 tablespoon of butter in a large frying pan.  Add meatballs in batches being careful not to crowd.  Cook several minutes over medium-high heat until brown, turning to brown on all sides until firm and cooked through.  A meat thermometer inserted into the center should read 165º.   Serve with Blue Cheese Dressing.