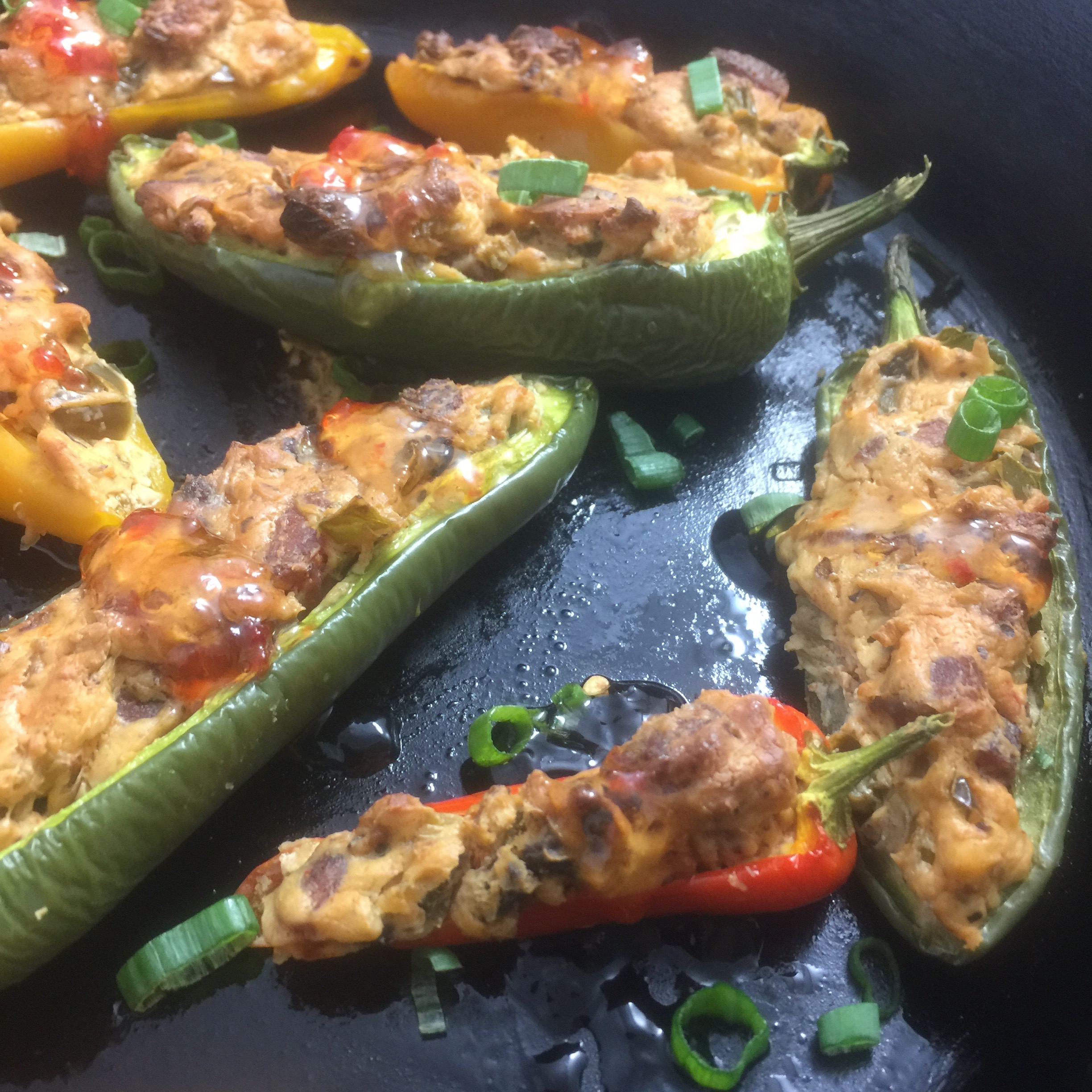 With Mardi Gras just two days after the Super Bowl, why not bring a little of the Big Easy to your game day party?  These Mardi Gras Peppers have the celery, onion, and green bell pepper that is the holy trinity of Cajun cooking, Andouille sausage for smoky, meaty flavor, and Creole seasoning.   Big on flavor, easy to do.
This recipe makes about 24 stuffed peppers, but that can vary depending on how big the peppers are.  You can use all jalapeños or mix it up and use mini bell peppers, too.  I mixed it up this time and liked the multi color look.  Make and serve this in a large, cast iron frying pan.  Only one dish to dirty and a fun look for your game day table.  Give your pan a quick swipe with a paper towel after you brown the filling ingredients and it's good to go.  Keep a lightly oiled, foil lined baking sheet on standby to hold any peppers that will not fit in your frying pan.
Joe's Stuff seasoning is the real deal, all purpose seasoning that I always bring back from New Orleans.  You can mail order from the New Orleans School of Cooking, or make your own substitute like they did here, courtesy of Serious Eats.  Any smoked paprika will work, but if you have not tried Pimenton de la Vera, you should.  This Spanish smoked paprika is the critical ingredient to authentic Spanish cooking and is a popular ingredient in many Mediterranean recipes.  I can't stop adding it to just about anything, but be forewarned, once you try it, you'll be hooked.  Was happy to find this in stock at Cost Plus (World Market).
I finished my peppers with a little drizzle of jalapeño jelly, which is nice if you like a little sweet with your spicy.  And don't forget to wear those food handling gloves when you work with jalapeños!
Get your Zydeco music cued up for Tuesday.  Get your Super Bowl game on for Sunday.  And make some of these spicy little peppers. Laissez les bons temps rouler!
Mardi Gras Stuffed Peppers
1 teaspoon olive or canola oil
2 links Andouille sausage, diced into small cubes
1/2 cup finely diced celery
1/2 cup finely diced onion
1/2 cup finely diced green bell pepper
1 8 ounce package reduced fat cream cheese, room temp
2 tablespoons goat cheese (optional)
1 teaspoon Joe's Stuff seasoning
1 teaspoon Pimenton de la Vera, or smoked paprika
12 mini bell peppers or jalapeño peppers
Warm oil in large cast iron frying pan.  Add diced sausage and cook over medium heat, stirring often until browned, about 10 minutes.  When sausage looks like bacon bits, remove with slotted spoon and let drain on paper towel lined plate.  Saute celery, onion, and bell pepper in sausage drippings until softened and golden brown, continuing to stir often, about 10 minutes.  Add Joe's Stuff seasoning and smoked paprika and cook another minute.  Transfer warm contents of pan and the sausage bits to medium mixing bowl.  Cut cream cheese into 4 sections and add to bowl with goat cheese, using spoon to mix well and combine.  Taste and adjust seasonings, adding more spices, or salt and freshly ground pepper, if desired.
Preheat oven to 375 degrees.  Rinse peppers and cut in half lengthwise leaving stem intact.    Remove core and seeds using a small knife.  Fill halves with cream cheese mixture and arrange in cast iron frying pan.  Bake 30 minutes, or until filling and peppers are lightly brown.