Maple Bourbon Baked Beans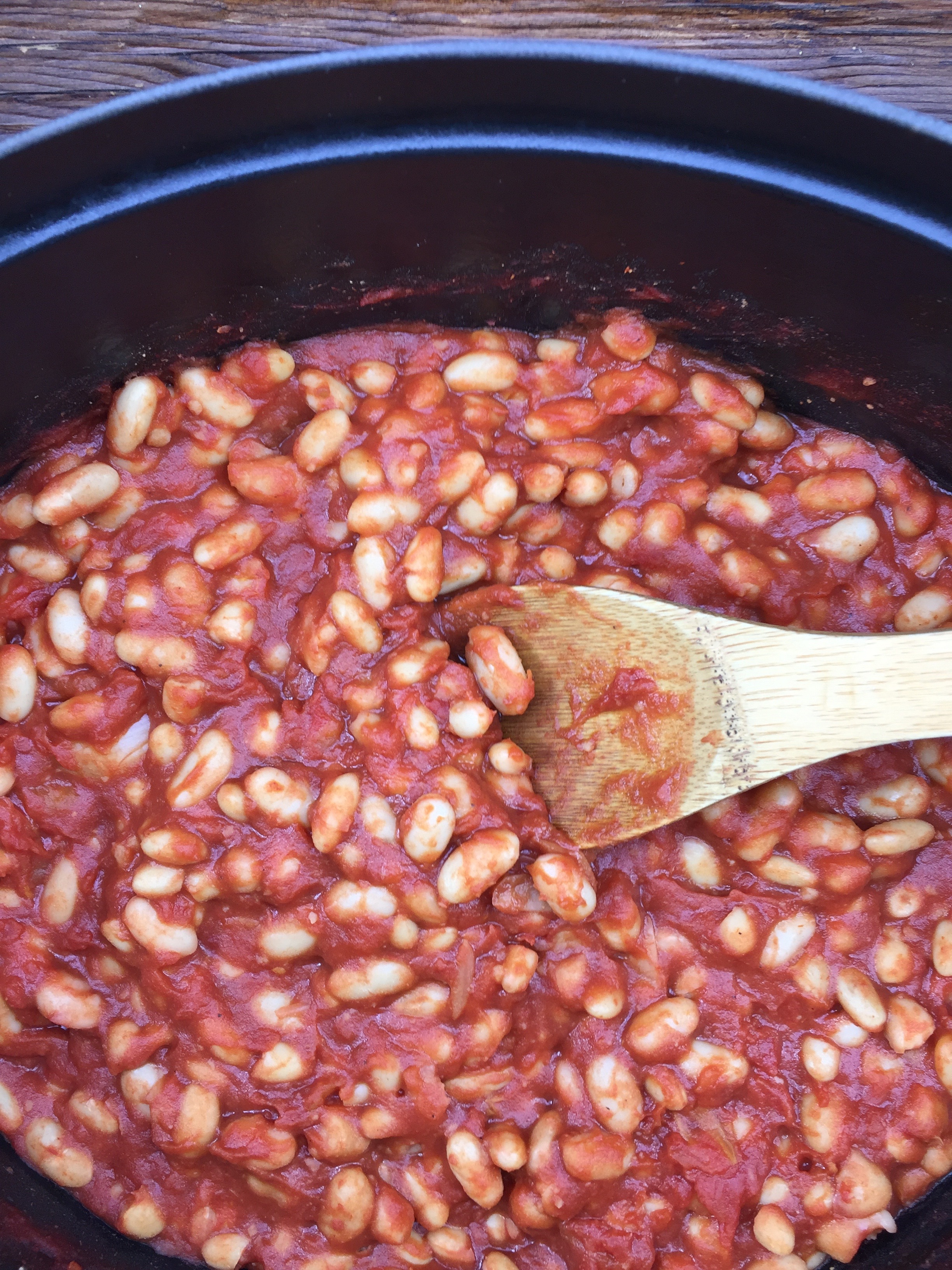 Raise your hand if you have ever uttered the words, "It's not going to be raining tonight.  Let's grill something!"  I know I'm not alone here, and I also know that sometimes it can be pouring and we get out there and grill anyway.  It's the Northwest.  We don't let a little rain stop us.  It's a lot better grilling when the sun's out, although I must admit there is a huge amount of humor in watching whoever is in charge of the flames balance the grill plate, giant tongs, seasonings, cedar planks, etc., etc. while outfitted in a dripping rubber raincoat over shorts.  Add extra points if they've donned the headlamp.  It's heartwarming.
Drier days are ahead, and Memorial Day is right around the corner.  You will no doubt be grilling something, or have bbq or picnic plans in your future.  Baked beans are as required as coleslaw and potato salad.  Why not make them yourself?  Well, that's what I thought until I tried making this recipe from a food blogger who will remain nameless for her own protection.  They were awful!  How awful?  Have you ever transferred cooked beans to a colander and rinsed them?  I have.  And I am not proud of it.  I added more cans of beans.  Three more to be exact.  I stirred in bacon, maple syrup, pickled jalapeño, and a shot of bourbon when I got really desperate.  I even tried my favorite New Orleans Joe's Stuff seasoning blend.  All of it made it better, but none of it made it good.  There was just too much tomato… even after rinsing.   Still, I can not bring myself to throw this giant pot of not-right beans out.  I am transferring the lot of it into a giant zip-top bag and freezing it.  Come Memorial Day, I will defrost and reheat and we will make a fun family game of it, seeing who can make these beans taste the best.  Just to make things interesting, we may even take bets.  If we have a winner, I will post the results.  Until then, here is where the recipe started…..
Bourbon Maple Baked Beans
2 14.5 ounce cans diced tomatoes
2 cloves smashed garlic
1 6 ounce can tomato paste
1 15 ounce can Great Northern beans
1 tablespoon maple syrup
and then….
3 more 15 ounce cans of Great Northern beans
1 teaspoon olive oil
1 medium onion, coarsely diced
5 slices thickly-cut bacon, smoked or pan-browned
1 shot bourbon
1 more tablespoon maple syrup
2 tablespoons chopped pickled jalapeno slices
salt and pepper to taste
Joe's Stuff Spicy Blend seasoning
Combine diced tomatoes and crushed garlic in a heavy pot or Dutch oven and bring to boil.  Reduce heat to low and continue to cook, stirring occasionally, about 30 minutes.  Add tomato paste and beans and continue to cook and stir until thickened.   Add 1 tablespoon maple syrup.  Taste and note that it is an awful lot of tomatoes.  Add another can of beans.  And another.
Lightly coat bottom of medium size heavy skillet with canola or olive oil.  Add diced onion and cook over medium heat, stirring frequently, until onion softens and becomes a golden brown color with dark bits.  Add to bean mixture.  Add bacon.  Add bourbon.  Taste.  Transfer about a third of beans to colander and rinse, attempting to remove some of the too-much tomato.  Add back to pot along with 1 more teaspoon maple syrup, jalapeño, and the third can of beans.  Add salt and pepper.  Taste.  Try seasoning with Joe's Stuff.  Hang head in shame and admit defeat.
I think this recipe would be much better with only 1 can of the diced tomatoes and about 1 tablespoon of the tomato paste.  I would add the garlic and the onion, and use 2 cans of beans, then the bacon, maple syrup, and the bourbon.  Jalapeño if you want it.  Taste and add salt and pepper.  Maybe some dried or prepared mustard?  From there, you can decide if you want to add another can of beans, or more tomato, or some more of something else.  Much easier than having to rinse your beans.
I do not want to leave you high and dry, hoping for a good way to make baked beans.  Pioneer Woman had a recipe and so did Paula Deen, and I would be willing to bet both of them know their way around a pot of beans.  Interestingly, both use canned pork and beans, and lots of bacon and sugar.  So much for healthy…
Moral of the story:  do not trust food pictures, even from trusted sources.  A good photo can be an attractive smokescreen for a really bad recipe.  Also, I think that lots of sugar (and bacon!) may be the secret to what makes baked beans taste good.  Perhaps there may be no way to make baked beans "healthy".   Promise to post another recipe for something you can make for Memorial Day.  Eager to see what, if anything, my family is able to do with all those beans next weekend…  Worst case scenario – rinse and make soup!