Make At Home Pumpkin Spice Latte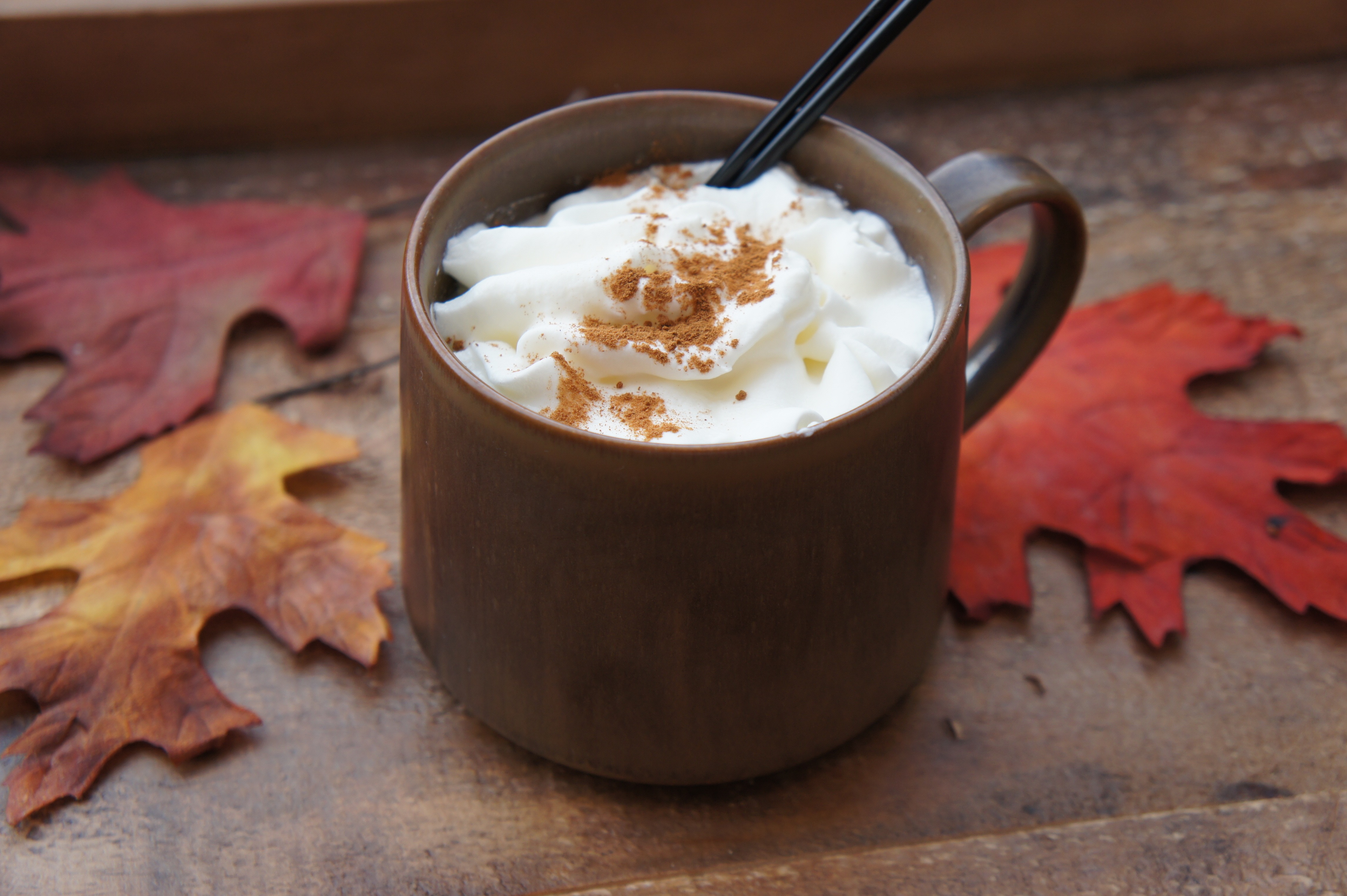 We Northwesterners love our coffee.  If we're not holding a craft beer, you better believe we are walking about piping hot, cardboard sleeved cup of caffeine in hand.  We hear the siren song, go Dutch, have our favorite drive-thru hut, and are always up for supporting new and independent coffee houses.  We know the names of our baristas and they know ours.  Coffee is serious.  A really good cup of coffee can help soothe a rough day.  A really bad one can make it seem worse.
September 29th is National Coffee Day.  If you go out, remember to thank your barista and let them know how much you appreciate that great cup of coffee.  If you want to make coffee at home, here's an easy recipe for a Pumpkin Spice Latte.  You can make this very quickly, especially if you have some of the pumpkin spice mix-in left over from making Pumpkin Spiced French Toast.
You will save some money, drink something made out of real food ingredients, and never have to leave the house.  This recipe makes one serving, because just like when you go out, every cup of coffee should be made one at a time.
Make At Home Pumpkin Spice Latte  
1 heaping tablespoon pumpkin spice mix-in
1 cup milk or milk of choice (almond, coconut, rice…)
1 teaspoon vanilla 
2 shots espresso or 1/4 – 1/2 cup of strong coffee 
whipped cream
ground cinnamon and nutmeg 
honey, sugar, maple syrup or sweetener of choice
Combine pumpkin spice mix-in, milk of choice and vanilla in a medium microwave safe bowl.  (I like to use a 4 cup pyrex measuring cup, because it gives you lots of room to whisk and also lets you pour.)  Microwave 1 to 2 minutes, or until the milk is hot.  Whisk vigorously until foamy.
Pour espresso or coffee into large mug and add foamed milk.  Top with whipped cream and a sprinkle of cinnamon and nutmeg.  Taste and add sweetener if desired.  (Try the honey – it was really good!)
This can also be prepared in a small saucepan on the stove.  If you have little ones, make them their own beverage to enjoy while you have yours.  Warm milk, pumpkin mix-in, vanilla and a bit of honey or maple syrup, minus the coffee, and serve in a small mug.  Coffee time!