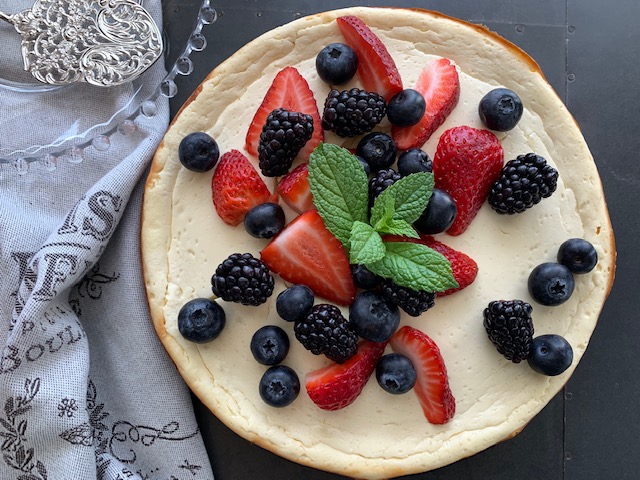 Flowers and a card with a heartfelt Hallmark message will make her smile and tear up at the same time, but don't forget the gift mom likes best:  the one that you made yourself.  I treasured every hand-picked dandelion bouquet, macaroni necklace, and crayon colored card I was lucky enough to receive.   My most treasured Christmas decoration?  The wobbly, salt-filled, sock snowman with the mischievous felt smile (circa 1998).  Handmade gifts are the best.
Mom rocked you as a baby, delivered forgotten lunches and homework, and cheered you on through all sorts of things that didn't turn out like you planned.  Which brings us to this cheesecake. I did not want to turn the oven on because it has been so warm, so attempt one browned.  A lot.  (Note to self:  do not make cheesecake in the toaster oven.)  Undeterred, I tried again, this time in the oven, and this time watching carefully.  After about 30 minutes I panicked and lowered the temperature from 375º to 350º,  because every cheesecake recipe I saw baked at 325º or 350º.  Attempt two cracked. 
I called mom.  "Did you use that recipe from the cookbook I gave you?  It has the best cheesecake recipe," she said.  I told her I didn't.  "Maybe that's why they put sour cream on top," she helped.  Luckily, I inherited mom's kitchen invincibility.  The fault lines in my cheesecake:  a road map for where to strategically place some of the beautiful berries we are starting to see at the market.   
I loved the ease of this recipe.  Despite the disclaimer above, it was moist, lemony and delicious – every bit a cheesecake, even for a lighter variety.  The crust does not need to be pre-baked, and it does not require a water bath.  Light cottage cheese and the Neufchâtel cheese make it lighter, but set them out beforehand, along with the eggs, to bring them to room temperature.  Depending on your oven, I think the temp needs to be 325º-350, rather than the 375º in the original recipe.    
You can substitute melted butter or whatever type of oil you prefer for the coconut oil in the graham cracker crust.  I tried using Swerve sugar substitute on the second cake, and let me just say you won't know the difference.  Use a large lemon and zest it entirely, taking care to zest only the bright yellow part.  It will yield just the right amount and you can skip measuring.  Ditto for juicing.  The juice of an entire large lemon was 1/4 cup.  Use any combination of berries  that you like.  Some of those berries are looking better than others right now.  In case you would like a little more cheesecake inspiration, I am adding a link with some possibilities:  Deep-Dark Chocolate, S'Mores, and a Ginger-Lime one that is pressure cooked. 
Pay homage to mom by making her something special.  In spite of all your flaws, she thinks you are perfect and doesn't seem to notice, which is why my mom will just love this cheesecake.  Happy Mother's Day, mom.  I am also making you a card.  Get your kleenex ready.  
Light Lemon Cheesecake 
nonstick cooking spray
9 sheets graham crackers (about 3/4 cup)
3 tablespoons coconut oil

 

1 – 16 ounce

 

light cottage cheese
1

 

– 8 ounce package Neufchâtel, or light, cream cheese
3 large eggs
3/4 cup sugar, or sugar substitute
1 Tablespoon grated lemon zest
1/4 cup fresh lemon juice
2 Tablespoons all-purpose flour
1 teaspoon vanilla extract
sliced strawberries, raspberries, blackberries and blueberries

 
Preheat oven to 350º F.  Lightly coat a 9-inch springform pan with cooking spray. Pulse graham crackers in blender until they become finely ground.  Add coconut oil and pulse to mix.  Transfer to springform pan and press crumbs into bottom, using the bottom of a measuring cup to press and make even and compact.  Rinse blender, then combine the cottage cheese, Neufchâtel, eggs, sugar, lemon zest, lemon juice, flour and vanilla.  Blend until smooth.  Pour into crust and bake for 40 minutes.  Let cool completely.  Chill in refrigerator, at least 4 hours, or overnight.  Top with berries and serve.   
– adapted from recipe by Katie Lee, food network.com