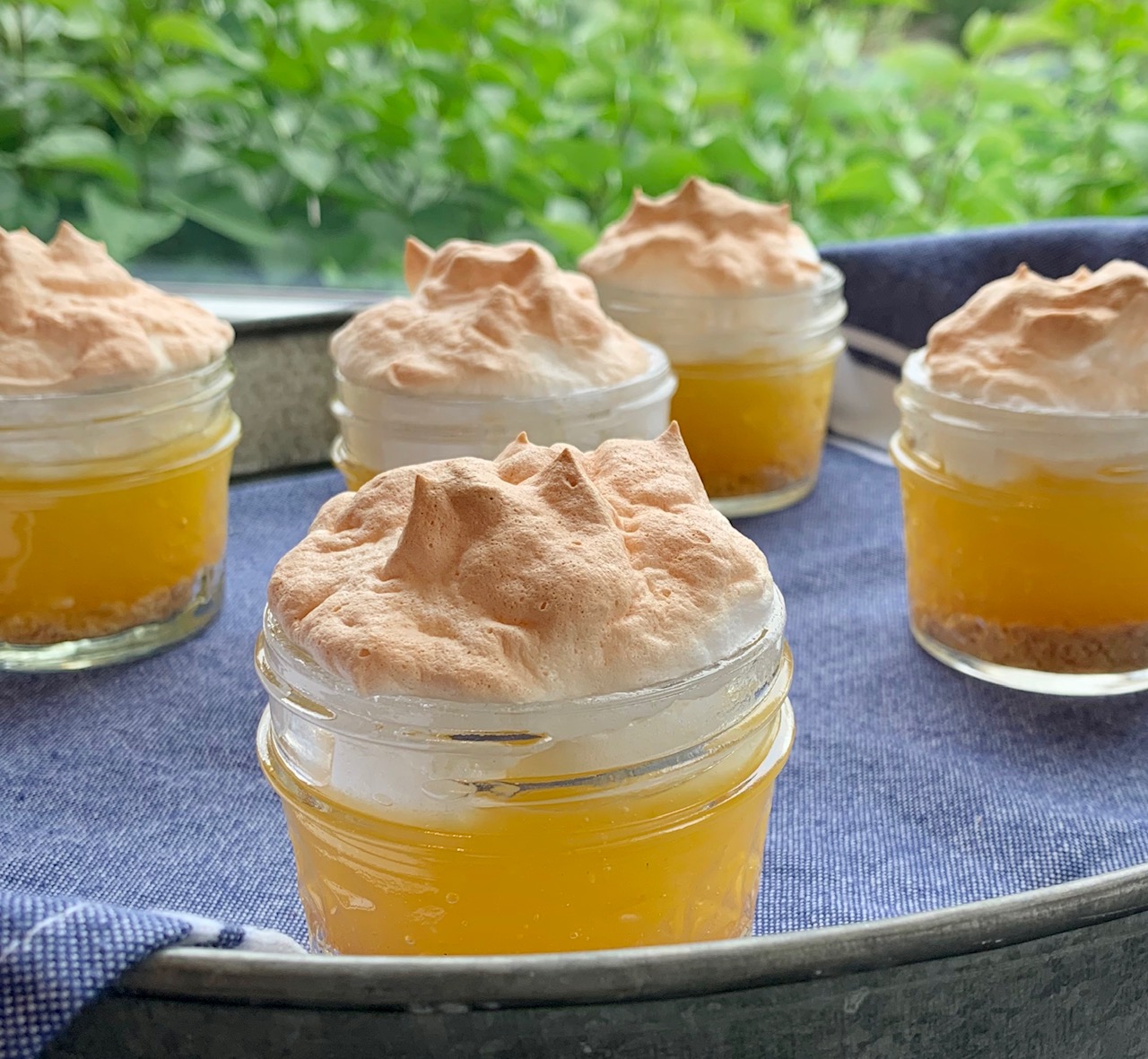 Time for a little sunshine! Old fashioned, classic comfort food is where it's at, and lemon meringue pie is a dessert that never fails to deliver. Here's a sweet treat sure to bring a smile –  perfect for a thoughtful, drop off delivery for Father's Day. Or, why not celebrate International Picnic Day this June 18th with these pint-sized mini pies, perfect for no contact, socially distant sharing in the fresh, open air. 
Individual servings have become de rigueur in these germ conscious times, but I like them because they're just plain cute. Bright and citrusy, these self-serve Lemon Meringue Pies are zesty and delicious.  You can also follow the recipe below and make a full sized pie if you like, using a pre-baked 9-inch pastry shell, or a graham cracker crust.
A few tips on nailing that meringue. Bring your eggs to room temp by pulling them from the fridge an hour ahead. Make sure your bowl and your beaters for the egg whites are squeaky clean and dry. Use care separating your eggs. Even just a speck of yolk can prevent your whites from achieving peak stiffness. Don't skip the cream of tartar. It's in there for a reason! Add the sugar gradually, a teaspoon at a time, beating until it dissolves. And don't overbeat your egg whites. Use high speed on your mixer and know when to stop: shiny, moist, stiff peaks that hold their shape. 
Lemon Meringue Minis 
makes 6 
crust:
1 cup graham cracker crumbs (about 7 rectangles)
1 1/2 Tablespoons butter, melted
lemon pie filling:
1 1/2 cups sugar

3 Tablespoons cornstarch

3 Tablespoons all-purpose flour

 

1/8 teaspoon salt

 

1 1/2 cups water
3 eggs
2 Tablespoons butter
1/2 teaspoon lemon zest
1/3 cup freshly squeezed lemon juice
meringue:
3 egg whites
1/2 teaspoon vanilla
1/4 teaspoon cream of tartar
6 Tablespoons sugar

 
Add graham cracker sections to blender and pulse until finely ground. Add butter and pulse to mix. Spoon crumbs into bottom of each of six 4 ounce jelly jars, filling each jar evenly to create a 1/4 inch crust. Use a small juice glass to press crumbs into a compact, even layer. 
Preheat oven to 350º F. Combine sugar, cornstarch, flour and salt In a medium saucepan. Gradually stir in water. Cook over medium-high heat, stirring constantly until thick and bubbly. Remove from heat. 
Separate eggs:  yolks into a small mixing bowl, whites into a mixing bowl large enough for making meringue.  Set bowl with whites aside. Beat egg yolks slightly, then stir about 1 cup of the hot sugar mixture gradually into the yolks while continuing to stir. Return mixture to saucepan and bring to a gentle boil. Cook 2 minutes more, stirring constantly, until thickened. Remove from heat. Stir in butter and lemon zest; gradually stir in lemon juice, mixing well. 
Beat egg whites, vanilla and cream of tartar at medium speed using a hand or stand mixer until soft peaks form. Gradually add the sugar, 1 tablespoon at a time, pouring slowly into mixing area and beating at high speed until sugar is dissolved and stiff, glossy peaks form. 
Spoon lemon filling over graham cracker crust, filling each jar to slightly below the level of the threads at the top. Spoon meringue generously on top of filling, carefully spreading to edges of jars to seal. Bake for 12 minutes, or until meringue is golden. Cool on a wire rack. Cover and refrigerate to store. Serve chilled. 
– adapted from Better Homes and Gardens New Cook Book recipe, 1981 edition