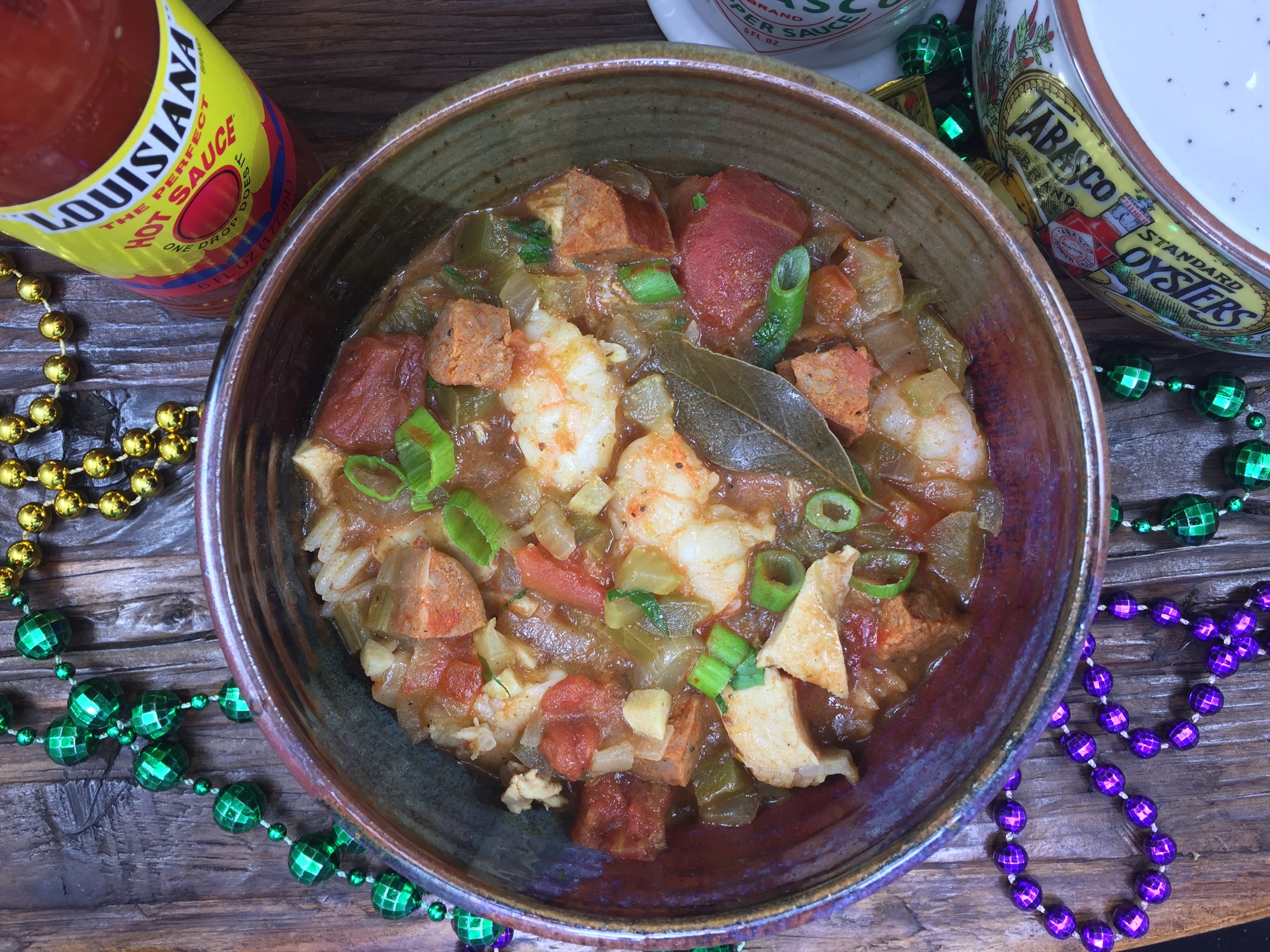 Here is a photo of the finished gumbo.  If you got a head start and made the Make Ahead Gumbo recipe I posted on Saturday, all you need to do is rewarm, and add the meat and seafood.  I added about 2 more cups of water to the gumbo I made, and a little of the the hot sauce, just to get the party started.
If you didn't get a head start, here's the recipe.   Skip the let cool and ladle step, and proceed to Final Prep.  Happy Fat Tuesday, and enjoy!
Make Ahead Gumbo
3 tablespoons vegetable oil
3 tablespoons flour
2 cups chopped onion 
1 green bell pepper, chopped
3 stalks celery, chopped
1/2 teaspoon cayenne pepper (optional)
1 – 14.5 ounce can diced tomatoes
3 cloves garlic, minced
zest of 1 lemon
1/2 teaspoon black pepper
2 cups chicken or shrimp stock, plus possibly 4 more cups of broth or water 
2 bay leaves
1 tablespoon fresh thyme, or 1/2 teaspoon dried
1 tablespoon Poultry or Seafood Magic, or Joe's Stuff*
1 teaspoon liquid Crab Boil (optional)
3 links andouille sausage, cut into pieces 
2 cups cooked chicken, cut into pieces
1 pound fresh or frozen shrimp, peeled and deveined 
1 bag frozen okra
1/2 cup fresh parsley, chopped
1/2 cup green onions, chopped
hot, cooked rice
filé powder
Tabasco, or other hot pepper sauce 
Heat a cast iron frying pan over medium heat.  As the pan warms add oil and whisk in flour to make roux.  Whisk continually (or at least very, very frequently!) until the roux becomes a dark brown, melted chocolate-like color, about 2 Zydeco songs.  Do not leave that roux unattended!  While it is cooking, don't look away or stop stirring, because it will burn.  Once it has reached that nice brown color, add onion and sautè until soft.  Add green pepper and celery and cayenne, and cook 5 minutes, stirring often.
Transfer to stockpot.  Add tomatoes, garlic, lemon zest, pepper, stock, bay leaves, and thyme.  Season with Poultry or Seafood Magic, or Joe's Stuff, and add liquid Crab Boil if using.  Simmer 40 minutes and add more seasoning to taste.  Let cool and ladle into containers to refrigerate or freeze.
Final Prep:
Brown andouille sausage in a small bit of oil in large stockpot or Dutch oven over medium heat.  Add gumbo and cooked chicken and let warm, stirring occasionally.  Add additional stock or water, as much or as little as desired.  Add shrimp and as much of the frozen okra as you want closer to serving time, so they don't become overcooked.  To serve:  spoon rice into bowls first, ladle gumbo over.  Garnish with fresh parsley and green onion.  Add filé powder at the table.
Notes:
*Joe's Stuff is a great, all purpose spicy seasoning.  I stock up when I'm in New Orlean's, or you can mail order it.
I like to use everything in my gumbo, so I add chicken, shrimp, and andouille sausage.  To keep this a little on the healthier side, I use chicken andouille, but you can use any good smoked sausage.
Some recipes don't have the tomatoes, some don't call for okra.  I like to use both.
If you can find filé, it's nice to have it to add at the table
Be ready to add 2 – 4  more cups of stock or water.  Some recipes call for 8 cups broth, but they also have a lot more roux.  One class I took called for 1 cup each of flour and oil.  I have had really good results using just 3 tablespoons of each, which is what one recipe used that won first place at The American Heart Association Cookoff in January 1993.
I like to use Louisiana Hot sauce instead of Tabasco.  Once you get out of New Orleans, it can be hard to find, but some Walmart stores here carry it.