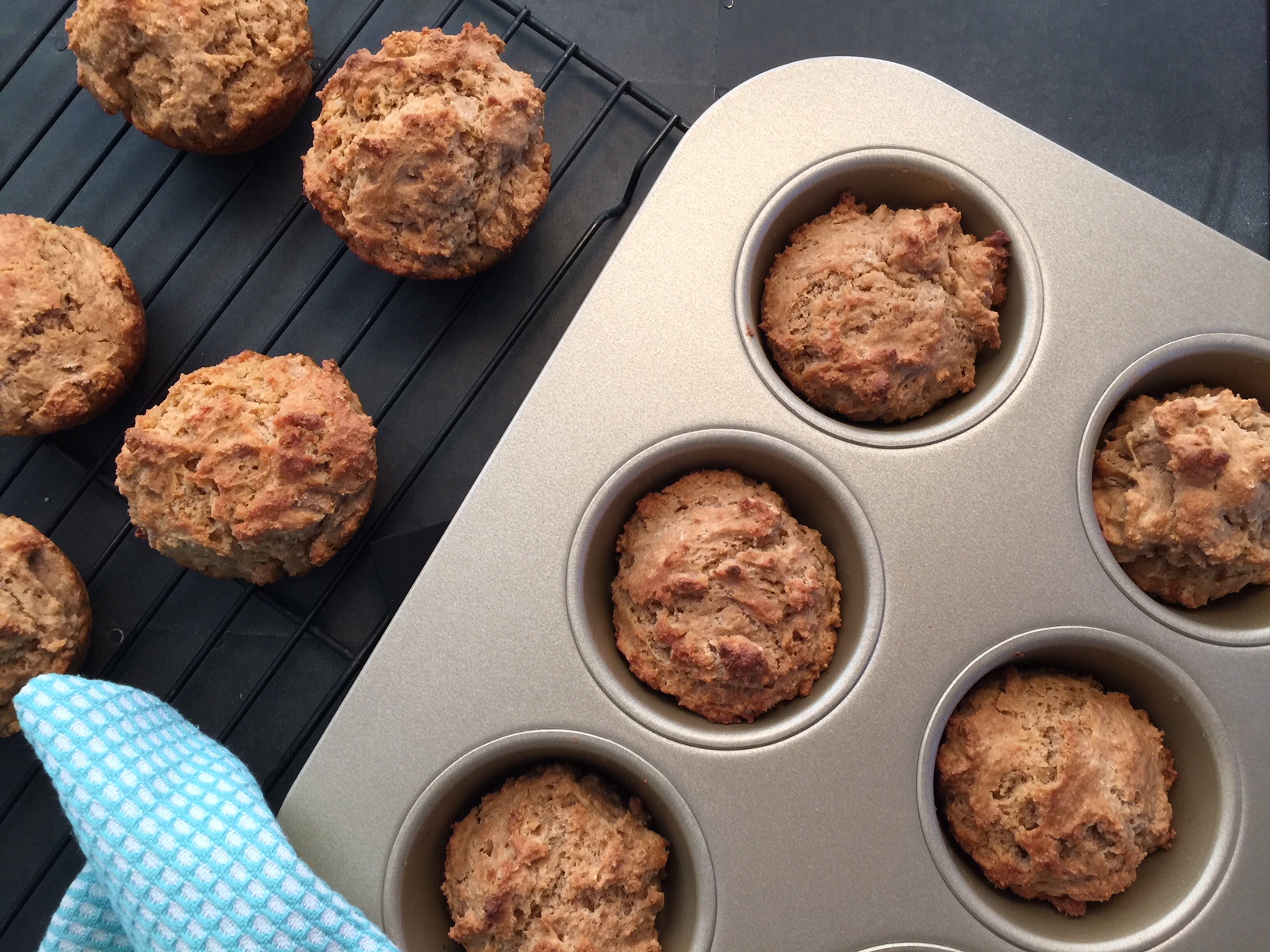 The sun is shining, the daffodils are blooming, March is midway and things are looking mighty green.  Get your St. Patrick's Day under way with a pint-sized version of a favorite recipe.  Irish Soda Muffins are a fast, easy way to bring a little leprechaun fun to your week.  Served with a hearty Guinness stew, or topped with a spoonful of jam for breakfast, they are a wee sized version of the traditional recipe, guaranteed to bring a smile to anyone's eyes, Irish or not.
I used King Arthur whole grain white whole wheat flour and reduced the 3 tablespoons of sugar in the original recipe to just 1 tablespoon to make these more nutritious and a bit healthier.  If you don't have buttermilk, you can make just enough for this recipe by pouring 1 cup of milk into a liquid measuring cup.  Remove 1 tablespoon of milk, add 1 tablespoon of lemon juice or vinegar, and stir well.   Do this first and let it sit while you finish with the rest of the recipe.
Store covered and hope you are lucky enough to have some left by the end of the week.  They also pair well with green beer.
Irish Soda Muffins
2 cups all purpose flour
1 tablespoon sugar
1/2 teaspoon baking soda
1 1/2 teaspoons baking powder
1/2 teaspoon salt
1/4 cup salted butter
1 cup buttermilk
1 large egg, beaten
Preheat oven to 375º F.  Spray muffin tin with non-stick spray or lightly coat with oil. In a large bowl, mix flour, sugar, baking soda, baking powder and salt.  Add butter and use a pastry blender to cut butter into flour mixture until it resembles coarse crumbs.
Add egg to buttermilk and whisk to combine.  Pour buttermilk mixture into dry ingredients and stir.  Batter will be very thick.  Spoon into muffin cups.  Bake for 18-22 minutes, or until a tester comes out clean.  Let cool 5 minutes before removing from tins.
– adapted from Irish Soda Muffins, the ginghamapron.com