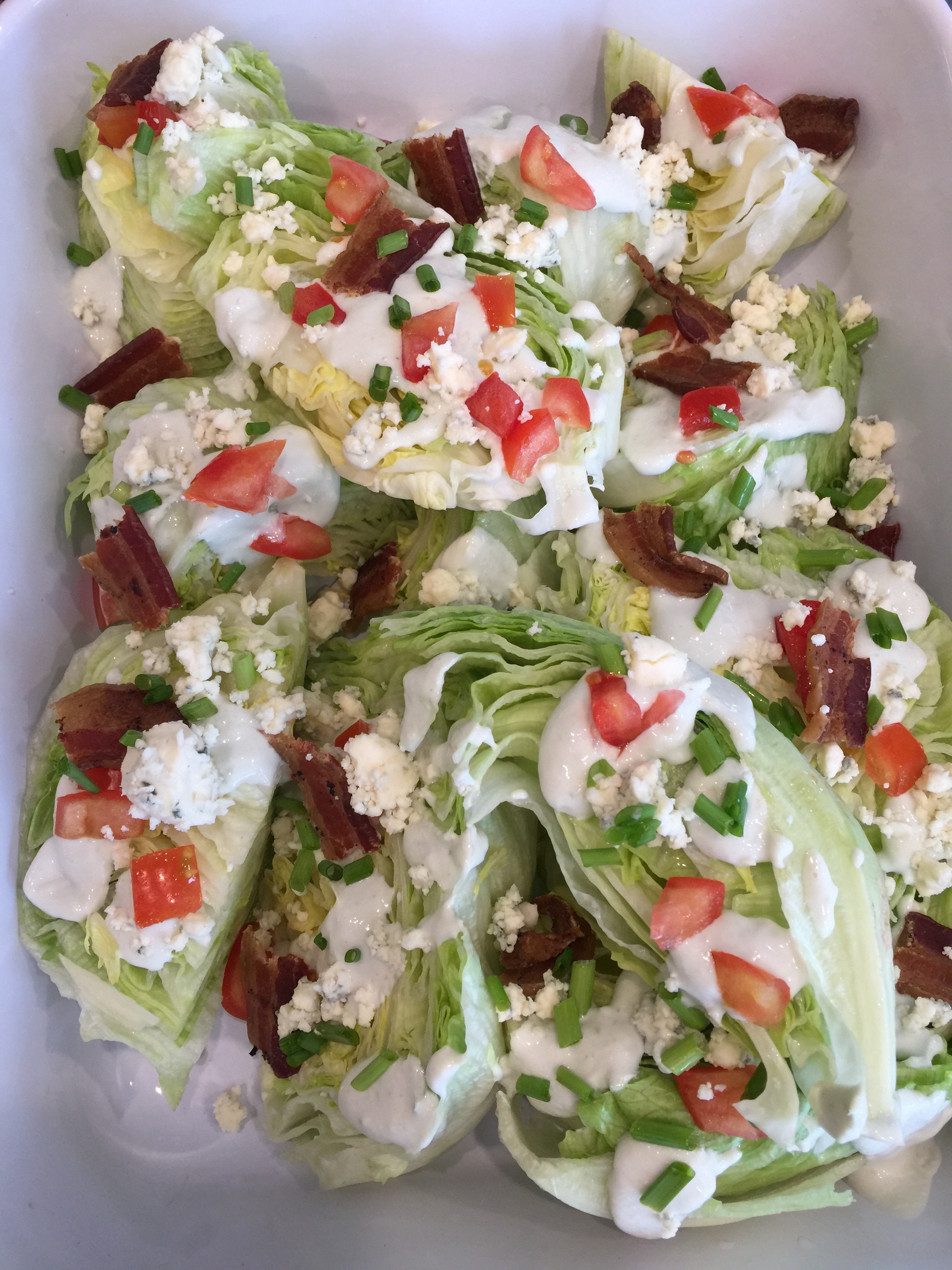 The surest way to know what someone wants is to ask them.  I must know my husband well, because I was not one bit surprised when I asked him what he wanted for Father's Day and he said, "Meat."  Good to have a basic guideline, but this left me with a lot of blanks to fill in as far as the rest of the meal.
Most men do not get all that excited about salad, but if you are talking an iceberg wedge, that's a whole different story.  It is no secret that men love iceberg wedge salads.  (I am willing to bet there are cave paintings of this somewhere.)   The problem is, you have to plate and garnish each one individually, which rules them out if you have a large group of people.  Not so, if you make them up casserole style, the way they did in the June edition of Bon Appetit.  I tried the recipe as it was written, but thought it would be better with a more traditional blue cheese dressing, so I used the recipe from their August 2013 "Wedge Allegiance."
I am thinking about how clever it is to make up a big batch of wedge salads ahead of time while I am enjoying a cup of cowboy coffee.  Cowboy coffee was one of my dad's specialties.  You may have had this at your house, too, but not even realized it.  Dad was a frustrated cowboy.  Trapped in a home not-so-much on the range, he had at least 4 versions of an open-pit fire he constructed himself in our back yard.  He was always inventing something or other he could cook on a campfire, and the most memorable was cowboy coffee.  If you had ever been served this beverage, you would definitely remember it.  It was a pot of water with coffee grounds in it (bonus points for the blue and white enamelware pot he used) that was lovingly heated to a boil.  Like a kid selling lemonade, he would get very excited as he handed the hot cup to you – "cowboy coffee!"  He would watch for your expression of enjoyment, and you would play along. But it was a snipe-hunt of a beverage, hot brown liquid concealing the cup full of grounds that would no doubt find their way into your every sip.  We continue to "enjoy" cowboy coffee whenever our coffee pot acts up for no apparent rhyme or reason.  And today is one of those days.
It is this cowboy theme that sticks in my head as I think about Father's Day.  It's Dad's special day, so let him have free reign (sorry!) in the meat department.  Let him pick out what he wants.  It's your job to handle the go-alongs.  How about a baked potato, some corn on the cob, and a side of pinto beans?  You can make this wedge salad ahead of time and then you can go sit by the campfire, too.
Iceberg Wedge Salad 
8 slices thick-cut bacon (about 1 lb.)
2 tablespoons white wine vinegar
1 heaping tablespoon finely chopped shallot
sea salt
1/2 cup milk
3/4 cup light sour cream
1 tablespoon fresh chopped chives
1/2 cup crumbled mild blue cheese 
sea salt
freshly ground pepper
1 large head iceberg lettuce, cut into 8 wedges
or 2 small heads, cut into 4 wedges each
1 large tomato
 additional chopped fresh chives and blue cheese crumbles for garnish
Cook bacon, using any method you like, until crisp.  If you have a smoker, you can smoke the bacon.  This can be done a day ahead and kept covered and refrigerated.
Combine 1 tablespoon white wine vinegar, chopped shallot, and a pinch of sea salt in a small bowl.  Let stand.  Measure 1/2 cup milk (I used skim, but you can use 1%, 2% or whole) and remove 1 tablespoon.  Add 1 tablespoon white wine vinegar and stir well.
Rinse iceberg lettuce well and cut into 8 wedges.  Arrange wedges in a large rectangular baking or serving dish.  Slice and seed tomato.  Neatly dice and reserve.
Add sour cream, chives and blue cheese to shallot and vinegar.  Add milk, starting with 3 tablespoons, whisking well, or use an immersion blender.  Add more milk to adjust consistency if desired.  Season with salt and freshly ground black pepper.
Drizzle dressing by generous spoonfuls over lettuce wedges.  Top with bacon pieces and diced tomato.  Garnish with additional chopped fresh chives and blue cheese crumbles.
Finally, don't forget dad's favorite dessert.  You may want to ask about this, too, as requests can change from year to year.  Home made lemon meringue pie, it is.  I'll be squeezing lemons.