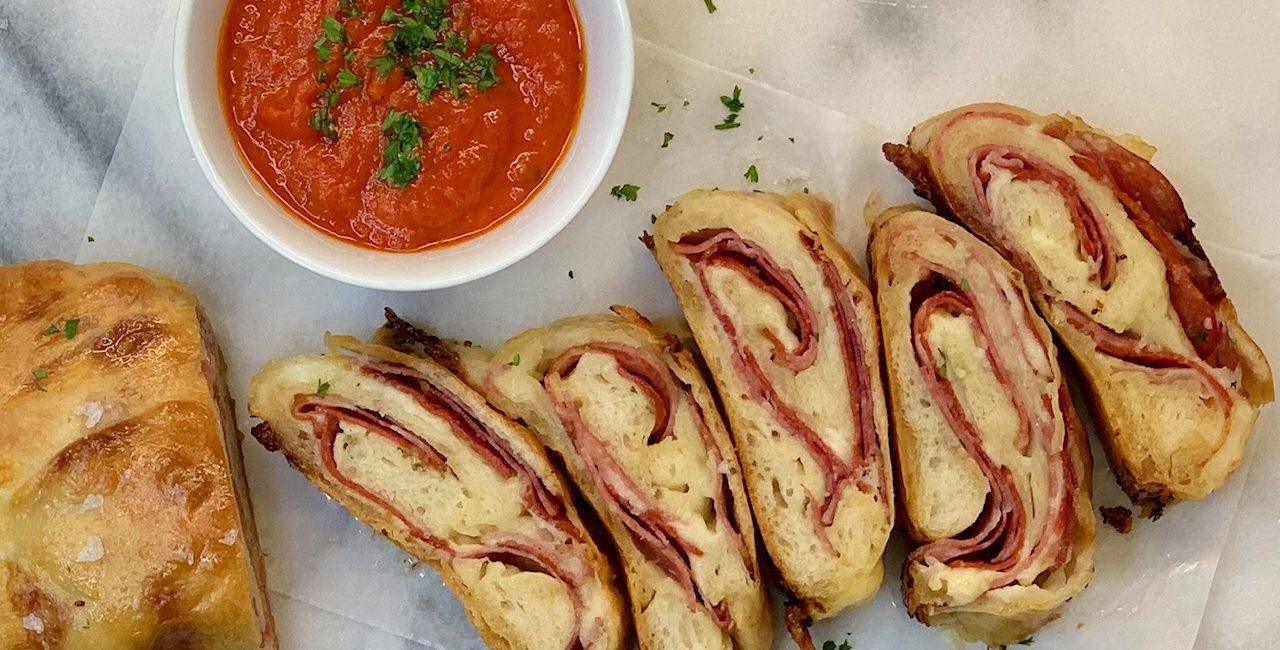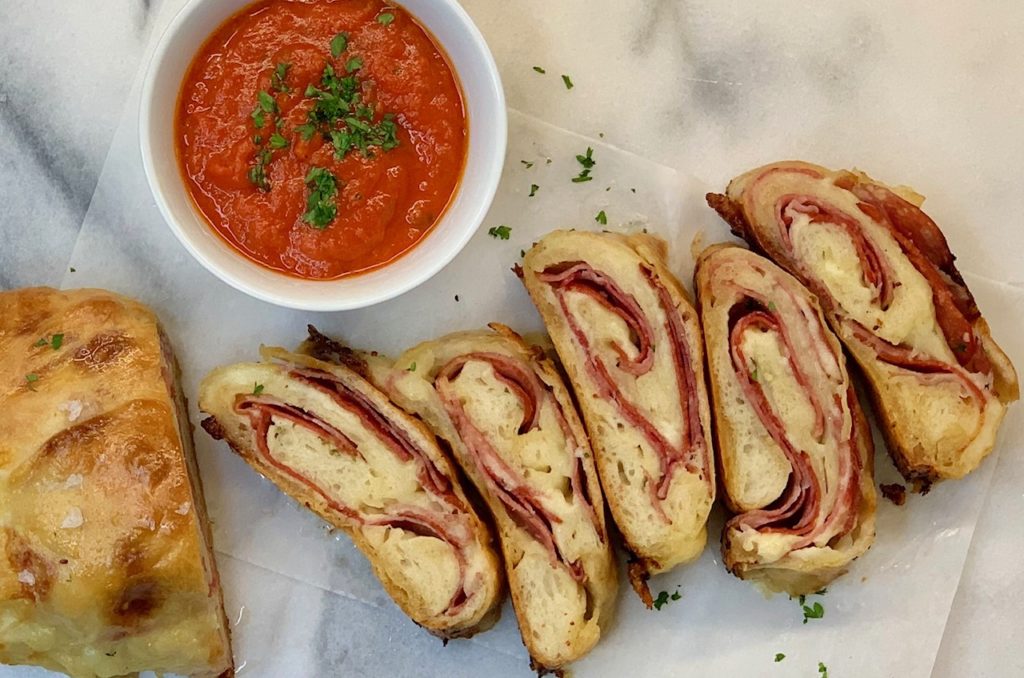 At the end of the day, it doesn't matter what you make, but it better be good and it needs to get on the table quick. Everyone's hungry and they're all waiting for you. While you have a captive audience, why not pull something magic from your oven. Flaky, crisp, and warm, Homemade Stromboli is sure to make some excitement. Filled with your favorite meats and cheeses, it's a crowd pleaser, even better if served with a side of marinara for dipping. Whether you have it for lunch, dinner, snacks, or game day, it's just plain fun and it's definitely delicious. 
The easy homemade dough has only 6 ingredients and is well worth the effort. It bakes up soft and chewy on the inside, but has a wonderfully crisp crust and can also be used for pizza, ham and cheese pockets, or pizza rolls. The recipe yields about 2 pounds of dough, enough for 2 strombolis, or 1 stromboli, plus 1 pizza. For best results, make the full recipe. You can freeze half to have on hand for pizza, or better yet, make stromboli again. Use your bread machine to make effortless dough. Toss everything in and you're free to do other things while it mixes and kneads. Homemade dough is heavenly and just wait until you smell that Stromboli baking!
Make sure any meat you use is cooked, and use larger, deli sliced pepperoni rather than the small pizza size, which will make your stromboli harder to roll. Don't use more than the recommended amounts of meats and cheeses, or they may spill out the sides and also make your stromboli difficult to cut. If you don't want to make the dough, you can use any kind of refrigerated, pre-made pizza dough and it will still be delicious. I made a second one to try using a Pillsbury Pizza Crust and had everything rolled and in the oven so quick I wondered why I hadn't done this before. 
Homemade Stromboli
homemade dough for 2
1 1/3 cups (320ml) warm water (between 100-110º F)
2 and 1/4 teaspoons instant or active-dry yeast (1 standard packet)
1 Tablespoon granulated sugar
2 Tablespoons (30ml) olive oil
3/4 teaspoon salt
3 1/2 cups (438g) all-purpose flour, spooned and leveled, plus more for work surface
fillings for 2
3 Tablespoons unsalted butter, melted
2 garlic cloves, minced (or 1/2 teaspoon garlic powder)
2 teaspoons chopped fresh parsley (or 1 teaspoon dried)
1 pound thinly sliced meats such as Italian cold cuts, deli ham, or large pepperoni slices

 

3/4 – 1 pound cheese (about 3 cups shredded or about 16-20 slices deli cheese)
egg wash and toppings for 2 
egg wash: 1 large egg beaten with 1 Tablespoon water
optional: sprinkle of chopped fresh or dried parsley, sea salt, pepper, Italian seasoning, and/or Parmesan cheese

 
Whisk warm water, yeast, and granulated sugar together in the pan of your bread machine. Cover and let rest for 5 minutes.
Add olive oil, salt, and flour. Select "Dough" mode (30 minutes knead, 70 minutes rise). After dough finishes kneading (30 minutes), press "Stop." Remove pan and transfer dough to a lightly greased bowl. Cover with plastic wrap and a clean towel and place in a warm area to rise for 60-90 minutes, or until double in size. 
Preheat oven to 400º F. Line a large baking sheet with parchment paper. When dough is ready, punch it down to release the air. Divide in half. If not making 2 strombolis, shape half into a ball and lightly coat all sides with olive oil. Place into a zip-top bag and seal tightly, squeezing out all the air, then freeze.* 
On a lightly floured surface, use a rolling pin to roll other half of dough into a 10×16-inch rectangle, using your hands to square-off edges. If dough shrinks, cover it lightly and let it rest for 10 minutes, then roll again. 
Mix melted butter and garlic together, then brush over rectangle; sprinkle with parsley. Layer with meats and cheeses, leaving a 1-inch border on the bottom and a 3-inch border on the top. Start with 8-10 slices of meat, then add a layer of cheese. Repeat with more meat and cheese, using about 1/2 pound meat and 1/2 pound cheese. 
Brush all edges with egg wash, including 3-inch gap at top. Starting with edge closest to you, slowly roll into a tight 16-inch log, folding in the two sides as you roll. Dust your hands or the dough with flour, if needed. Carefully transfer to lined baking sheet. Pinch or tuck in ends if they become unfolded. 
Brush top with egg wash, and sprinkle with optional toppings, if desired. Using a very sharp knife, cut 4 slits in the top to allow steam to escape. (Can be covered and refrigerated up to 8 hours.) 
Bake about 25 minutes or until crust is golden brown and internal temperature reaches 200º F. Remove from oven and cool on baking sheet 5 minutes. Transfer to cutting board and slice. Serve plain or with pizza or marinara sauce for dipping. Store covered and refrigerated (sliced or whole) for up to 1 week. 
*To thaw, place frozen dough in refrigerator for 8 hours or overnight. Remove from refrigerator and let rest on counter for 30 minutes. Punch down to release air, if needed, then roll and fill as above. 
 – sallysbakingaddiction.com