Healthy Lemon Blueberry Pancakes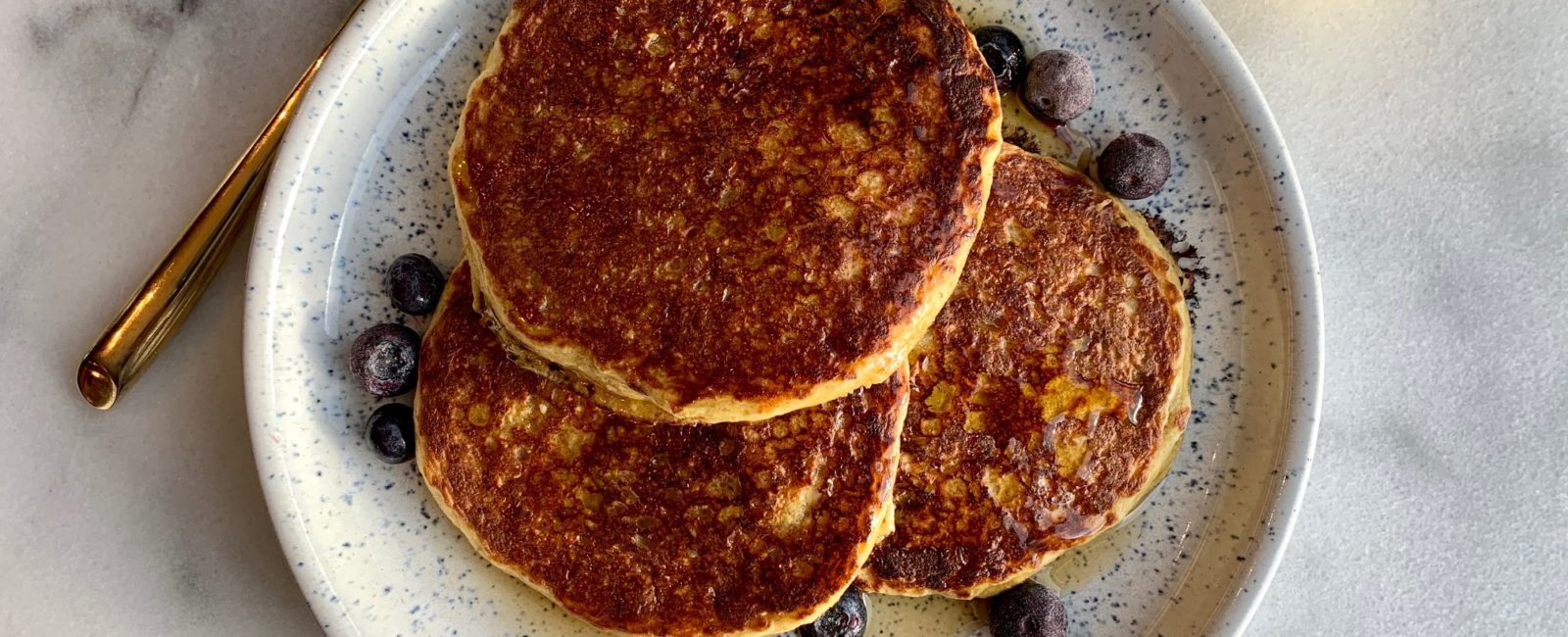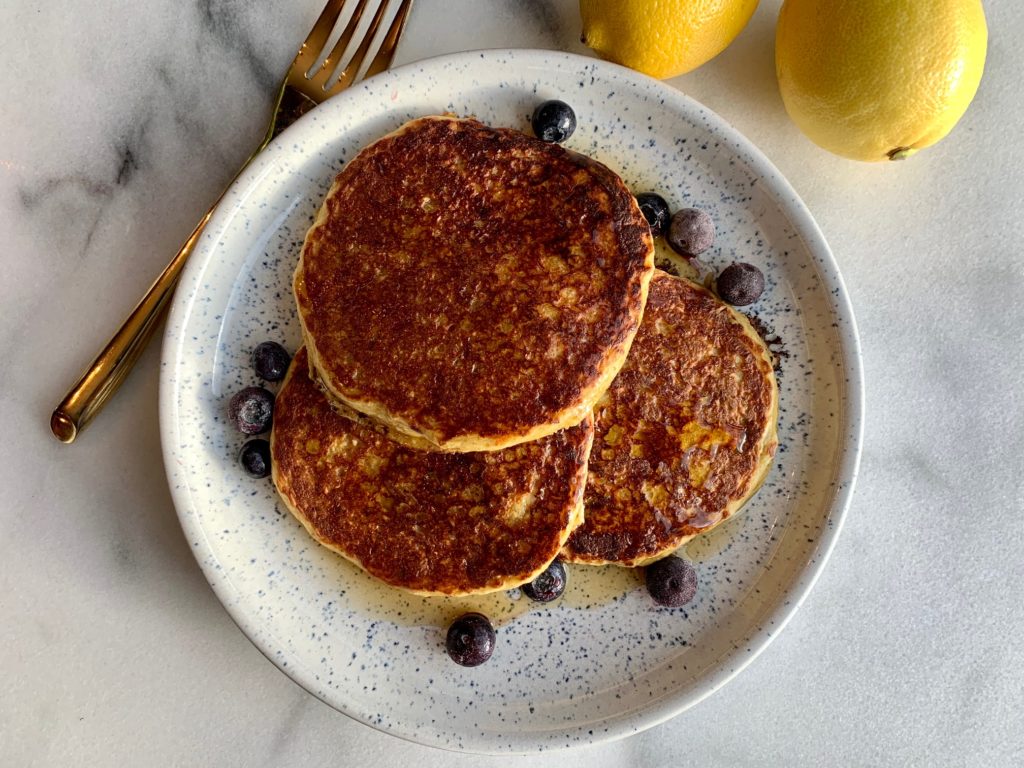 Add a squeeze of sunshine to your week with these high protein Healthy Blueberry Lemon Pancakes. Light and fluffy but high in fiber, they're made with nutritious ingredients like oats, cottage cheese and eggs to help keep you fueled for hours without weighing you down. Dotted with plump blueberries, there's a bright pop of lemon in each bite. 
The recipe below makes 12 4-inch pancakes that are gluten and soy free. You can make them vegan by using an egg replacer, or flax eggs, and dairy free yogurt in place of the cottage cheese. Store leftovers airtight and refrigerated for up to 3 days. Reheat in the microwave.
Double up: measure just the dry ingredients for a second batch into a separate jar as you make these so that you can make another batch of pancakes quickly. For another bright breakfast, swap in orange peel and juice for the lemon, and use almond extract in place of the vanilla.    
Healthy Blueberry Lemon Pancakes
1/2 cup unsweetened almond milk, or milk of choice
1/2 cup cottage cheese
1 ripe banana
2 large eggs
zest of 1 lemon
1 Tablespoon lemon juice
1 Tablespoon maple syrup, plus more for serving
2 cups oats
1 teaspoon vanilla extract
3 teaspoons baking powder
1/4 teaspoon salt
1 cup blueberries, plus more for serving
butter or oil, for cooking
Add all pancake ingredients, except blueberries, to blender. Pulse a few times to mix, then blend on high speed for about 30 seconds until no lumps remain and batter is smooth. Heat a little oil or butter in a non-stick frying pan or griddle set over medium heat. Portion out pancakes using a 1/4 cup measuring cup, pouring batter onto heated pan. Scatter 5-6 blueberries on top of each pancake. 
Cook pancakes until bottom is golden brown, about 2-3 minutes. Flip, then cook another 1-3 minutes until done. Serve warm with additional fresh blueberries and maple syrup. 
– adapted from daisybeet.com 
Fear not the shortage. Once you try home made ketchup, you'll be hooked. This easy to make recipe lets you be in charge out of what goes in, leaving you with a delicious, healthier condiment at a fraction what you'd pay for a commercial or artisanal bottle. Adjust the level of salt or sweetness, or make it organic. The recipe below yields about 10 ounces for the cost of a small can of tomato paste plus a few pantry pulls. Delicious served warm, it keeps about 3 weeks in a glass container in the fridge.
If you've been hoarding the packets, be aware that Heinz states they have a shelf life of about 9 months. So, look ahead to that Memorial Day cookout. And be prepared to BYOB of ketchup. 
Home Made Ketchup
1  6-ounce can tomato paste
1/4 cup cane sugar, honey, agave or sweetener of choice
1/2 cup white vinegar
1/4 cup water
1/4 tsp salt
1/4 tsp onion powder
1/8 teaspoon allspice
dash cayenne
dash ground cloves
Combine all ingredients in a medium saucepan set over medium heat and whisk until smooth. Heat to a light boil, then reduce heat to low and simmer, stirring often, about 20 minutes. Store refrigerated in a covered container.