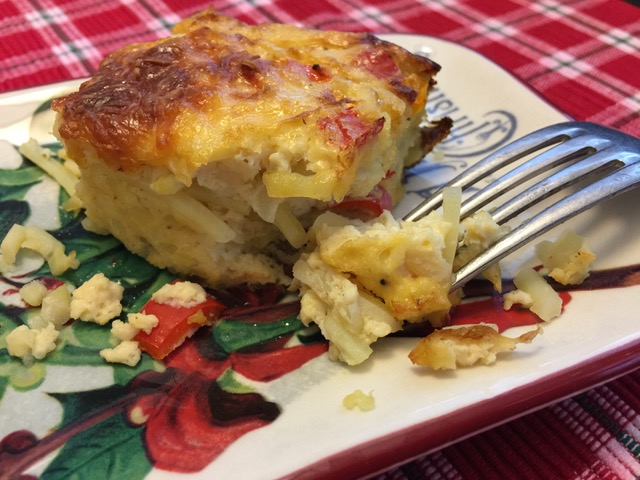 There is a moment in every holiday when you realize you have forgotten something.  You discover there's no butter, you forgot to buy celery, you find a side dish in the microwave the next morning…   Case in point, the morning of Canadian Thanksgiving.  Completely self-absorbed in all the main event meal prep, I had all four burners and the oven fully occupied before realizing I had hungry people that needed to eat breakfast.  They foraged for food and I vowed to do better.  I got my second chance in November.  The night before Thanksgiving found me baking pies, prepping side dishes, and making a casserole for breakfast.  This time, I was prepared.
A good recipe is a good recipe, so I urge you not to judge when I tell you that this one came from the inside of a condensed milk label.  Knowing I could lure my youngest son with anything containing potatoes, I knew this recipe had great potential because it included hash browns. I changed out a few things here and there.  The original recipe had 10 slices of turkey bacon, and I swapped in 2 slices of regular bacon instead.  I added 1/2 cup of crumbled, precooked Italian sausage, mostly because I happened to be cooking some for the stuffed mushrooms I was making.  This turned out to be an important ingredient, because I made another casserole with crumbled breakfast sausage and it was not as good.  Use the Italian sausage!   I ended up changing the milk label recipe quite a bit, so what follows is the recipe I ended up with.
This is great to make for overnight guests.  It would be an easy Christmas morning breakfast.  My youngest son, the potato fan, reheated his square in the toaster oven.  It browned, and crisped around the edges, and he insists that this made his breakfast even better.  If you do this, use a lightly oiled piece of aluminum foil.  No mess.  And… thinking ahead a bit…  This would be a great dish to make for New Year's.  After staying up late, people are hungry.  You could warm squares of this in the oven to serve to your guests after ringing in the New Year.  And, even better, you will be prepared with a breakfast ready-to-go for New Year's Day.
Hash Brown Casserole
6 large eggs, plus 3 egg whites – well beaten (or any combination to equal 12 oz. total)
1 can (12 oz) Evaporated Lowfat 2% Milk
1 1/2 cups shredded low fat Cheddar cheese
1/2 cup chopped onion
1 small red bell pepper, chopped
1/2 cup cooked, crumbled Italian sausage
2 thick slices cooked bacon, cut into small pieces
1 pkg. (16 oz) frozen shredded hash brown potatoes
freshly ground black pepper
Preheat oven to 350º F.  Lightly grease a 13 x 9 baking dish.  Combine eggs, evaporated milk and 1 cup of cheese in a large bowl.  Add onion, bell pepper, sausage, bacon, and 3/4 of the bag of frozen potatoes.  Season generously with freshly ground black pepper and mix well.  Pour into prepared dish and top with remaining 1/2 cup of shredded cheese.  Bake for 45 – 60 minutes or until set.