Grilled Zucchini and Corn Salad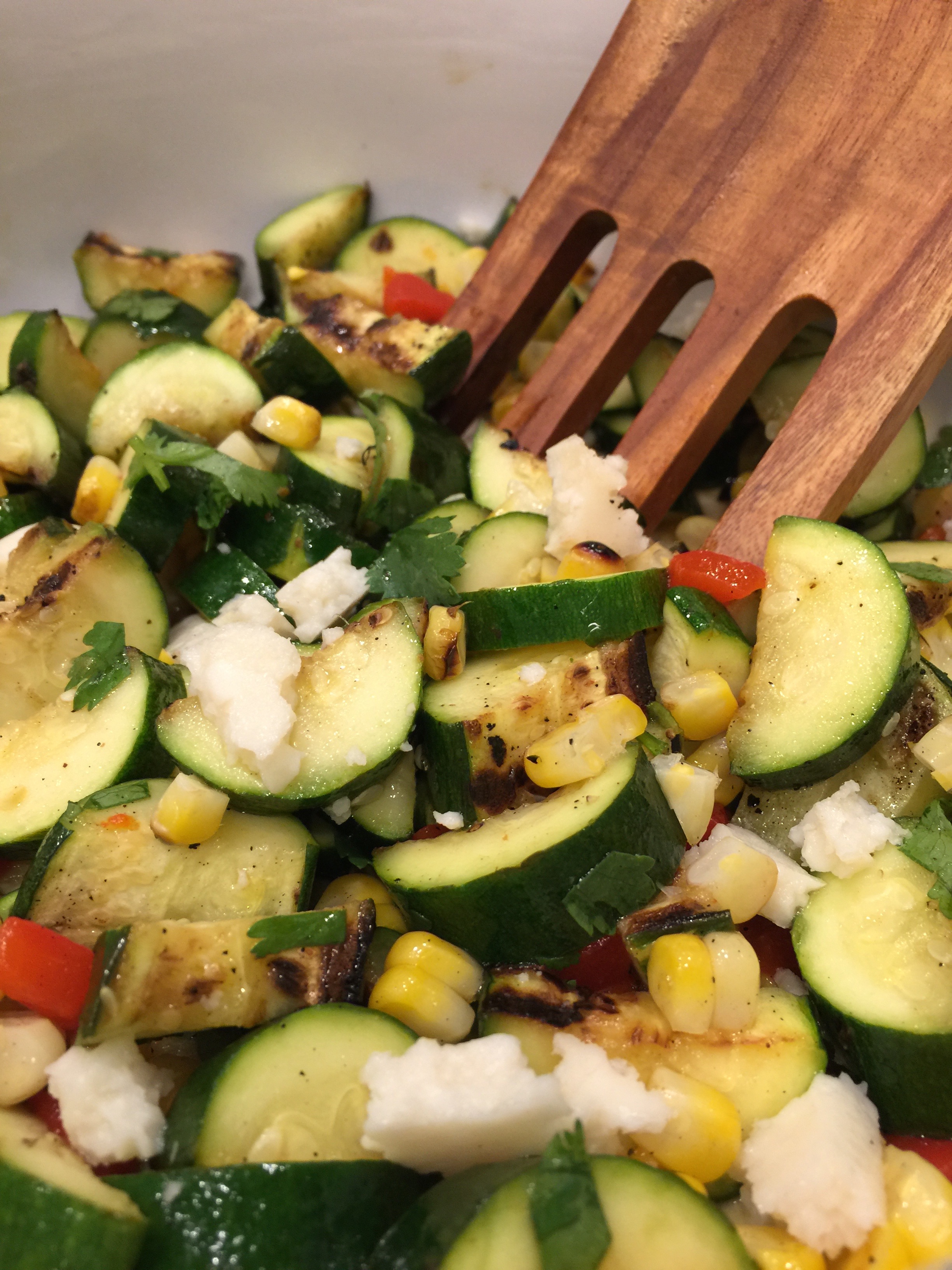 Ready for the last dance of the summer?  It's Labor Day already.  Where did the summer go?
Did you know that Labor Day has a Northwest connection?  In 1887, Oregon was the first state of the United States to make it an official holiday.  Originally meant to honor the labor movement, it is now one of the largest sale dates of the year, second only to Black Friday. It is a great time to buy a new mattress, shop for back to school clothes, or pack your things and move.  It is also a great time to throw something on the grill and just relax.  Take a moment and really embrace what's hot at the market right now.  This quick, easy salad combines zucchini and corn, and gives them a turn on the grill.  It's a perfect make and take if you happen to have an invite this weekend, or if you are the host, it's easy to pull together and still find time to relax.
Make this vegan by leaving the cheese out, or you can use a vegan cheese in place of the cotija.
Grilled Zucchini and Corn Salad
3 medium zucchinis, halved lengthwise
2 large ears of corn, husked with silk removed
2 tablespoons olive oil
1/4 cup diced roasted red bell pepper
1/4 cup crumbled cotija cheese
2 tablespoons fresh lime juice (about 1/2 lime)
1/4 cup chopped cilantro
Freshly ground black pepper, to taste
Heat grill to medium.  Measure olive oil into a small bowl.  Lightly brush zucchini and corn with olive oil, using about half of oil.  Place zucchini and corn over direct flame and grill for approximately 10 minutes, turning as needed for grill marks.  Cook until zucchini pierces easily with a fork, but is not too soft.
Remove vegetables from grill and set aside until cool enough to handle.  Add lime juice and cilantro to remaining olive oil in bowl and stir well to combine.  Cut corn off cob and slice zucchini widthwise into 1/2 inch chunks.  Combine zucchini, corn, roasted pepper, and cheese in large serving bowl.  Pour oil and lime juice over and toss to combine.  Season to taste with freshly ground black pepper.