Grilled Shrimp and Sausage Skewers With Smoky Paprika Glaze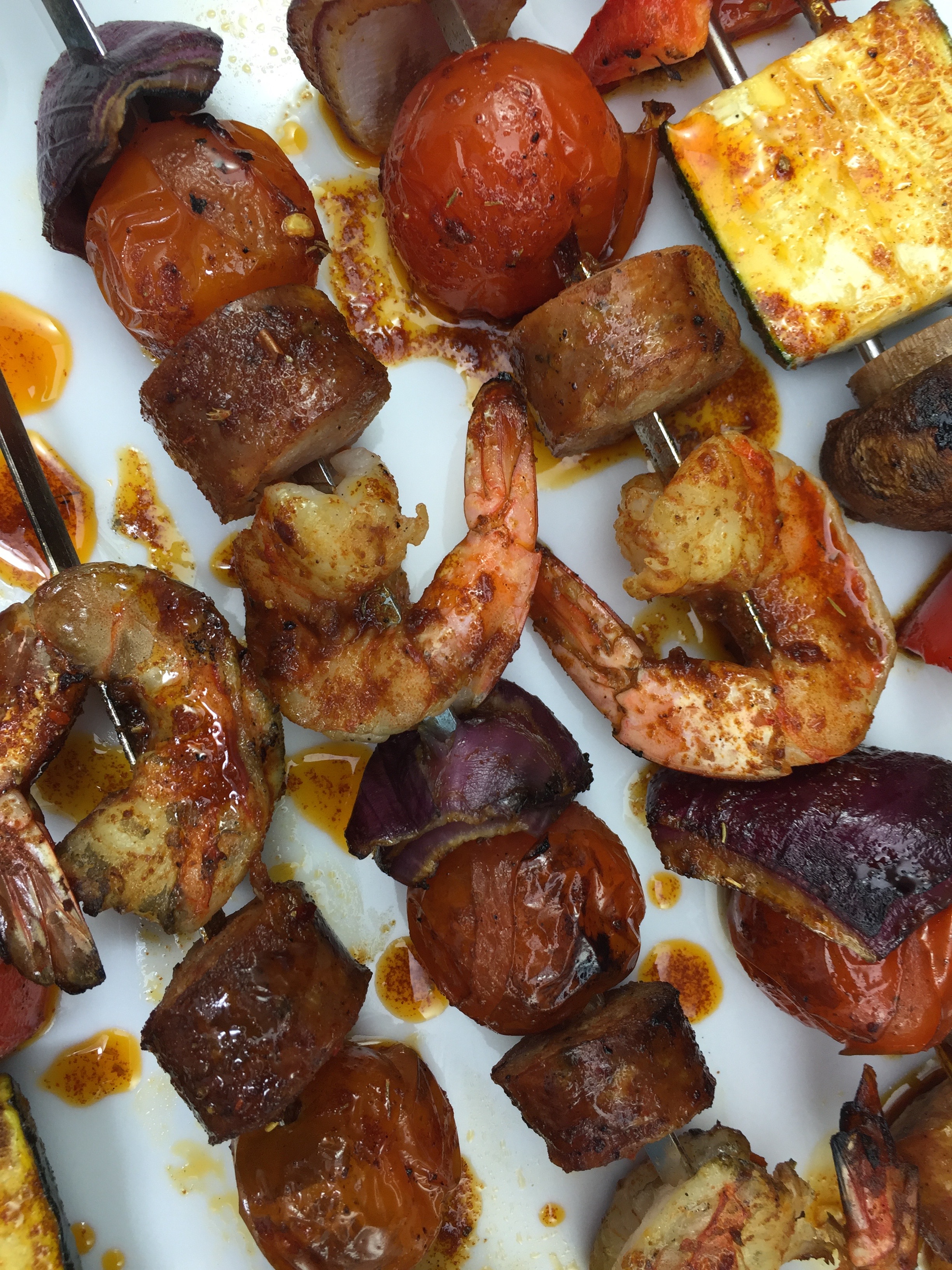 Ah, summer…  The nice weather and longer daylight make it pretty easy to forget about dinner altogether until it starts to get dark and you realize how late it is.  Dinner needs to be effortless.  And it can't require much forethought, because who has that right now?  This recipe came through my email from Epicurious about a month ago and I could hardly wait to try it.  It combines fast cooking shrimp, already cooked smoked sausage, and grills up in less than 10 minutes.  Plus, it comes on a stick, and I just can't get enough of poking things with a stick during the summer.  The Spanish spiced glaze was a cinch to make.  Fast, easy, no dishes… what's not to love?
If you make some vegetable skewers with zucchini wedges, baby Portobello mushrooms, and red bell pepper slices, you've got a whole meal.  Skewer the veggies separately, brush them with the seasoning glaze, and cook them right alongside the shrimp and sausage skewers.
You can use bamboo skewers, which are definitely a plus for clean-up, but be sure to soak them in water for at least an hour before grilling.   I relied on metal skewers because presoaking requires that pre-planning, which, unfortunately I don't do much of in the summertime.  If you do go the bamboo route, bamboo skewers plus the grill equals no dishes, except for the small bowls for the marinade.
This recipe was well liked and received many reviews since it was first featured in Bon Appetit back in June of 2010.  It originally called for 3/4 cup of olive oil, which seemed like an awful lot.  Based on what I read, I dialed back the olive oil to 1/2 cup and adjusted the paprika, vinegar, and salt accordingly.   There was still more than enough marinade at the end of the meal, even after adding the additional vegetable skewers.  This went into a small jar in the refrigerator, which was a good thing, because I am definitely going to make this again.  Maybe with the bamboo skewers?
Grilled Shrimp and Sausage Skewers With Smoky Paprika Glaze
makes 6 skewers
1/2 cup olive oil
4 large garlic cloves, pressed
2 tablespoons chopped fresh thyme
4 teaspoons smoked paprika*
2 teaspoons Sherry wine vinegar
1/2 teaspoon sea salt
freshly ground black pepper
1/2 teaspoon dried crushed red pepper
12 uncooked extra-large shrimp (13 to 15 per pound), peeled, deveined
12  1-inch long pieces andouille or other fully cooked smoked sausages (about 16 ounces)
12 cherry tomatoes
12  2 layer sections of red onion wedges
Nonstick vegetable oil spray
Combine oil, garlic, thyme, smoked paprika, Sherry wine vinegar, salt, several generous grinds of black pepper, and crushed red pepper in medium bowl and whisk to make glaze.  Transfer half of glaze to small bowl and reserve for serving.
Thread shrimp, sausage pieces, cherry tomatoes, and red onion on each of 6 long metal skewers.  Arrange skewers on large rimmed baking sheet.
Coat grill rack with nonstick spray and heat to medium-high.  Brush skewers on both sides with glaze from one of the bowls.  Grill until shrimp are opaque in center, turning and brushing occasionally with more glaze, about 6 to 8 minutes.
Arrange skewers on platter and serve with remaining bowl of glaze.