Grilled Pizza with Hot Sausage, Grilled Peppers and Onions and Oregano Ricotta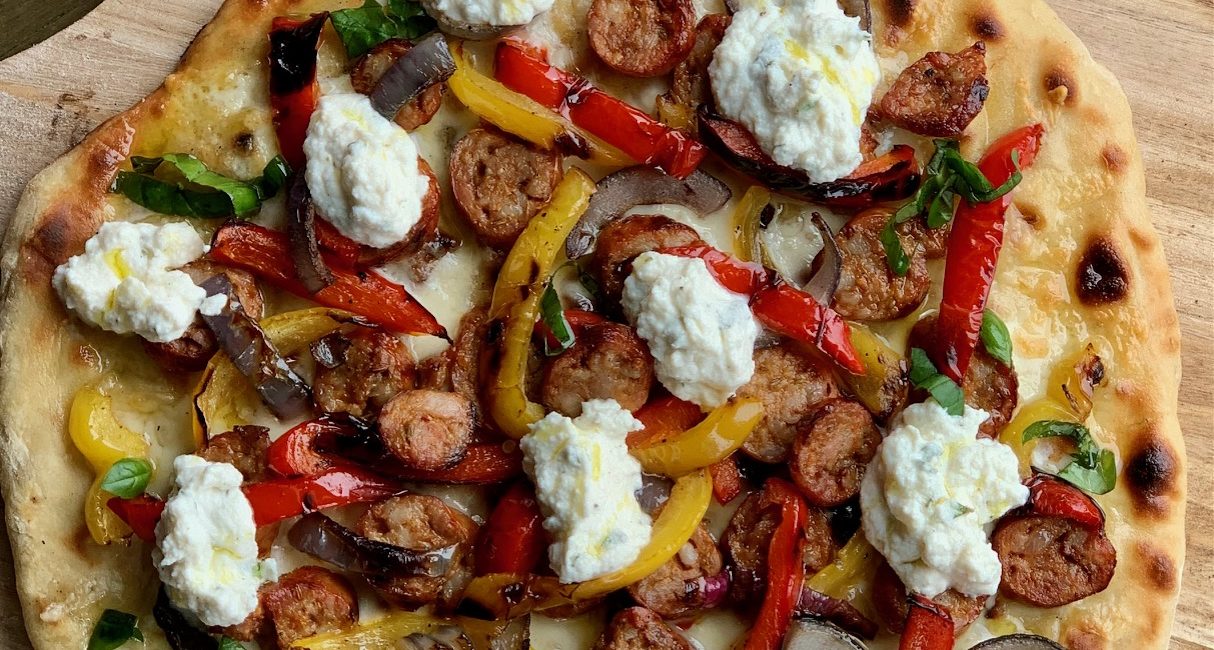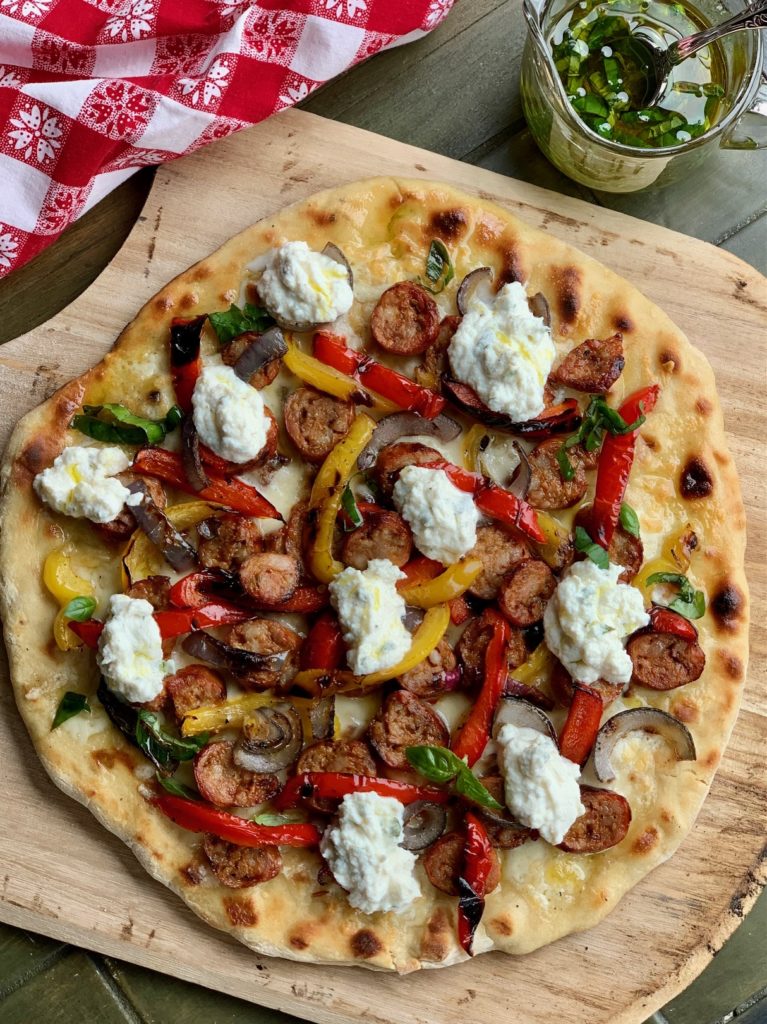 Get grilling and celebrate National Pizza Party Day this Friday with a do-it-yourself, delicious pizza you can make at home. This Grilled Pizza with Hot Sausage, Grilled Peppers and Onions and Oregano Ricotta is incredibly easy to make and once you try grilling your pizza toppings, you'll be reluctant to do it any other way. Short on ingredients, but big on flavor, it has all the cheese pulling, delectable toppings you would expect from a pizza parlor pie, but at a fraction of the price.
I have wonderful memories of making home made pizza with my grandparents. Even though they lived less than a minute from the town's best pizza spot, they staunchly refused to buy pizza there, proudly certain they could make an even better pizza in their own kitchen. My grandmother would start making the dough first thing in the morning, pulling a chair up to the counter so I could help add the ingredients to her stand mixer. She'd transfer the smooth ball of dough to a covered bowl, then later in the afternoon we'd make pizza. She would vary the toppings, but it always included home made tomato sauce, fresh herbs and freshly grated cheese. Simple, but heavenly!
Start the weekend off on a fun note with a pizza party on Friday night. If you have never grilled pizza and feel unsure about the process, there's a great video of this recipe on the Food Network website. Begin by tossing some flour over your work surface so your dough doesn't stick, then use a rolling pin to roll the dough, starting from the inside and rolling out. Once you have a nice big circle, oil your dough and season with salt and pepper. Place on grill, oiled side down, then brush the top of the dough with oil so that it will be oiled and ready when you flip it. 
Grilling adds amazing flavor and helps create a crispy, chewy crust. Cooking over flames puts a nice sear on the sausages and the fire's char enhances the peppers and onions. Fontina cheese stands in for the usual mozzarella. Mild, buttery and slightly nutty, it adds earthy flavor. Drizzle the basil vinaigrette over the top and offer the rest alongside. Cover and refrigerate any leftover vinaigrette to dress salads or drizzle over sandwiches. Finish with ricotta cheese seasoned with fresh oregano spooned generously over the top. Pizza perfection! 
I found everything for this recipe at Trader Joe's, including refrigerated pizza dough that I had never tried before. It was amazingly easy to handle and made beautiful, perfect pizza crust. I bought two crusts and 1 pound of Italian sausage and was able to make 2 pizzas and a smaller gluten-free one following the recipe below. If you are gluten-free, they also have pre-made cauliflower crust pizza in the refrigerated section. 
Get your family together, or gather a few friends, and head for the great outdoors. Make your own pizza at home and get in on the fun this Friday.
Grilled Pizza with Hot Sausage, Grilled Peppers and Onions and Oregano Ricotta
1 large red onion, cut into 1/4-inch thick slices
2 large yellow peppers, cored, seeded and quartered
2 large red peppers, cored, seeded and quartered
olive oil
salt and pepper
1/2 pound Italian hot sausage
1 recipe favorite pizza dough

 

1/2 pound grated fontina cheese
1 cup ricotta
2 tablespoons extra-virgin olive oil
2 tablespoons chopped fresh oregano
Basil Vinaigrette, recipe follows
Basil Vinaigrette
1/2 cup fresh basil leaves
1/4 cup white vinegar
1 tablespoon honey
salt and freshly ground black pepper
1/2 cup olive oil

 
Make Basil Vinaigrette: Combine basil, white wine vinegar, honey, salt, freshly ground black pepper and olive oil; set aside. 
Preheat grill. Brush onions and peppers with oil and season with salt and pepper. Place sausage, peppers and onions on grill. Cook sausage until golden brown and cooked through, grilling about 10 minutes each side. Grill peppers and onions until soft, about 3 to 4 minutes per side. Remove from grill when done. Slice sausage into 1/4-inch thick slices. Separate onions into rings and roughly chop. Remove peppers and slice into 1/8-inch thick slices.
Heat grill to high. Brush dough with olive oil and season with salt and pepper. Grill for 2 to 3 minutes or until golden brown. Turn over and grill for 1 or 2 minutes. Remove from grill and place on a flat work surface. 
Sprinkle fontina cheese evenly over top of pizza. Scatter the sausage, onions and peppers over the cheese. Place pizza on grill, close cover and grill until cheese melts, about 3 to 4 minutes. Transfer pizza to oven and place directly on rack set closest to broiler. Broil on high until top is browned, about 5 minutes. 
Combine ricotta, extra-virgin olive oil and oregano in a small bowl. Season with salt and pepper and mix together. Remove pizza from oven and drizzle with Basil Vinaigrette. Top with dollops of ricotta cheese mixture then let rest for 5 minutes. Slice and serve. 
-recipe by Bobby Flay, foodnetwork.com