Grilled Corn and Nectarine Salad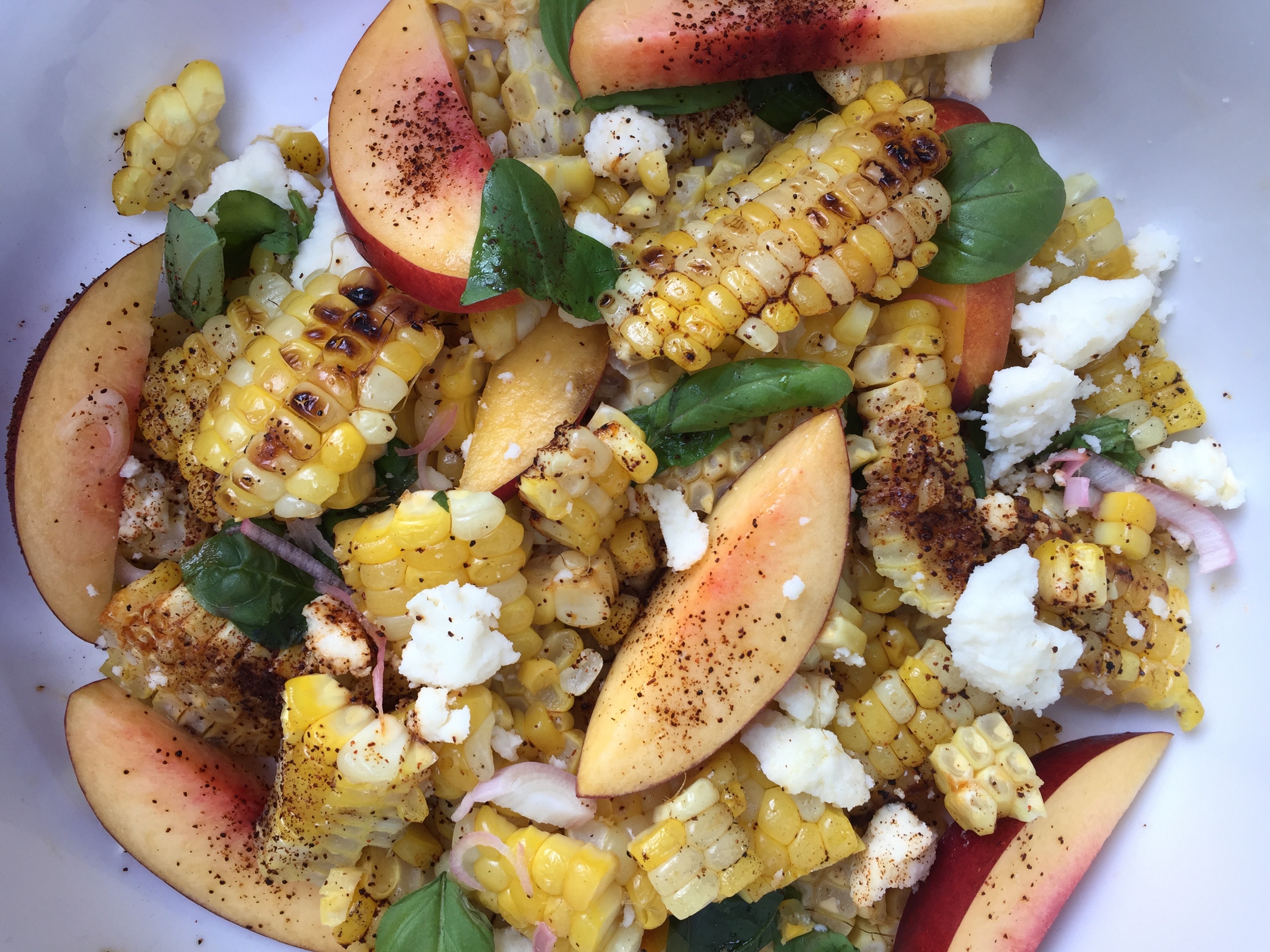 Summer, where did you go?  There were a few barbecues, some berry picking, a road trip or two, and then just like that – it was over.  Not to fear.  There are still plenty of nice, warm days ahead of us, and we know how to make the most of it.  Capture those last rays of summer and make good use of that amazing summer fruit with this Grilled Corn and Nectarine Salad from Bon Appetit.  This unusual mix of flavor and ingredients was developed by Chef Watson, I.B.M.'s artificial-intelligence cooking app, which, by the way, is a lot of fun to play with if you are looking for a little creative inspiration.  It showcases late summer produce in a surprising way and is the perfect make, or take, for your Labor Day barbecue.
Using ground coriander and cumin speeds things up, rather than toasting and grinding the seeds, like they did in the original recipe.  Soaking the sliced shallots in lemon juice while you prep the rest of the salad will mellow their pungency and take the bite out of them.  I decided to omit the rosemary the second time I made this, thinking it was one flavor too many, and that it seemed out of place.  Drizzle the vinaigrette lightly over the top of the finished salad, rather than tossing it, to keep the ingredients looking crisp and colorful.
The days may be getting shorter, but let's not put those flip flops away just yet.
Grilled Corn and Nectarine Salad
1 small shallot, thinly sliced
3 tablespoons fresh lemon juice
4 ears of corn, husked
1 tablespoon, plus 1/4 cup olive oil
Kosher salt
3/4 teaspoon chili powder
1/2 teaspoon ground coriander
1/2 teaspoon ground cumin
Several dashes of hot sauce
Freshly ground black pepper
2 nectarines or peaches, sliced into 1/2"-thick wedges
1 cup torn fresh basil leaves
4 ounces queso panela or Cotija cheese, crumbled (about 1/2 cup)
Combine shallot with lemon juice in a small bowl and set aside.  Heat grill to medium-high.  Brush corn with 1 tablespoon of oil; season with salt and sprinkle with chili powder.  Grill, turning occasionally, until lightly charred in spots and tender, about 6 – 8 minutes.  Transfer to a cutting board and let cool, then cut kernels from cobs.
Add coriander, cumin, hot sauce and remaining 1/4 cup oil to bowl with lemon juice and shallots. Whisk together and season with salt and pepper.
In a large serving bowl, combine corn kernels, nectarines, torn basil and cheese.  Drizzle spice vinaigrette lightly over all and serve.
– adapted from Grilled Corn and Nectarine Salad with Toasted Spice Vinaigrette
 Bon Appétit, June 2014