Green Bean Bundles With Bacon and Brown Sugar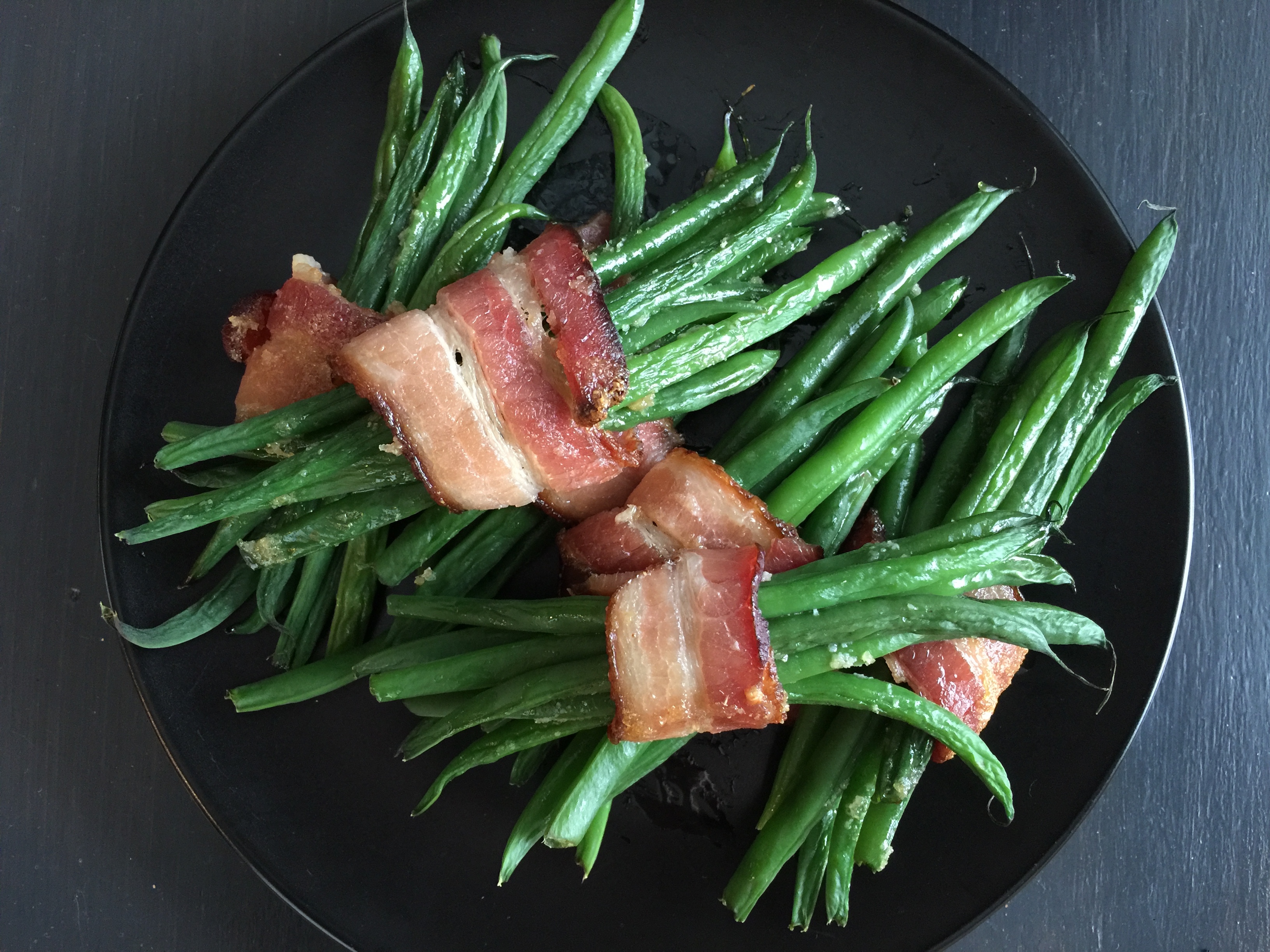 I'll admit it.  My green beans are snooze worthy.  I love green beans and always include them in the Thanksgiving line up, but with all the other exciting vegetables to choose from, they never seem to get picked.   And hey, family, don't think I haven't noticed.  Well, not this year.  If you love your green bean casserole, go ahead and do it, but I think these little bundles are the most exciting thing to happen to the green bean since the slivered, toasted almond.  Did I mention they have bacon and a sprinkle of brown sugar?   This may be an unfair advantage, but hey, if it gets everyone to eat those green beans, I'm okay with it.
If you are a guest somewhere, still looking for something to bring, this is it.  Easy, make ahead, ooh and ahh worthy, and you can feel good about not needing to hog the oven.  Warm it a bit in the microwave at arrival and relax while you listen to everyone tell you how good they are.  As you go over the river, or through the woods, make sure to take a moment to count your blessings and be grateful for your family and friends, and of course, for the food.  Wherever you may gather, have a safe, happy Thanksgiving.
Green Bean Bundles With Bacon and Brown Sugar
8 thick bacon slices
6 Tablespoons unsalted butter, melted
1 1/2 teaspoons Kosher salt
3/4 teaspoon garlic powder
1 1/2 pound green beans, trimmed and blanched*
1/4 cup firmly packed brown sugar
Preheat oven to 350º.  Line a baking sheet with parchment paper.
In a frying pan over medium heat, cook bacon in batches until just beginning to brown at the edges, but still very undercooked and pliable, about 4 to 6 minutes.  Transfer to a paper towel-lined plate to drain and cool.  Cut each slice in half crosswise.
In a small bowl, whisk butter, salt, and garlic powder together.
Divide green beans into 16 equal portions, about 6 beans in each.  Gather each portion and wrap a half slice of bacon around the middle, forming a neat bundle.  Place bundles on prepared baking sheet with loose ends of bacon tucked underneath.  Sprinkle brown sugar over bundles and drizzle with butter mixture.
Bake 20 to 25 minutes, or until bacon is cooked through and browned.  Let stand 3 to 5 minutes before serving.
*Blanch green beans by bringing a large stockpot of salted water to a boil.  Add green beans and cook until bright green and tender crisp, about 2 minutes.  Drain and transfer immediately to a bowl of ice water to shock and stop from cooking.
– from Green Bean Bundles With Bacon and Brown Sugar, Williams Sonoma Test Kitchen