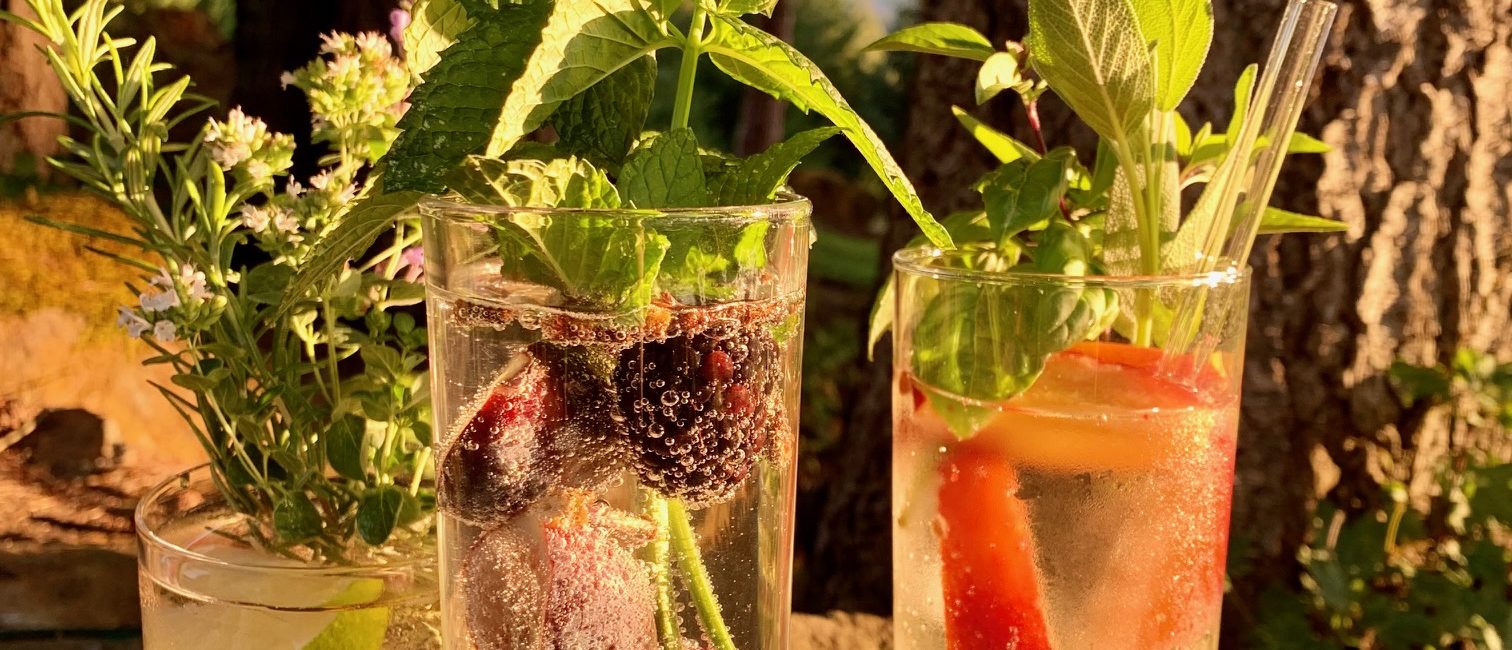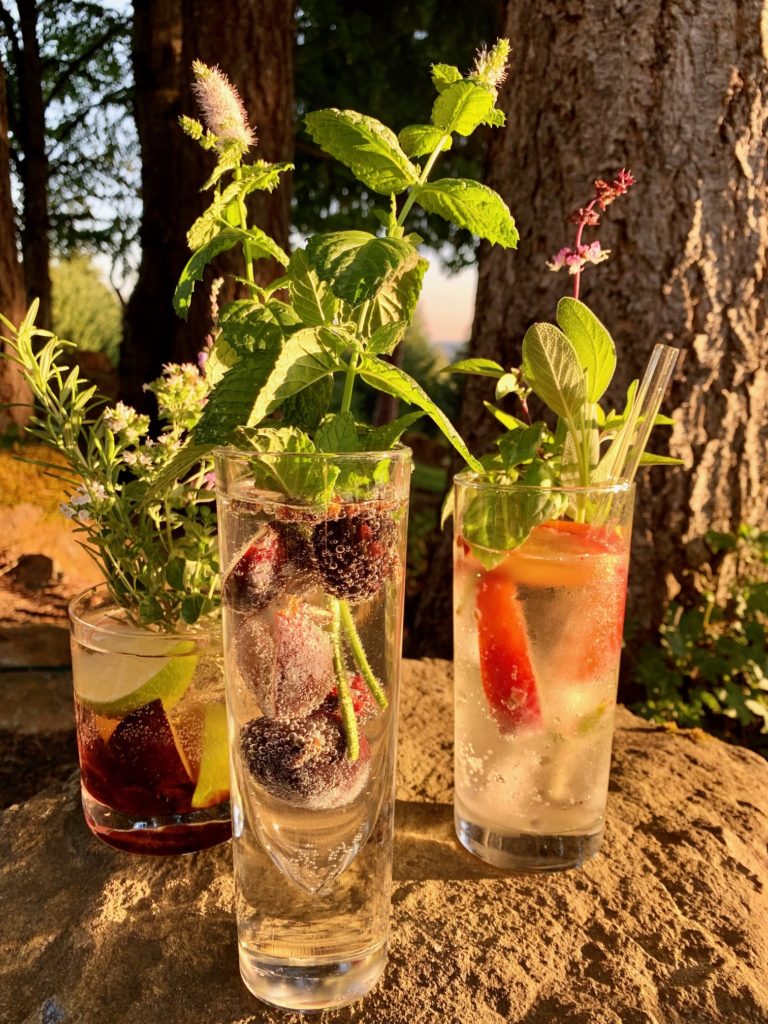 You've got your Labor Day barbecue, your side dish, your end of summer dessert…  but have you got gazoz? Have I got something amazing for you! A seasonal sparkling drink of the moment, gazoz lets you capture the best of what's blooming in your garden, or showcase your stellar market finds, and create what speaks to you. Ready to gazoz? 
Fun to make and easy to do, let nature entice and be your muse. In their beautiful book Gazoz, Benny Briga and Adeena Sussman describe it as "a gorgeous, aromatic, colorful, zero-proof beverage of fruit, fizz, flora and fermentation." Use what you have, source what you need. This drink is a party in a glass and it's just right for right this moment. Fruit and flowers, spices and herbs, syrup and sparkle – you can add a splash of kombucha, kefir, or jun, if you like. Give your gathering gazoz! Here are the building basics. 
Basic Gazoz
makes 1 drink
3 or 4 large ice cubes*
2 slices or pieces of fermented fruit, plus 1 to 2 Tablespoons syrup from the fruit
1 or 2 slices fresh fruit
1 or 2 pieces fermented whole spice or chiles, plus 1 teaspoon fermented spice syrup
12 ounces sparkling water
leaves, greens, herbs and flowers of your choice
Place the ice in a 12- to 16-ounce glass. Spoon in fermented fruit syrup.
Add fermented fruit, fresh fruit, fermented spice, and fermented spice syrup. Fill glass with sparkling water. Garnish the top of glass with herbs, leaves, greens and flowers of your choice. Insert straw and drink immediately. 
*Note: Cubes made with filtered mineral water or tap water that has been boiled and cooled will be clearer and more compact, and will also melt more slowly. Avoid crushed ice, which will melt quickly and dilute your beverage.
Sweet Fermented Fruit in Syrup
1 heaping Tablespoon baking soda
1 3/4 pounds whole thin-skinned fruit*
lemon juice (optional)
1 3/4 pounds sugar
Combine baking soda with 2 quarts cold water and fruit in a large bowl. Rub fruit with a soft cloth to clean it, then transfer to a separate large bowl filled with ice water. Let stand 30 minutes to firm fruit up.
Slice fruit into 1-inch wedges, removing cores, stems and pits. If you're using apples, pears, quince, or any fruit that might turn brown, drop them into bowl filled with 90 percent water to 10 percent lemon juice as you slice. 
Layer some of the fruit in a 1-quart jar with a tight-fitting lid; sprinkle with sugar. Continue layering fruit and sugar until jar is filled, leaving at least 1 1/2 inches headroom at top.
Seal jar tightly and let stand on counter until a syrup has formed and fruit has softened and slumped slightly, about 1 to 3 days. Open jar daily to release pressure and check fruit. Once you detect a cider-like aroma or taste, you can let it ferment longer, or refrigerate the jar to slow fermentation. When you are happy with the flavor, transfer jar to refrigerator. Use fermented fruit and its syrup within 2 weeks.  
*for fresh berries: omit above. Rinse well and layer with sugar.