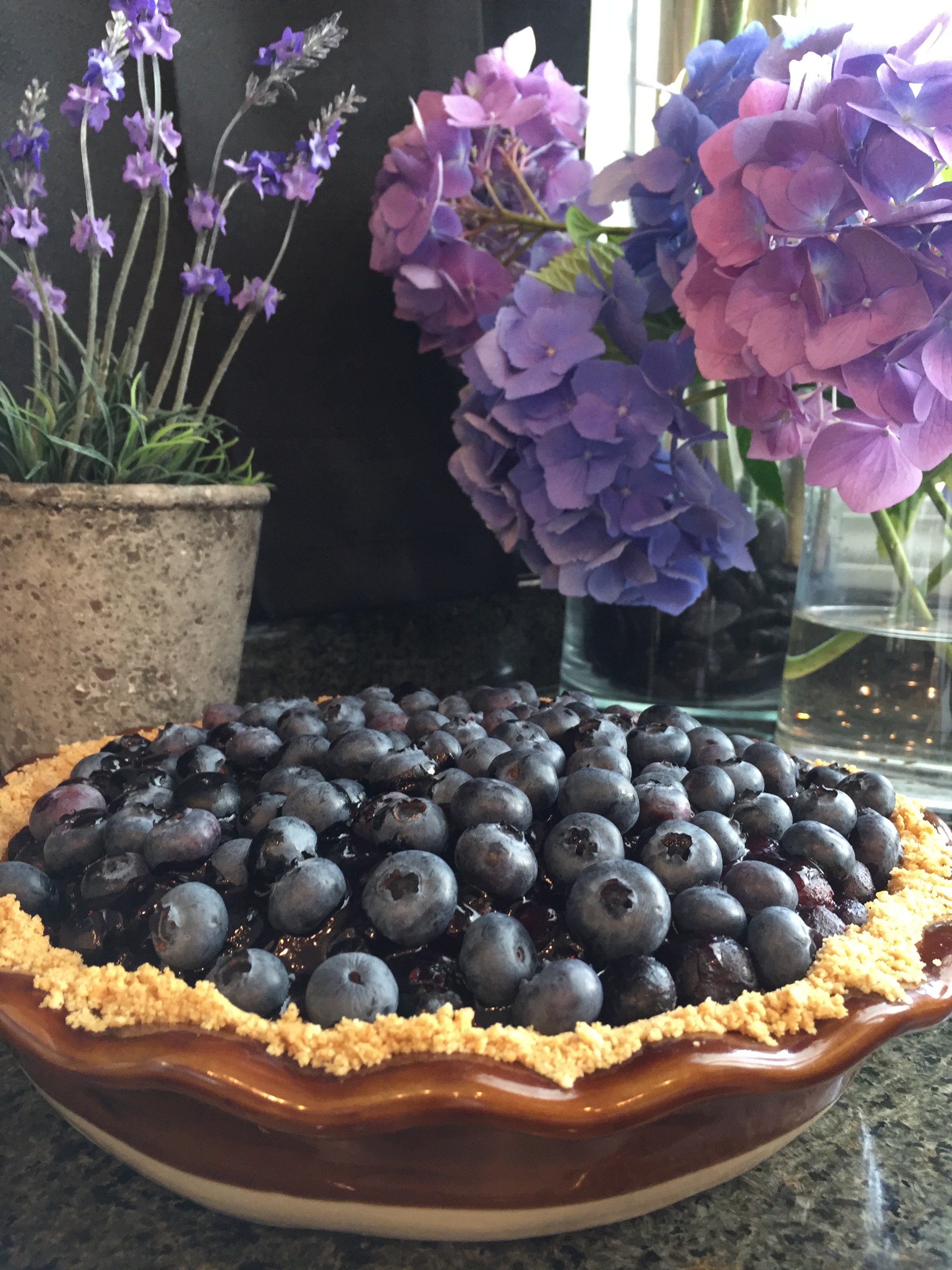 When life gives you blueberries, make pie.  I have made this pie so many times that I can almost make it in my sleep.  It made the rounds through my mom's group of friends 30 years ago and originally had slivered almonds and a dollop of whipped cream on top, both of which I omit.   It has a secret ingredient:  Cointreau, an orange-flavoured liqueur, which is undetectable in the finished pie, but delivers a wonderful, bright, summer flavor.  Curacao, Grand Marnier, and triple sec will all work, too, but I always keep a bottle of Cointreau on hand, specifically stocked for this recipe.  It's magic.  Besides the unique flavor, the thing that makes this pie outshine the rest is the fresh blueberries.  Before we moved here, I remember four cups of blueberries being pretty hard to come by.  Now I use 6 or more cups, overfilling each cup as I measure, hoping to be generous and make use of some of the profusion that we have every summer here in the Northwest.
The original recipe also called for a traditional pre-baked pie crust, but my family likes it better made with a graham cracker crust.  If you go this route, you can keep your kitchen cool and avoid turning your oven on during the hot summer months.  I have also made this more than a few times with mixed berries – raspberries, blackberries, and Marionberries in addition to the blueberries.  It's a "yes!"
Fresh Blueberry Pie
for the crust:
1 1/2 cups graham cracker crumbs, or 10 graham cracker sheets
3 tablespoons oil or melted butter
In a food processor or blender, process graham crackers into fine crumbles.  Add the oil or melted butter and process again to combine.  Pour crumb mixture into a pie pan and press down very firmly with a rubber spatula.  Transfer to freezer and let set while preparing filling.
for the filling:
4 – 6 cups fresh blueberries
3/4 cup sugar
1/2 cup water
2 tablespoons cornstarch
1 tablespoon butter
1 generous tablespoon Cointreau, or any orange liqueur
Combine 1 cup blueberries, sugar, and water in a medium saucepan.  Bring to a boil, stirring occasionally, until berries are soft and mixture thickens a bit, about 10 minutes.  Mix cornstarch with a little water in a small cup or bowl, stirring well to make a slurry.  Add to berry mixture and cook until thick, stirring constantly.  Remove from heat, add butter and cool.  Gently stir in remaining berries and Cointreau.  Pour into pie crust and refrigerate until serving.