Fresh Apple Cake with Warm Caramel Sauce
This week it's all about apples.  The first of this season's new crop of apples has arrived, and let's just say I am more than a little excited.  The grocery bins are piled high and the whole produce section just beckons with the heady aroma of fresh apples.
The calendar page had barely flipped to September and I was already digging out the apple gizmo, suctioning it to the counter, and whirring, peeling, and slicing apples as fast as I could.  Wanting to make a special dessert to kick off the apple season, I did some online searching.  This recipe, from alexandracooks.com, was originally written for blueberries, but I liked it so well I that I adapted it for apples.  What resulted was a moist, delicious crumb cake, very similar to an English pudding.  Densely studded with soft chunks of cinnamon spiced apples, it filled the whole house with the warm, welcoming fragrance of fall.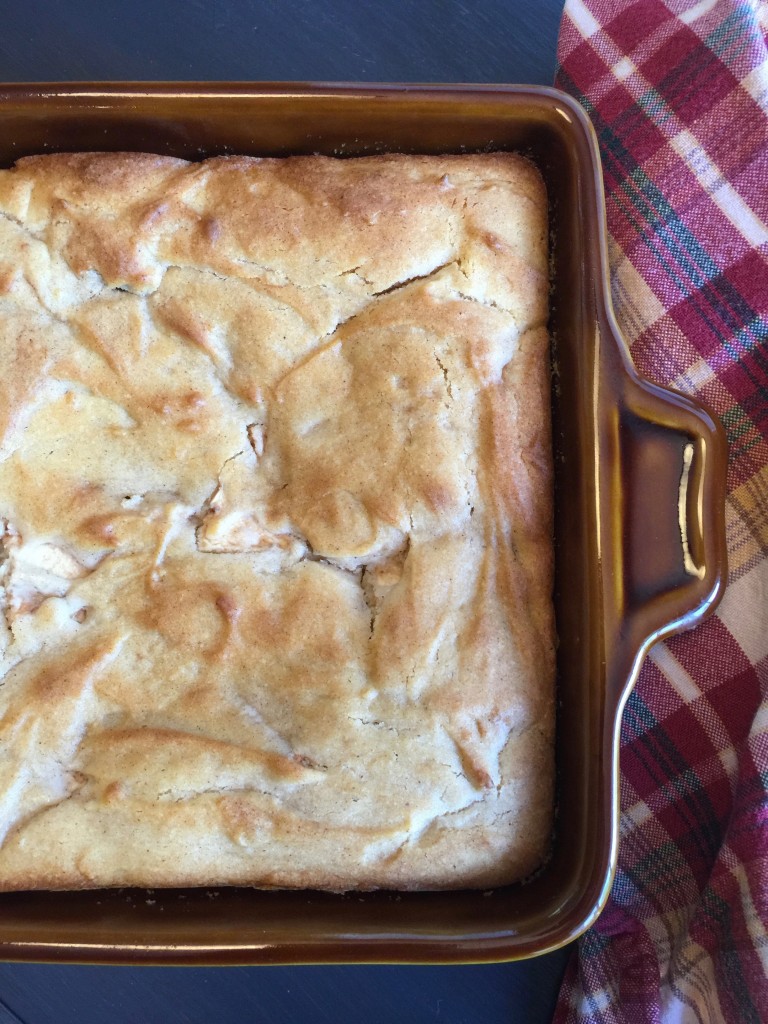 You can use any variety of apple that you like.  I think varieties that are a little bit tart as well as sweet are especially good for this recipe.  I used a mix of Braeburn, Gala, and Honeycrisp the first time I made this.  The second time I used only Gravenstein.  Both yielded good results.  To make the buttermilk, I used 1/2 tablespoon of Bragg organic apple cider vinegar.  Do this step first and the buttermilk will be ready when it's time to add it into the batter.  I used convection bake, so the cooking time shortened to 25-30 minutes.
The cake is really good on its own.  You can serve it warm with a scoop of vanilla ice cream, or make a simple caramel sauce to top it with.  The caramel sauce recipe below is from The Pioneer Woman.  You can make it while you are waiting for the cake to bake.  It is so fast and easy (and really good!) that you will be making it again and again.
Fresh Apple Cake with Warm Caramel Sauce
2 cups peeled, sliced apples (about 2 medium to large apples)
1 1/2 tablespoons lemon juice
1 1/2 teaspoons ground cinnamon
dash nutmeg
1/8 teaspoon ground cloves
2 cups flour
2 teaspoons baking powder
1 teaspoon kosher salt
1/2 cup unsalted butter, room temperature
3/4 cup + 2 tablespoons sugar
1 egg, room temperature
1 1/2 teaspoons vanilla
1/2 cup buttermilk*
Preheat oven to 350º F and grease a 9-inch square baking pan with butter or non-stick spray. Use apple peeler/corer or peel and slice apples into chunks about 1 1/2 inch long and 1/8 inch thick.  Transfer to small bowl and toss with lemon juice.  Add cinnamon, nutmeg, and cloves and stir to coat evenly.  Set aside.
Measure flour, baking powder and salt into a medium bowl and stir to combine.
In a large mixing bowl cream butter with sugar until light and fluffy.  Add egg and vanilla and beat until combined.  Add the flour mixture to the batter a little at a time, alternating with the buttermilk, until thoroughly mixed and very thick.  Fold apples into batter and spread batter evenly into pan.  Bake for 35 to 45 minutes or until a toothpick inserted in center comes out clean.  Let cool at least 15 minutes before serving.
*To make homemade buttermilk, measure 1/2 tablespoon of vinegar or lemon juice into a liquid measuring cup.  Fill cup with milk until it reaches the 1/2 cup line and stir.  Let stand for 5 minutes.
Easy Caramel Sauce
1/2 stick butter (4 tablespoons)
1 cup brown sugar
1/2 cup half-and-half or cream (use cream for thicker sauce)
1 tablespoon vanilla
pinch of salt
Melt butter in medium saucepan over medium-low to medium heat.  Add remaining ingredients and cook while whisking gently for 5 to 7 minutes, until sauce thickens.  If sauce is thin, continue to cook until desired consistency.  Serve warm or refrigerate until cold.