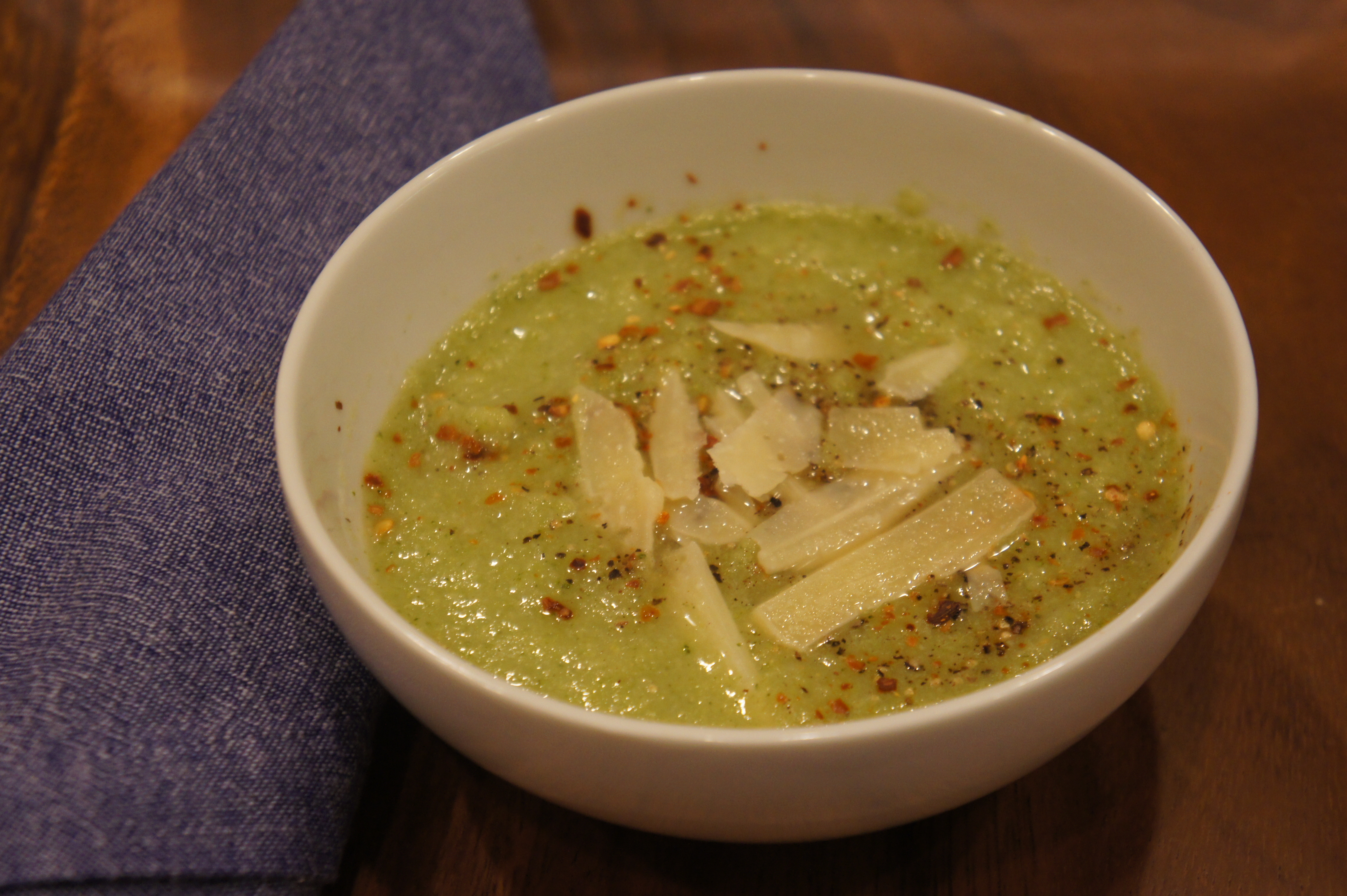 With the warmer weather we have been having, making soup is probably the last thing on your mind.  But remember, it is only February, and here in the Pacific Northwest it can and will rain pretty much until the Fourth of July.  Rain is in the forecast for later this week, and when it comes you can be nice and warm with a cup of this soup.  It is so fast and easy, you can spend the day being industrious in your yard or garden, getting a jump start on your spring planting.  Come in, wash the dirt off your hands and in little more than 5 minutes you are taking a break and having a hot lunch.
Here is what you need: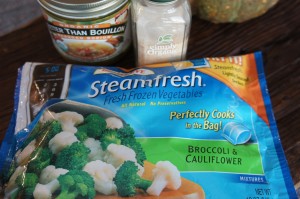 1 bag of frozen Bird's Eye Steamfresh Broccoli and Cauliflower (see notes)
2 teaspoons of chicken bouillon base, reduced sodium or regular
1/2 to 1 teaspoon garlic powder or garlic salt, to taste
Put frozen vegetables in microwave and cook according to directions.  Bring 2 cups of water to a boil (stovetop or microwave).  Add chicken bouillon to water and stir well to dissolve.  Pour cooked vegetables into a large Pyrex measure and add 1 cup of the broth and 1/2 teaspoon of either garlic powder or salt.  Puree using an immersion blender, adding more broth as needed to reach desired consistency.  Add more garlic powder or salt, to taste.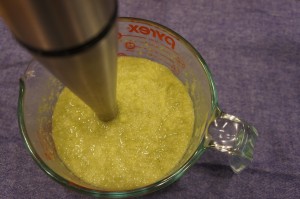 As always, make this recipe your own.  Feel free to stir in whatever you have left from dinner.  Some shredded roasted chicken, or leftover cooked rice or pasta?  Here are some ideas you can try:
– a dollop of sour cream or yogurt on top, and a sprinkle of curry powder or dill
– red pepper flakes and some grated Parmesan cheese
– some sunflower seeds or pumpkin seeds, or any kind of toasted nut
– croutons
This is so easy and delicious, it just seems like something must be wrong.  The first time I made it, we were snowbound and I was trying to be clever, hoping to get my kids to eat more vegetables.  I was also pretty desperate, because we were out of soup.  Every time I make this it disappears and everyone is sad that there isn't any more.
Enjoy your lunch.  Now,  go get back to what you were doing and feel smug about eating your vegetables.
Notes:
Any frozen broccoli or cauliflower blend will work.  I used a Mediterranean blend that had zucchini, carrots, and bell peppers (photo below).  You can use bouillon cubes, but I think the base gives your soup a better flavor.  And, if you don't have an immersion blender you can use your blender, working in smaller batches.