Crispy Sheet Pan Gnocchi and Veggies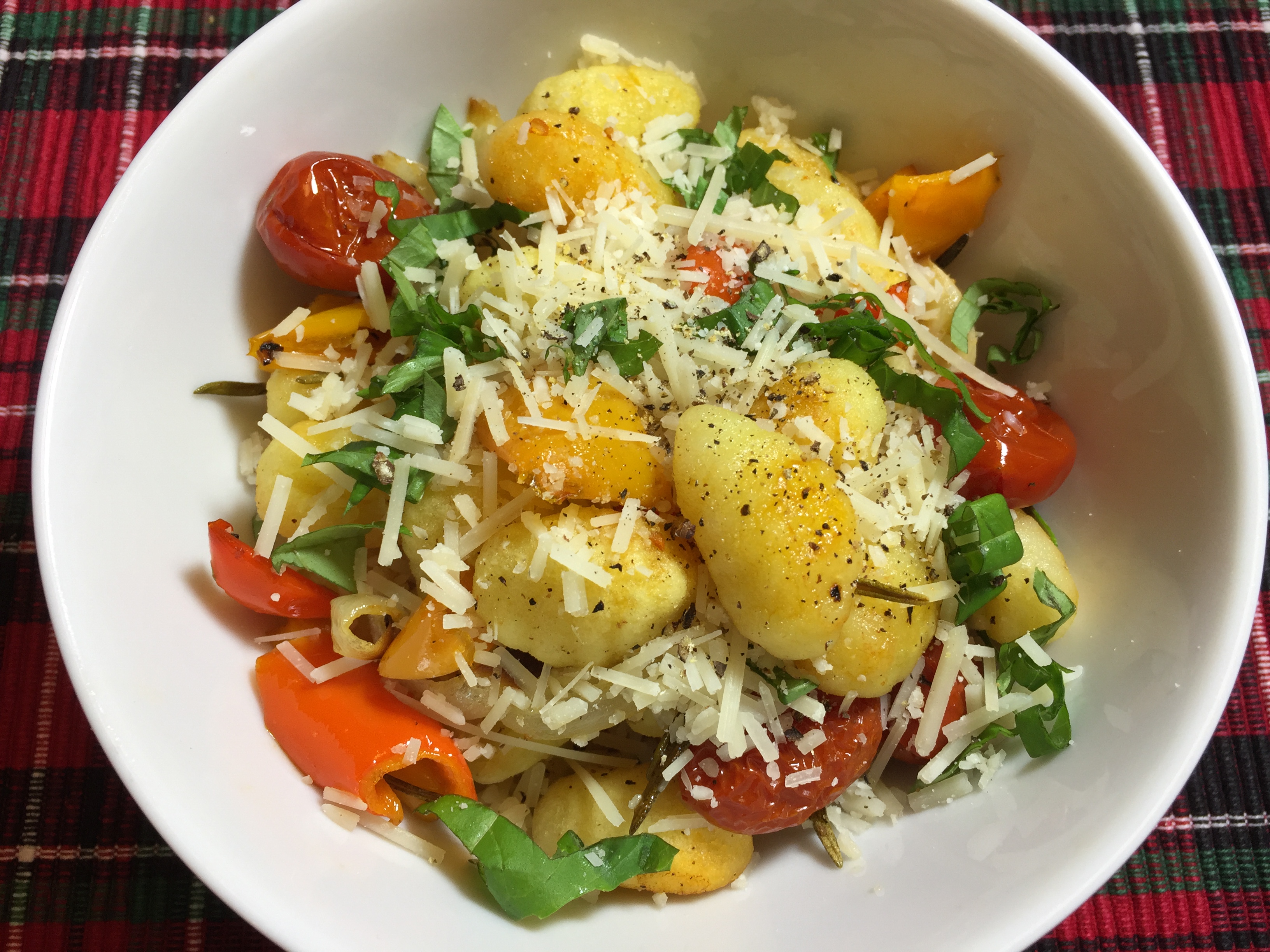 The dinnertime struggle is never more real than it is in December.  While you're dashing through the snow, and the mall, and the post office, dash through the grocery store and pick up the ingredients from this short list below.  I guarantee you a fast, festive meal that you can enjoy right at home, peaceful and calm, in the warm glow of your own Christmas tree lights.
I posted this Crispy Sheet Pan Gnocchi with Veggies last year, and there must be something about trying to juggle dinner this time of year that is making me think of it again.  I love all the bright colors from the peppers, and I especially love how quickly you can prep this and do something else (like look for all those gifts you've been hiding… ) while it bakes in the oven.
Cut the peppers and onions, toss into a bowl with the gnocchi, transfer to a sheet pan lined with parchment paper, 20 minutes in the oven and you're done.  You can use the bowl you tossed everything in to mix up a salad while you wait.  No boiling water, pots or pans, and a festive dinner you can feed to just your family or even a crowd.   Make it a little heartier by adding some Italian sausage to the mix.  Use fully cooked links, cut up, and mixed in with the gnocchi and veggies, or you can serve grilled sausage links alongside.
This dish holds up well.  If you make it ahead, it reheats beautifully and still looks picture perfect.  Keep any leftovers in a covered dish, refrigerated for up to 5 days.
Things are bound to get busier, so take a few minutes right now and note a few things in your freezer you can reheat in a hurry.  Do the same with your fridge and pantry.  Knowing that you have some home made minestrone, a frozen casserole, or some left over roasted chicken is half the battle.  When you are truly time crunched, and truly hungry, there's no time to dig and defrost and you will be much more likely to utilize a freezer meal if you know it's there.  Just like that, you've figured out how to eat several more meals at home this week.  And you weren't even trying.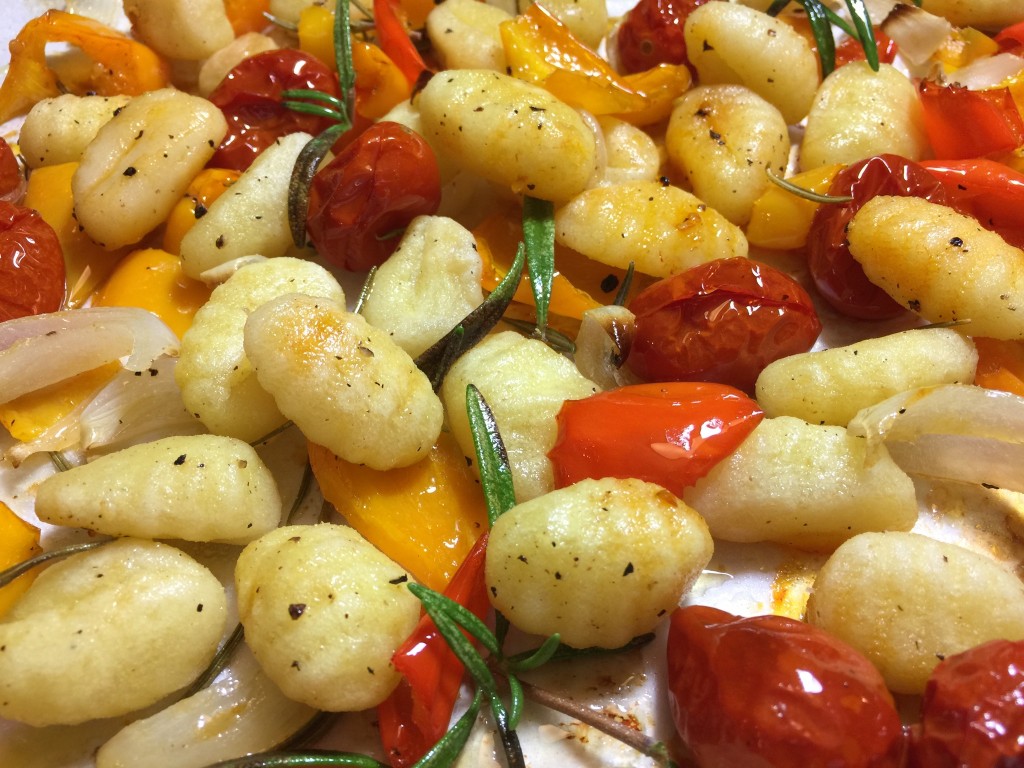 Crispy Sheet Pan Gnocchi and Veggies
1 pound gnocchi, shelf stable or frozen
1 (12-ounce) bag mixed baby bell peppers. or 2 medium red, yellow or orange bell peppers, cut into 1 inch chunks
1 pint cherry or grape tomatoes
1 small red onion, cut into chunks
4 cloves garlic, smashed
1 teaspoon coarsely chopped fresh rosemary leaves
1/4 teaspoon kosher salt
Freshly ground black pepper
2 tablespoons olive oil
2 tablespoons coarsely chopped fresh basil leaves
Grated Pecorino Romano or Parmesan cheese, for serving
Preheat oven to 450º F.  Line a large, rimmed baking sheet with parchment paper.
Combine gnocchi, peppers, tomatoes, onion, garlic, and rosemary in a large bowl.  Season with salt and freshly ground black pepper.  Drizzle with olive oil and toss to combine.  Spread evenly on prepared baking sheet and transfer to oven.
Roast for 18-20 minutes, stirring about halfway through, until gnocchi are plump and lightly browned and veggies are tender and caramelized.
Spoon into individual bowls and garnish with basil and grated cheese.
– recipe from Crispy Sheet Pan Gnocchi and Veggies, The Kitchn