Crispy Bacon Brussels with Walnut-Parm Crunch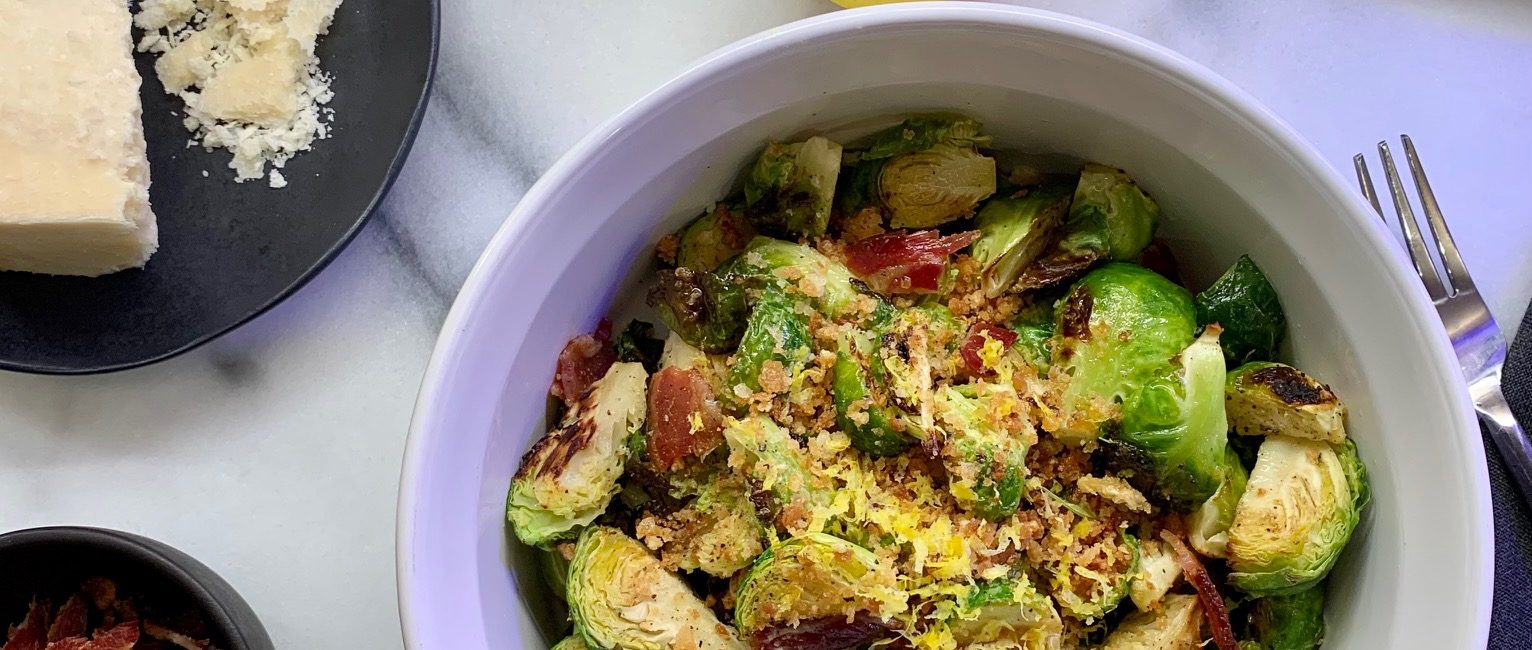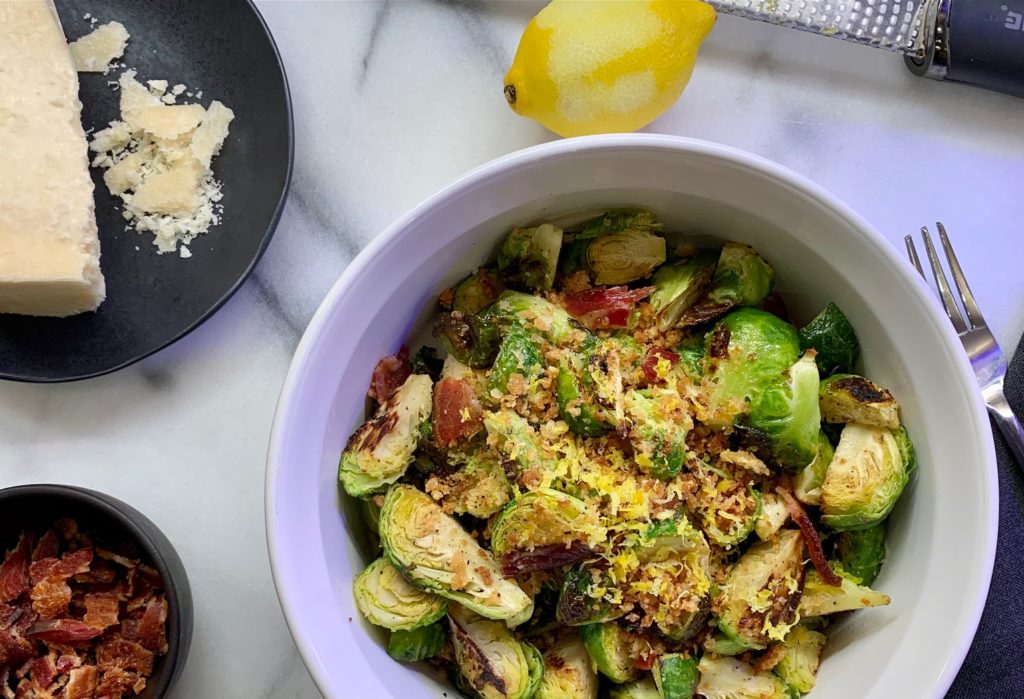 It's not too early. And this year in particular, you don't want to be too late. Who says Thanksgiving, Christmas, or any other special day for that matter, only happens once a year? Why constrain your happiness to one day when you can string the joy out over time. Jump in now on the festivities. Start practicing your stuffing. Give your side dishes a dry run. It will make whatever you've having for dinner feel a lot more special. 
This Crispy Bacon Brussels with Walnut-Parm Crunch is a side dish you can use now and keep in mind for later. Cook your bacon in the oven. While it cooks you can multitask and trim the brussels sprouts. You'll get crisp, evenly cooked bacon, plus no stovetop mess or splatters. Put your bacon into the oven as it's preheating so you don't waste energy and cook the entire pound while you're at it. Use what's left for breakfast this week, or store extra in a zip top bag in your freezer.  If you don't use all of the vinaigrette, refrigerate the extra and use it to dress a salad. 
Kick up some leaves and live in the moment. Snuggle up by the fire and soak up our fabulous fall. Celebrate. And celebrate again. 
Crispy Bacon Brussels with Walnut-Parm Crunch
Brussels Sprouts
4 slices bacon
3 pounds brussels sprouts, ends trimmed and quartered
1 teaspoon garlic powder
1 teaspoon kosher salt
freshly ground black pepper
extra virgin olive oil
Walnut-Parm Crunch
1/4 cup panko
1/4 cup coarsely chopped walnuts
2 Tablespoons grated Parmesan cheese
1 1/2 teaspoons extra virgin olive oil
Citrus-Dijon Vinaigrette
1/4 cup extra virgin olive oil
1 Tablespoon sherry vinegar
1 Tablespoon fresh lemon juice
2 teaspoons honey
1 1/2 teaspoons Dijon mustard
To Serve
grated lemon zest
freshly grated Parmesan cheese
Preheat oven to 400º F. Line a sheet pan with aluminum foil, then place bacon side-by-sdie on the pan. Cook 18-20 minutes or until crisp. Remove tray from oven and use tongs to transfer bacon to a paper towel-lined plate. Discard foil when cool.
Adjust oven to 450º F. Line 2 baking sheets with parchment paper, then place sheets in the oven. In a large bowl, combine brussels sprouts, garlic powder, salt and several grinds of black pepper. Drizzle generously with olive oil and toss together. Carefully remove hot baking sheets from oven and add brussels sprouts in a single layer. Roast about 20-30 minutes, stirring halfway through; remove when sprouts are browned and crispy. Transfer sprouts back to large bowl.
In a small bowl, combine panko, walnuts, Parmesan, and olive oil; stir together. Spread on baking sheet and bake for 3 minutes. Stir and bake 3 minutes more, watching carefully so it doesn't burn.
In a small jar, combine olive oil, vinegar, lemon juice, honey and mustard; shake to combine. Pour over warm brussels sprouts in bowl and toss together. Transfer to serving dish and top with crumbled bacon, and walnut-Parm crunch. Finish with lemon zest and grated Parmesan. Serve warm. 
– adapted from recipe by Dylan Dreyer