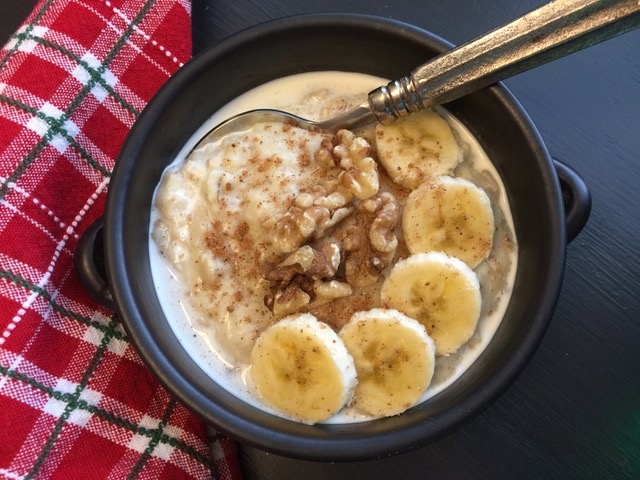 Freezing roads, frozen temps and school closures may have you at home this morning.  If you have never made custard-style oatmeal, this is a perfect day for it.  Fast, easy, and all in one pot, it's a good way to change up your breakfast.  And a nice, warm bowl of oatmeal is just right on a day like this.
Oatmeal has long been touted for its cholesterol lowering, good for your digestion, soluble and insoluble fiber.  It's economical, too.  But adding eggs is a game changer.  Not only does it make the oats thick, creamy, and downright decadent, but it also adds protein to the tune of 6 grams per egg.
I made this using just water, and the oats came out exactly as described.  You can also use milk, or any non-dairy milk that you like, and make it even creamier.  There were some great recipes for add-ins, like Maple custard, PB & J, Chai,  and even a savoury Masala on chatelaine.com.  If you make it plain, like the recipe below, you can let everyone add in what they want.
This is great recipe to make with your kids.  Let them measure the oats and the water.  Give them a small bowl and they can crack the eggs, one at a time, so you can fish any wayward shells out, and then add them in.  Let them manage the whisking while the oatmeal cooks.   And when they're done, give them some fun choices for things they can add in…  slices of banana, some berries, peanut butter, nuts, maple syrup, a sprinkle of cinnamon, some chocolate chips.  And if you just so happen to have some eggnog, you can make it merry.  Add a splash, and a dash of nutmeg, and you've got a holiday breakfast.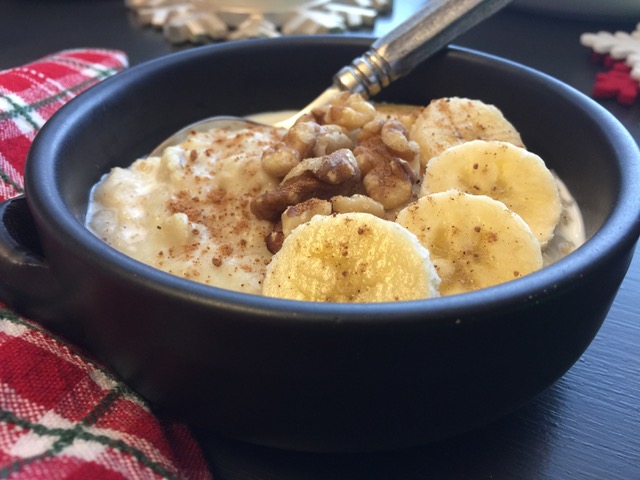 Creamy, Custard Oatmeal 
3 eggs
2 1/2 cups water, or milk
1 cup quick oats
Combine eggs with milk and oats in a medium saucepan and whisk.   Cook, stirring often, over medium to low heat until very creamy, about 15 minutes.