Cranberry-Ginger Five-Spice Chutney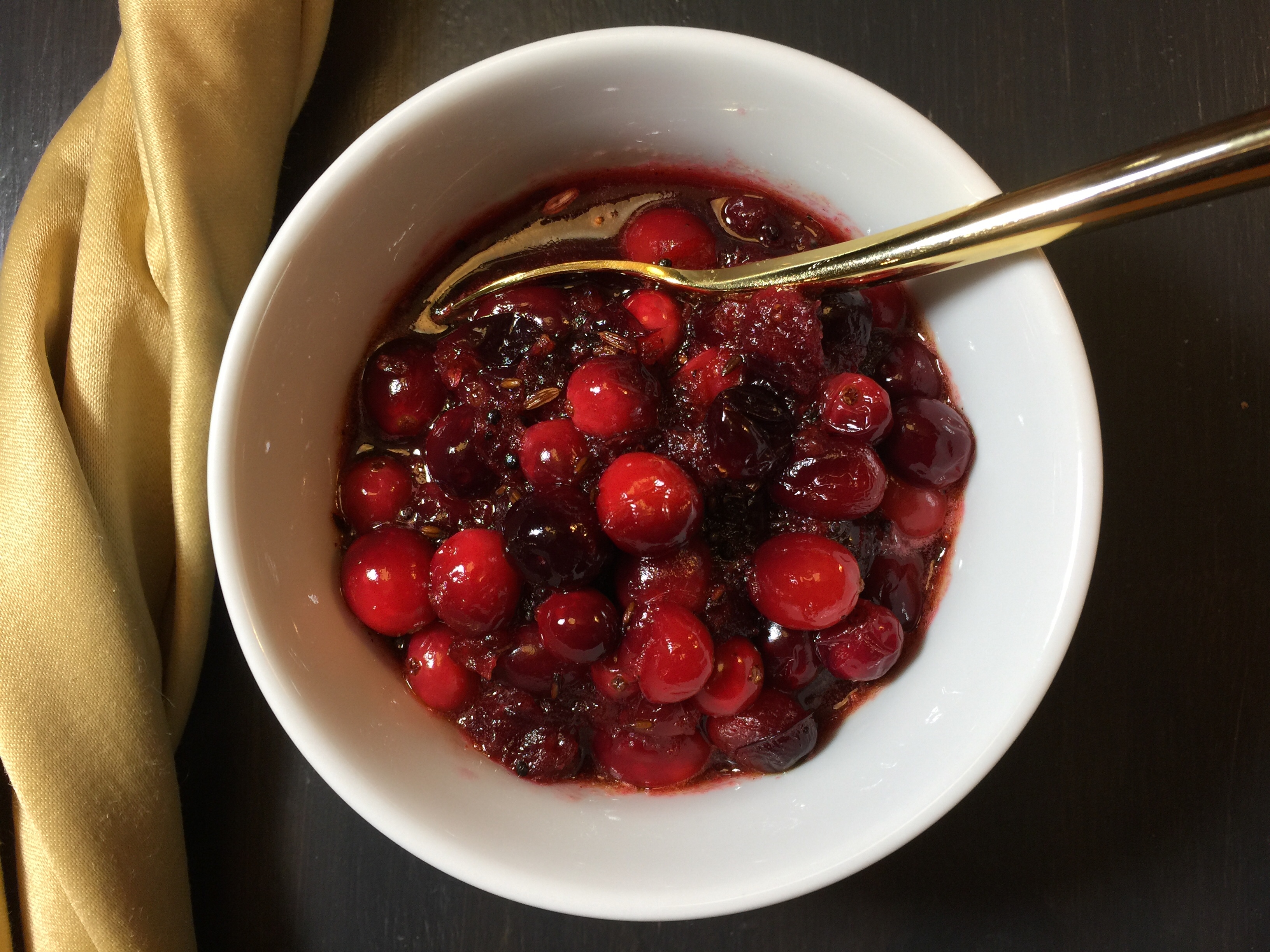 Don't look now, but the holidays are fast approaching.  Maybe you are in charge of a side dish, or perhaps this is the year when all eyes are on you, but get a jump start on your Thanksgiving now by starting to plan a bit, and get ahead by preparing a few things and putting them away in your freezer.
I am a big fan of tradition, especially where the holidays are concerned, but it's also fun to add in a few unexpected dishes to keep things a little bit different each year.  Cranberry sauce is one of those traditional dishes that my family has come to expect a certain way.  It is also something that is fair game for making ahead because it keeps well in the freezer.  I am making the Cranberry Port Conserve my family will be expecting, but I'm also perking things up a bit with this Cranberry-Ginger Five-Spice Chutney from chef Maneet Chauhan.  It is bright and cheery, just right for the holidays, and I love that while it complements the traditional turkey dinner, it is totally not what you'd expect in the way of a cranberry sauce.  You can even turn this into a little pre-holiday festivity by pan browning some turkey cutlets and serving some of this chutney with it for dinner tonight.
I had a terrible time finding the panch phoron (Bengali five-spice blend), but a quick Google search gave me the individual ingredients, all of which were easy to find in the bulk spice section at Fred Meyer.  The one spice that eluded me was the nigella seeds, so I had to do without.  Regardless, the spice blend was exotically fragrant, and I am already eager to try adding it to other things like vegetables, potatoes, or meat.
I used coconut oil instead of the olive oil, and fresh cranberries, which are easy to find right now.  I made the panch phoron by combining 2 tablespoons of each of the following:  cumin seeds, fennel seeds, fenugreek seeds, and black mustard seeds (I couldn't find the nigella seeds) and mixing them in a small jar.  This made enough for the recipe, and some to store for future use.  Quick!  Make this chutney.  It's fast, very easy to make, and you only need a few ingredients (the spices, the cranberries, and maybe the fresh ginger) that you don't already have on hand.   So get going!  It will be Thanksgiving before you know it.  But this year, you'll be ready.
Cranberry-Ginger Five-Spice Chutney
2 tablespoons coconut oil or olive oil
2 tablespoons panch phoron (Bengali five-spice blend)
1 pound cranberries, thawed if frozen
1 cup packed light brown sugar
1/2 cup distilled white vinegar
2 tablespoons grated, peeled fresh ginger
1/2 teaspoon chili powder
Kosher salt
Heat oil in a medium saucepan over medium-high heat.  Add the spice blend and stir occasionally.  When the spices start to crackle and become fragrant, add the cranberries, brown sugar, vinegar, ginger, and chili powder.  Stir and bring to a boil, stirring occasionally.  Reduce heat to simmer and cook until cranberries have softened and the liquid has reduced by half, about 15 minutes.  Season with salt.  Transfer to bowl and refrigerate until cold.  Serve chilled.