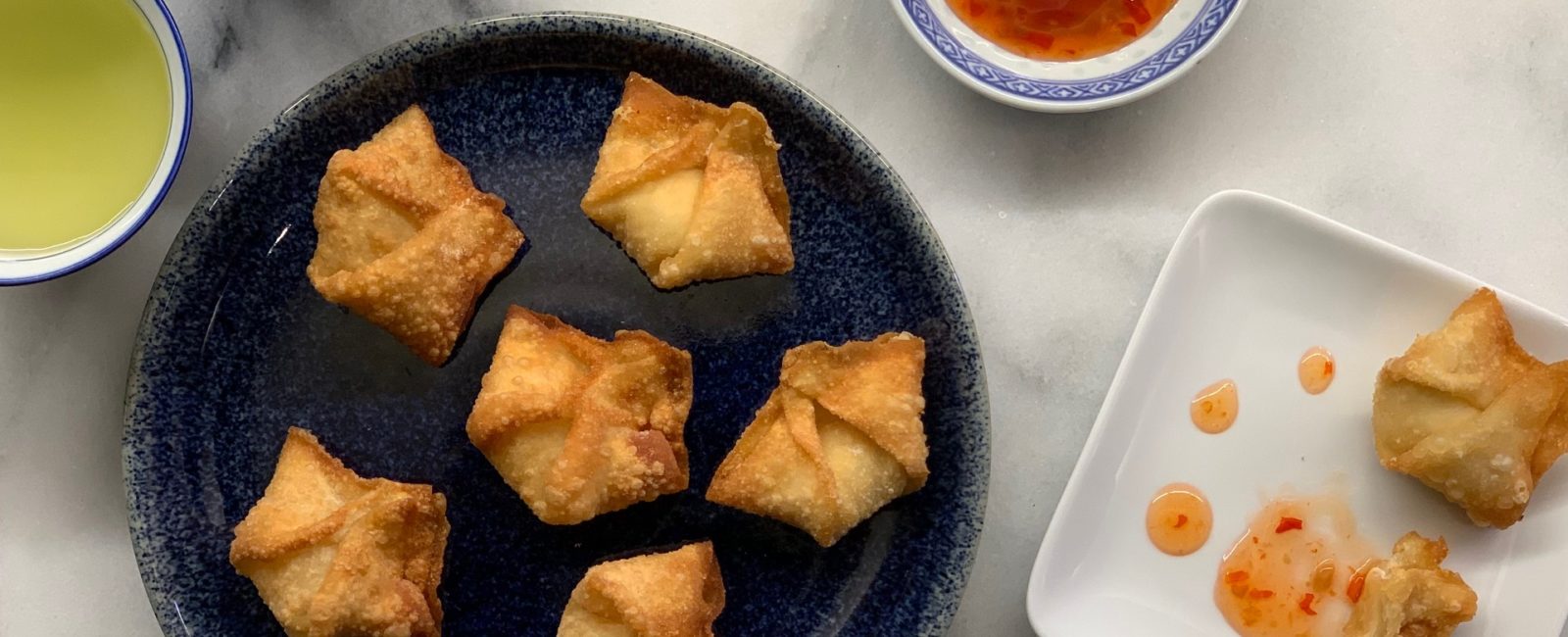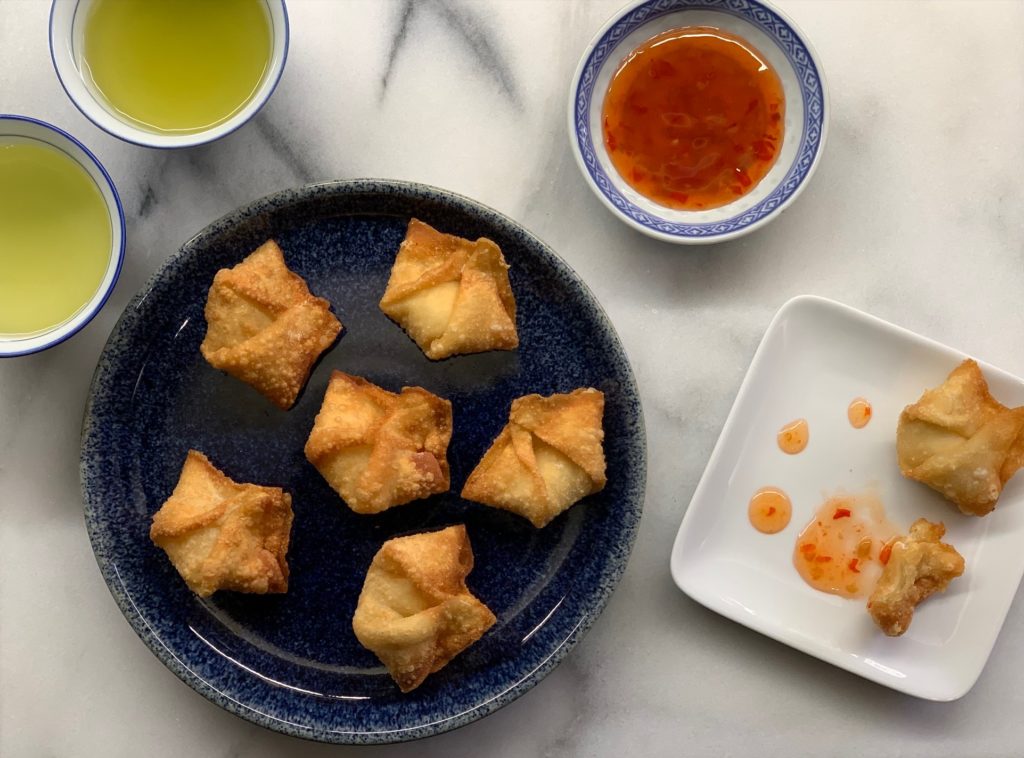 Crispy, creamy crab rangoon are all the rage on TikTok. These delicious little pockets stuffed with seafood and cream cheese are very popular at many Chinese and Thai restaurants, and a hot platter of these crunchy bundles arriving at the table is always a fun part of any dining experience. Making them at home is incredibly easy, and a lot less expensive, and with just a few ingredients and a small bit of time, you can soon be eating this addictive appetizer in your own kitchen. 
 A staple on American Chinese restaurant menus, crab rangoons were likely invented by Victor Bergeron, the founder of Trader Vic's, sometime in the 1950s. Dipped in sweet chili sauce, it's hard to eat just one, and why should you when they are one of the few restaurant offerings you can successfully pull off with perfect results at home.
Take your cream cheese out a little ahead of time so that it softens and is easier to mix. You can use a 6-ounce can of white crab meat or packaged imitation crab. If you use imitation crab, be sure to shred it fully first. If you use canned crabmeat, drain it well before adding the cream cheese. There are many different ingredients that can be added to the crab and cream cheese filling, like garlic, ginger, chives, sesame oil, soy sauce, or sugar, but you can also make these with just crabmeat and cream cheese. If you'd like to make your filling a little sweeter, but don't want to add any sugar, try adding 2 tablespoons of finely grated carrot. It will be imperceptible in the finished wontons, but it gives them just the right amount of sweetness. 
You can find wonton wrappers in the refrigerated section of the produce area. If you don't use all of your wrappers, you can store them in the refrigerator for 7-10 days, or they can be frozen. Besides crab rangoon, there are many other ways to use wonton wrappers. You can make wontons for soup, dumplings (shumai), potstickers, or baked wontons. Or get creative and make mini quiche, apple pie cups, ravioli, samosas, or mini tacos. I had about 10 wrappers left, and am planning some bean and cheese empanadas that will bake in the air fryer. There isn't anything these delectable little wraps can't do, so be imaginative and put those remaining wrappers to good use! 
I formed my rangoons tortellini-style, but you could also make them in a purse shape, by bringing all four corners to the center and pressing the adjacent edges to seal. You do not want any excess air inside the wontons and to be sure to seal all edges so that the filling doesn't leak out when they are frying. Use a high smoke point oil, like canola or vegetable, in a pot large enough to submerge the wontons fully. Ease the wontons gently into the oil to avoid splashing. Chopsticks are a handy way to move the wontons around and turn them as they cook.
Use extra caution when working with hot oil. Keep the pot handle turned in so that it doesn't extend over the counter's edge. Once the oil starts heating, do not leave the stove and don't let the oil heat above 375ºF. Keep a lid next to the stove top for smothering flames and use a fire extinguisher, never water, to extinguish a grease fire.
While these are best eaten immediately, resist the urge to eat them as soon as they are coming out of the oil. The creamy filling is molten hot, so let them cool off a bit first. Cover and store any leftovers in your refrigerator. They will reheat perfectly on a foil lined baking sheet in a 350º F oven, warmed for about 5 to 7 minutes, or the air fryer set at the same temperature for 2-5 minutes, or until warmed through. 
Try these at home. You'll be glad you did! 
Crab Rangoon (Crab and Cream Cheese filled Wontons)
6 ounces imitation crab, or 1 6-ounce can white crabmeat, well drained

 

1 8-ounce package cream cheese
1 Tablespoon chopped chives
1/2 teaspoon garlic powder
1/2 teaspoon sesame oil
1 teaspoon soy sauce (optional)

 

2 Tablespoons finely shredded carrot (optional)
1 14-ounce package wonton wrappers
canola or vegetable oil, for frying
sweet and sour sauce, for serving
Set out a small, prep-size bowl of water and a pastry brush, a sheet pan to place wontons on as you work, and another sheet pan with a cooling rack placed over it for the hot wontons. 
Place crab in a medium bowl and shred. Add cream cheese, chives, garlic powder, sesame oil, soy sauce and carrot (if using) to bowl and combine thoroughly with crab; mix evenly. 
Set out 3 wonton wrappers. Place 2 teaspoons filling into the center of each wrapper. Lightly brush the edges of one wonton wrapper with water. Bring two opposite points together and press corners together. Bring other opposite edges together to create a purse shape. Removing as much air as possible, seal the long side edges together. Repeat with remaining wrappers, placing on sheet pan as you work.
Heat oil in a large pot, dutch oven, or wok until it reaches 350º F (do not exceed 375º F). Add 4 wontons to the hot oil, pushing them down to completely submerge them. Deep fry until they become a golden brown color, about 1 to 1 1/2 minutes. Remove from oil using tongs or a metal spyder then transfer wontons to the cooling rack set over a sheet pan. Repeat with remaining wontons. Serve immediately with sweet and sour sauce for dipping.