Cornmeal-Berry Sheet Cake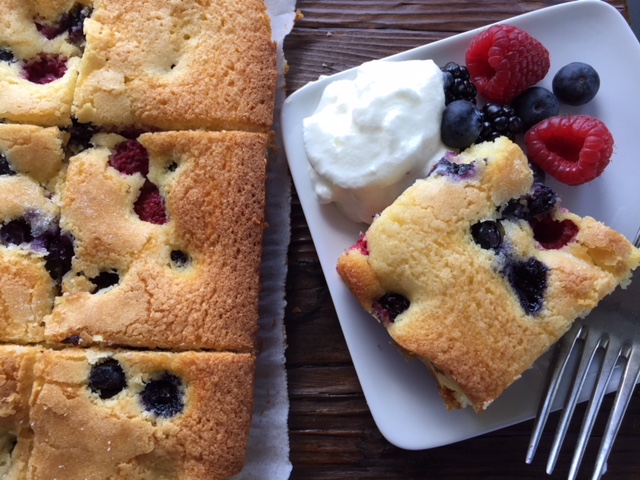 Hel-lo, berries!  I can't tell you how happy I am to see you again.  There are so many things I can't wait to do with you.  Now where do we begin?
Every year, I eagerly wait for the berries to return.  Once they do, the berry bowl stays permanently parked in a spot behind the sink, where it can get easily used for rinsing bowl after bowl all summer long.  Northwest berries are big, beautiful and plentiful.  If you love berries, this place is heaven.
Most of the time, I just rinse and serve, right out of the berry bowl.  Sometimes, I add whipped cream or ice cream, or put out some cookies to go alongside.  Before the summer's over, there will be pies, crumbles, muffins, pancakes, cakes, smoothies, jam, and lots of berry laden salads.  Berries will sneak their way onto fruit plates and caprese salads.  Any berries that manage to remain will get rinsed and frozen, tucked away in the deep freeze to sustain us, and our oatmeal, through the winter.
For now, put those red and blue beauties into a beautiful display, stunningly patriotic and ready to serve for your Memorial Day barbecue.  This Cornmeal-Berry Sheet Cake from Martha Stewart is the perfect recipe to welcome all the berries back into your life and kick your summer off to a perfect start.
Cornmeal-Berry Sheet Cake
1  1/2 sticks unsalted butter, room temperature, plus more for pan
1  1/2 cups all purpose flour
3/4 cup fine yellow cornmeal
1  1/2 teaspoons baking powder
3/4 teaspoon coarse salt
1  1/2 cups plus 2 tablespoons sugar
3 large eggs
1  1/2 teaspoons pure vanilla extract
3/4 cup buttermilk
18 ounces  mixed fresh blueberries, raspberries, and blackberries (cut in half if large)
whipped cream, for serving
Preheat oven to 325º F.  Butter a 9×13 inch baking pan and line with parchment, leaving overhang on long sides.  Butter parchment.  In a medium bowl, whisk together flour, cornmeal. baking powder and salt.
Beat butter and 1 1/2 cups sugar on medium-high speed about 2 minutes, until pale and fluffy.  Add eggs, one at a time, beating well, scraping down sides of bowl as needed.  Beat in vanilla.  Add flour mixture in 3 batches, alternating with 2 batches of buttermilk and beating until just combined.  Spread batter in prepared pan.
Sprinkle berries over top, then sprinkle with remaining 2 tablespoons sugar.  Bake until golden brown and toothpick inserted in center comes out clean, about 1 hour.  Let cool completely on wire rack.  Remove cake with parchment and cut into pieces.  Cake is best served same day, with whipped cream and additional berries.
– recipe from marthastewart.com