Chocolate Dipped Strawberries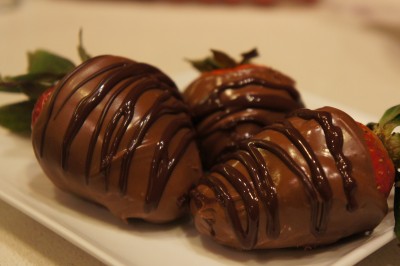 The stores are flooded with cards, candy and flowers, but nothing says "I love you" like something home made. You can find big, beautiful strawberries at the grocery store right now and make up a bunch of fancy, chocolate dipped ones in about 15 minutes. Making these with your kids, or someone special, is fun and easy, but you may want to keep them a secret and have it be a surprise.
Here's what you need:
1 bag of dark chocolate chips
1 bag of semi-sweet milk chocolate chips
Fresh strawberries
Rinse strawberries well and place on paper towel to let dry. Cover a rimmed baking sheet with wax paper and place in freezer to chill.  Pour half of the dark chocolate chips into a small glass bowl.  Pour half of the milk chocolate chips into another glass bowl.  Go over strawberries with a clean, dry paper towel to make sure they are fully dry, or the chocolate won't adhere and it will clump. Place dry strawberries on another dry paper towel.
Melt dark chocolate in microwave on high for 20 seconds, then stir well with a metal spoon. Continue to microwave at 10-second intervals, stirring after each interval until well melted. Remove wax lined baking sheet from freezer.  Holding strawberry by stem, use spoon to coat both sides in chocolate leaving just a bit of strawberry with no coating peeking out by the stem.  Place on baking sheet to set up and harden. Repeat with half of strawberries. Melt milk chocolate and do the same as above with remaining strawberries.  Wait for all of the chocolate to set up before drizzling each berry with the contrasting chocolate.  Share with someone special and make them feel very loved!
Note: Make sure to avoid getting water in your chocolate and use a clean, dry metal spoon to stir with.  You could use any chocolate for this recipe – special baking bars, or even some leftover candy bars, but I used chocolate chips (Ghirardelli) for ease and speed of melting.  You can also melt chocolate using the double boiler method, but this is all about fast and easy! drizzled the contrast off the tip of a spoon, but you can pipe it through a tube or put it in a small Ziplock bag and cut a hole in the bottom corner.  You may have to re-melt your chocolate a bit, as it may harden while you're waiting for the strawberries to set up.  You can also decorate these with chopped nuts or bits of another chocolate.  Enjoy!