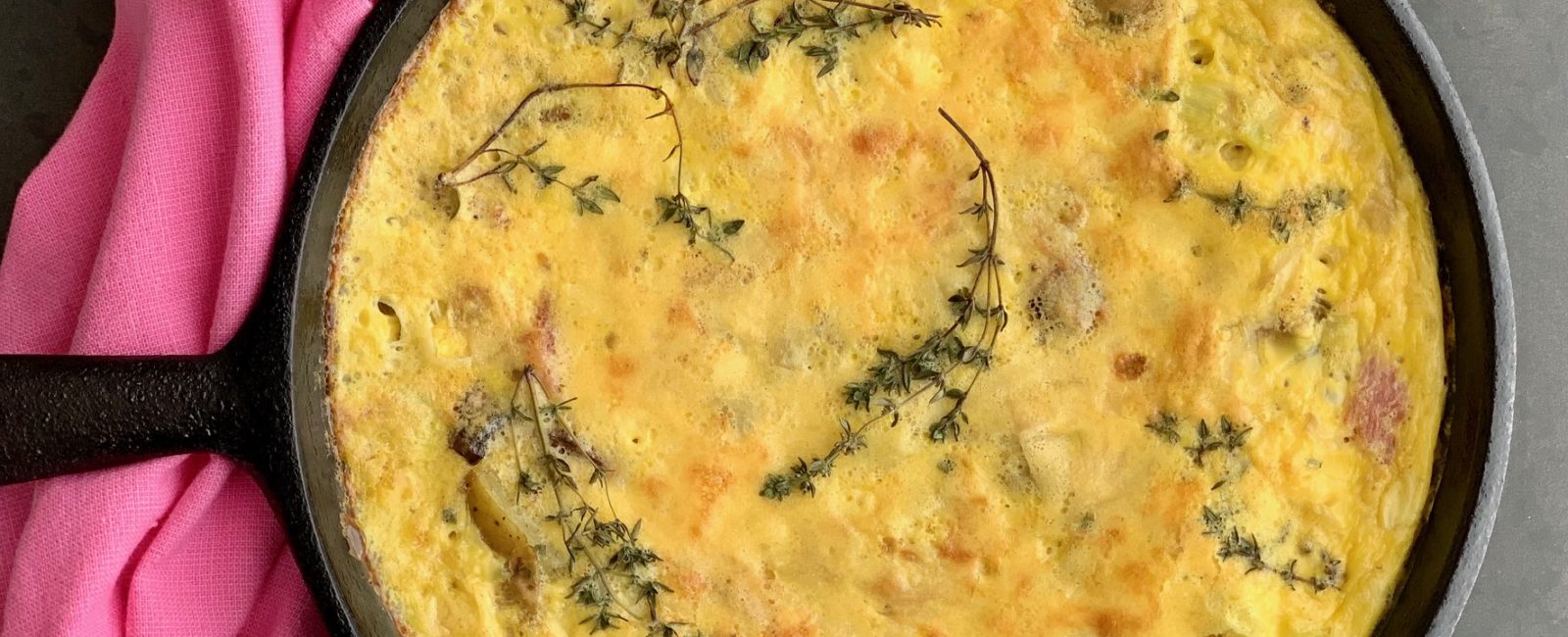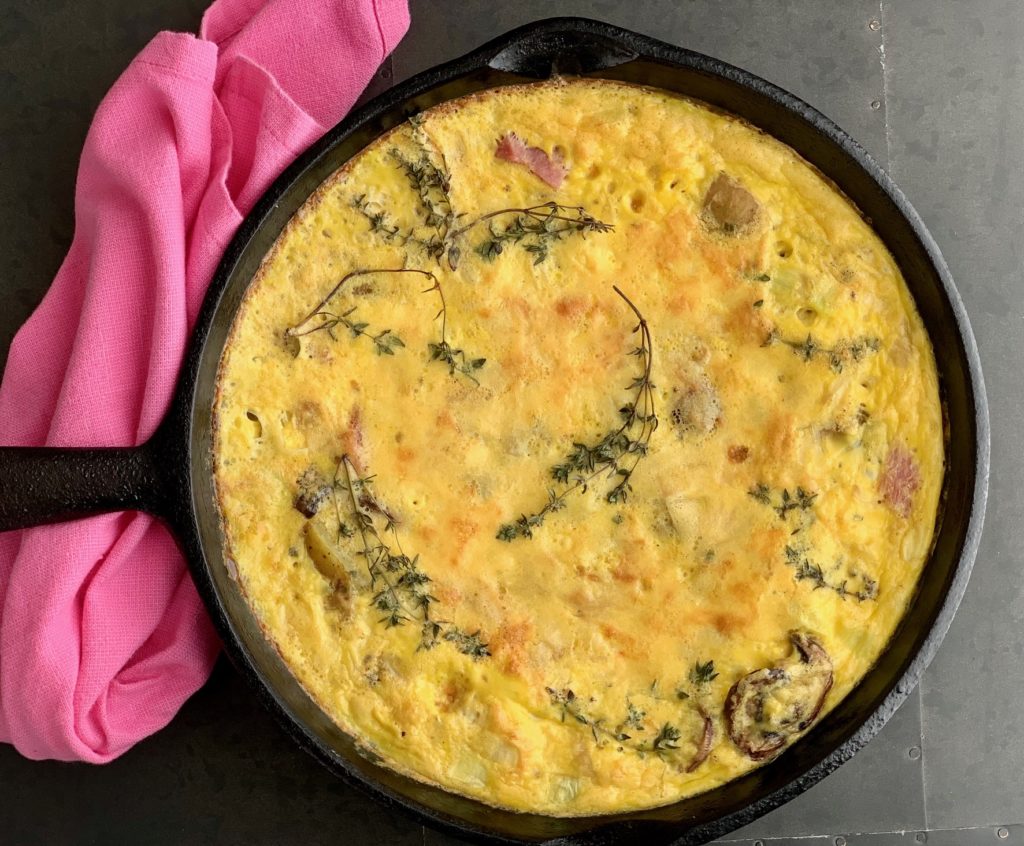 Looking for an easy add in for your holiday table? Your celebration needs a frittata. Welcome spring vegetables and make a statement with this easy-to-adapt dish that is perfect for Easter and kosher for Passover. This one dish wonder is seriously simple. If you've got eggs you're good to go. Whether you showcase what you sourced from the farmer's market or flaunt the first tender herbs that are growing in your garden, a frittata is a pretty spring dish that deserves a spot on your table. 
Infinitely adaptible to whatever you may have on hand, it's an easy way to transform whatever it is you may have right this minute into breakfast, lunch, or dinner. A bit of ham, some bell pepper, diced green onion and a toss of some kale quickly becomes this morning's easy breakfast and if you're lucky, tomorrow's easy lunch.
Make it a bit lighter if you like by using egg whites in place of some of the eggs. The add-in possibilities are endless. Try ham, bacon or sausage if you're not sticking to just vegetables. Add in cooked potato, like leftover hash browns, french fries, roasted or even mashed potatoes. Roasted or sautéed vegetables like kale, chard, asparagus, mushrooms, bell pepper strips or zucchini, or a handful of fresh, tender spring spinach are all possibilities. Sautéed onions or leeks, and maybe some fresh tomato? And then your choice of cheese: gruyere, goat, cheddar, mozzarella, ricotta, along with some parmesan. How about a spring combination of leeks, asparagus, mushroom, new potato, ham and gruyere? You can serve this for the holiday, or use your holiday leftovers to make this the next day.  
Use the recipe below as a starting point. Your add-ins need to be cooked, but you can sauté everything in an ovenproof skillet making this in one dish and lightening your cleanup.  You can make it ahead.   Serve it hot, warm or at room temperature, there is no wrong way to do it, except if you aren't doing it at all. Travels and reheats well, making this a dish you can share, too. 
So why scramble? Fancy, frugal or freelance a frittata is a dependable dish you can make in no time. Happy Spring! 
Cheese Frittata
1 Tablespoon olive oil
1/2 onion, sliced
sea salt and freshly ground black pepper
6 to 8 eggs, or eggs plus egg whites
1/2 cup grated Parmesan or other cheese
Preheat oven to 350º F. Put 1 tablespoon olive oil into a large skillet and use a brush to coat the entire bottom surface and sides of pan. Heat pan over medium-high heat, then add onion. Sprinkle with salt and pepper and cook until soft, about 5 minutes. 
Beat eggs lightly in a bowl until just combined. Pour eggs over onions, rearranging with a spoon if necessary so that they are evenly distributed. Sprinkle with cheese and cook 5 to 10 minutes, until eggs are barely set. 
Transfer to oven and cook until edges brown and frittata puffs, about 5 minutes more. Broil for a minute or two, if desired. Cut into wedges or squares. 
– adapted from recipe in How To Cook Everything, Twentieth Anniversary edition