According to a recent survey by ebates.com, the gift most mom's want is more time with their family.  (A clean house ranked second, and a spa day ranked third.)   I think what mom's want most is to feel special and to know how much they matter to you.  And a bit of pampering never hurts, either.  A great way to do all of this is to make mom a special breakfast.  This can be something you prepare entirely yourself, or you can get a little help from the grocery store or bakery.
Breakfast in bed is especially nice, and mom's with small children find this to be the best gift ever.  Any large tray will do, but line it with a pretty dishtowel, nice cloth napkin, or placemat.  Set the tray with a napkin, fork, knife, and spoon.  You don't want mom to have to get out of bed, or try to figure out how to butter her toast with just the spoon you gave her.
You can buy flowers from the store, and all mom's love that, but give those as a gift.  Have your kids pick flowers from your yard to make up a small bouquet for the tray.  Just one rhododendron blossom is colorful and pretty.  You can use a small vase if you can find one, and if not, a nice juice glass or small jelly jar or bottle will work.  Be creative!
Now assemble the breakfast, making sure to personalize things.  Maybe your mom likes scones, or bagels, or maybe she likes donuts from a certain shop, or crumpets (you can find these at Trader Joe's). This is where you can get some help from the bakery or grocery store.  You will need to pick this up ahead of time, but that is what makes this breakfast so heartwarming —that you thought ahead about making mom feel special.
Other special breakfast ideas:
a

bowl of cereal, granola, or oatmeal with toppings
a small bowl of berries or cut fruit 
home made special pancakes* or waffles (or heat up store bought frozen ones)
a poached egg, or make a breakfast sandwich or an easy egg cup (instructions for both on my blog)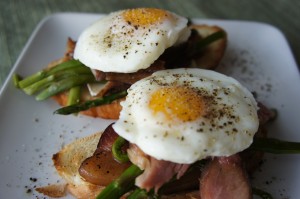 Kids can hand squeeze orange juice.  Barista dads can brew up mom's favorite cappuccino, complete with her steamed milk of choice.  If mom likes tea, give her a tea bag and a mug of hot water.  If you have a teapot, or coffee pot, you can include that, too, so mom doesn't have to get up for a refill.  Maybe dad has a small gift he can tuck into a box, or if the kids made something for mom at school, this is a great time to present it.  And don't forget mom's card.  If your kids made one, or can make one now, make sure they sign and write "Mom" on the envelope in their own handwriting.  Mom's love this.
The finishing touch – some special treat she likes – a single fancy chocolate, cookie, pastry, or beautiful cupcake.  What does your mom like?  And finally, the morning's paper, folded nicely, or maybe a magazine you know your mom likes.  You want mom to relax and enjoy her breakfast leisurely.
This does not have to cost a lot of money, and can be just as simple as a few things off the list above.  The true beauty in this is that it comes from the heart.  You mom will appreciate the effort you took, and all the thought you put into gathering the things she loves to treat her to such a special morning.  Remember to give her a big hug when you come to collect the tray, thank her for being such a great mom, and tell her how very, very much you love her.
*Bob's Red Mill has lots of nice mixes to speed up your pancake and waffle making.  I made these with the High Fiber Whole Grain Pancake and Waffle Mix.  You can stir in blueberries, chopped nuts, or chocolate chips, and don't forget to warm the syrup!