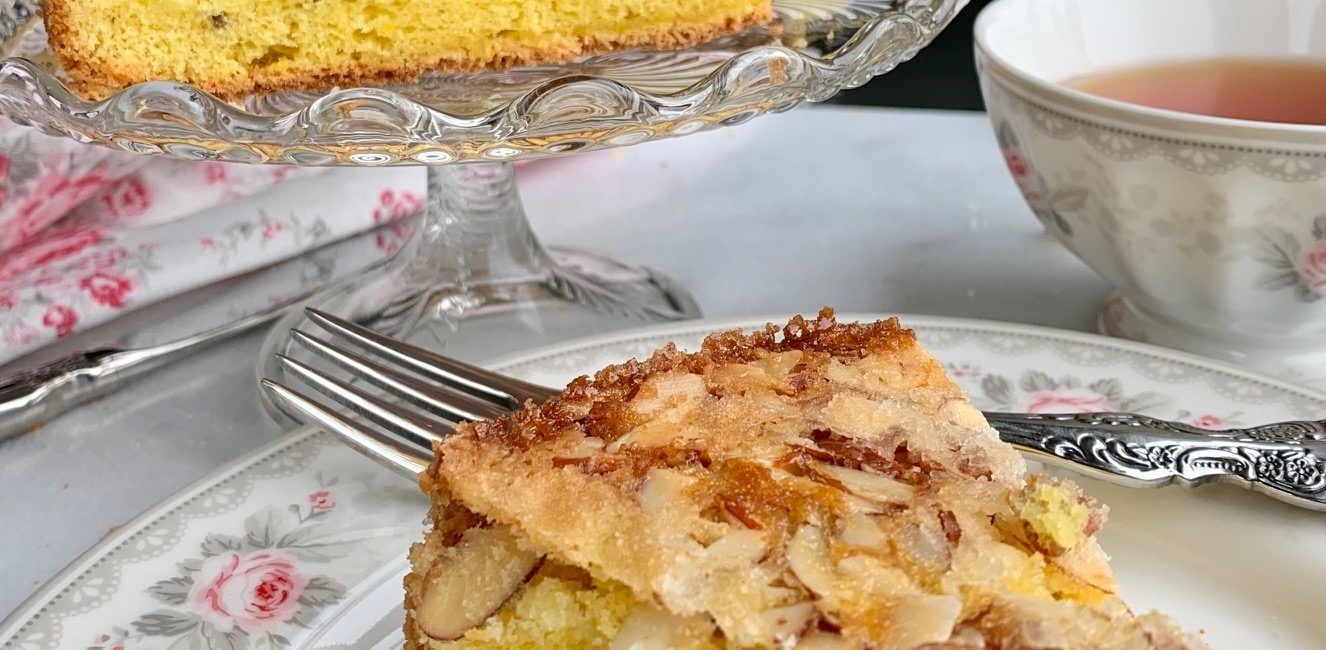 If there is such a thing as cake perfection, this is it. Only seven ingredients, incredibly easy to make, it's brilliantly simple but it's intriguing. With a crackly almond top and a crumb dotted with bursts of floral-sweetness from the cardamom, it just feels fancy. This is the one recipe Alice Waters couldn't live without and after you try it, you'll see why. 
Start by coating your pan with butter and sugar. This is what gives the cake its amazing crust and also what helps to release it from the pan. If your springform pan isn't non-stick, use a parchment paper disk in the bottom of your pan. Prep your pan over the sink so that any sugar that gets away goes there, not on your floor.
Cardamom seeds are increasingly easy to find, but if you are using the whole pods you can crush them with a mortar and pestle, chef's knife or a heavy skillet. Remove the small seeds from their papery pods, then use the same method to bruise the seeds. You can also use 2 teaspoons of ground cardamom, but the seeds are what give the little pops of mystery in each bite. Use a stand mixer, or if you are looking for a little arm exercise, a hand mixer. Because this cake does not have chemical leaveners, aka baking soda or powder, all of the leaving will come from whipping – 5 whole minutes. There's a great video on food52.com where you can watch the cake being made. 
Try it with your tea. Dash it to a friend's door. Make it for your Mom. It feels special because it is. Happy Mother's Day!
Cardamom Cake 
1 1/3 cups (264 grams) granulated sugar, plus 3 Tablespoons more for pan
3/4 cup (65 grams) sliced unblanched almonds (optional)
4 large eggs
1 1/3 sticks (150 grams) unsalted butter
1 Tablespoon (9 grams) cardamom seeds
1 1/3 cups (160 grams) all-purpose flour (Bob's Red Mill One to One Baking Flour for gluten-free)
2 pinches salt

 
Preheat oven to 350º F. Liberally butter a springform pan, then sprinkle with 3 tablespoons of sugar. Shake and tap pan until bottom and sides are coated with sugar, leaving any extra sugar in the bottom of your pan. Cover the bottom with sliced almonds, if using. 
Combine eggs and sugar in the bowl of a stand mixer. Cream until thick, pale and tripled in volume, about 5 minutes. Melt butter in a small saucepan. Bruise cardamom seeds in a mortar. Using a rubber spatula, quickly fold the flour and salt into the egg and sugar, followed by the butter and cardamom. Stir batter thoroughly before pouring into prepared pan. Thump pan on counter to settle batter.
Bake until top of cake feels dry to the touch and springs back lightly when pressed, or tester inserted in center comes out dry, about 30 to 35 minutes. Remove from oven and leave in pan for 5 minutes. Run a knife around sides of pan to loosen; invert on rack to cool. Carefully remove bottom of pan while cake is still very warm. Let cool before cutting. 
– recipe by Niloufer Ichaporia King