Broccoli Salad With Peanut Dressing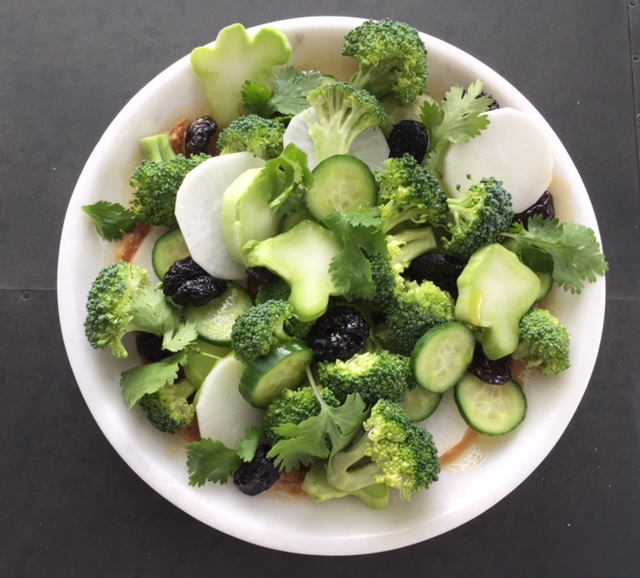 Ahhh…. grilling season.  With the warmer weather, more of the cooking and eating moves outdoors and who doesn't love that?  It's not hard to think of something that sounds good.  A steak?  Some chicken?  But what do you put with it?  I made this salad for a side dish and loved it.  The creamy peanut dressing gives it a decidedly Thai flavor, the broccoli, daikon, and cucumbers give it crunch, and the dried cherries give it a bit of unexpected sweetness.  If you use tamari you can make it gluten-free.  It was delicious as is, but I think the next time I make this, some sliced snap peas could be a nice addition.  I could also see adding some chili oil or Sriracha to the peanut dressing to make it a little spicy.
I love that this salad uses every bit of that fresh broccoli, no stem wasting here.  I had extra florets and stems, so I stored them, washed and cut up, in a zip top bag in the fridge.  The stems were good dipped into hummus, and I even had enough left over to stir fry with the florets for another meal.
This salad will hold up to summer heat and can sit for a while on that picnic table.  Also, it will travel well – no worry of wilt.  You can make it ahead of time, completely plated, and keep it covered in the fridge with no worries.  The dressing can be made up to a week ahead if you are a super planner.  C'mon summer.  We're ready for you.
Broccoli Salad with Peanut Dressing
Dressing
1/4 cup natural creamy peanut butter
2 tablespoons unseasoned rice vinegar
1 tablespoon soy sauce
1 teaspoon sugar
1 teaspoon toasted sesame oil
1  1/2 inch piece ginger, peeled, finely grated
Kosher salt
Salad and Assembly
2 small heads of broccoli (about 1 lb. total)
2 small Persian cucumbers, thinly sliced
1  3" daikon, peeled, thinly sliced
3 tablespoons extra-virgin olive oil
2 tablespoons unseasoned rice vinegar
Kosher salt
2 tablespoons dried, tart cherries
cilantro sprigs (for serving)
For dressing:
Whisk peanut butter, vinegar, soy sauce, sugar, oil, ginger and 2 tablespoons water in a medium bowl until smooth.  Season with salt.  Dressing can be made up to 1 week ahead.  Cover and chill.
For salad:
Slice broccoli stems from florets.  Cut larger florets into bite-sized pieces.  Peel stems and thinly slice. Combine florets, stems, cucumbers, daikon, oil and vinegar in a medium bowl.  Toss to combine and season with salt.
Spoon peanut dressing onto a platter and arrange salad over.  Top with cherries and cilantro.
– recipe by Chris Morocco, as seen on Healthyish, by Bon Appétit