Beef and Guinness Stew with Irish Champ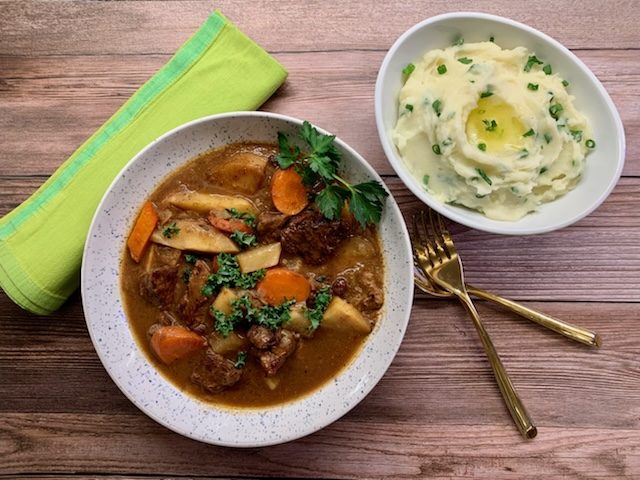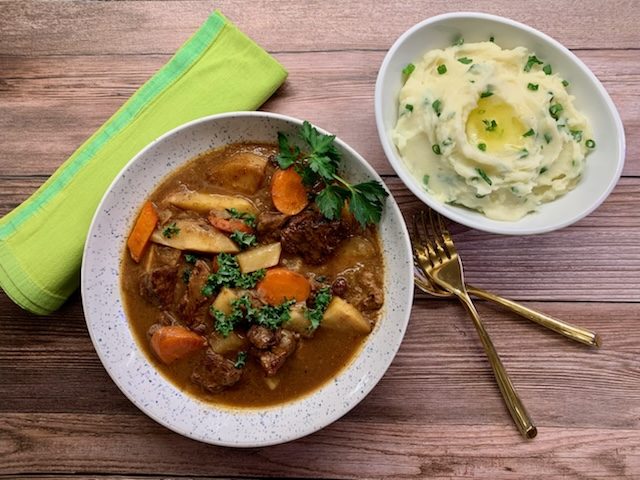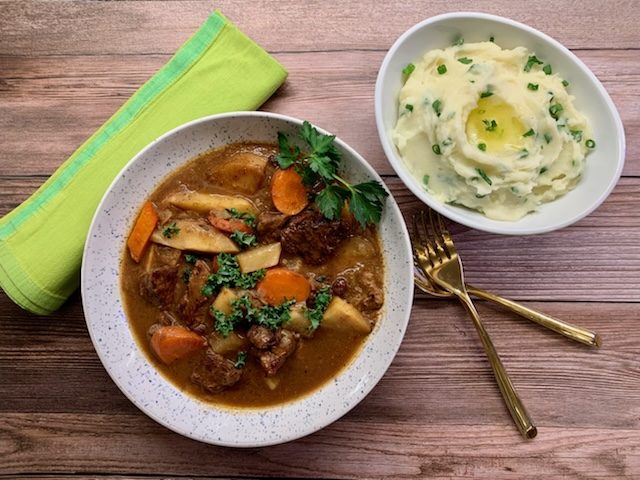 Bring on the green! Rain soaked days and unpredictable weather call for satisfying sustenance. You need hearty dinners to help you get through the end of winter. A simmering pot of stew cooked low and slow soothes your soul and warms your senses. Served piping hot and spooned over a pillowy bed of mashed potatoes, it's pure comfort. Here are two Irish dishes guaranteed to bring a smile to your St. Patrick's Day.
Champ is a traditional Irish dish of mashed potatoes, scallions, butter and milk. While the source of the name is uncertain, it may be derived from an old Scottish dialect word meaning to mash or crush. This potato dish pairs well with fish or roasted poultry, and it's a classic accompaniment for stew. Make it as is directed below, or you can lighten it like I did by using 1/2 cup reduced fat milk plus 1 teaspoon Better Than Bouillon Reduced Sodium Chicken Base mixed with 1/2 cup water. Measure all of these into a Pyrex glass liquid measuring cup, then add 2 tablespoons of butter. About 5 minutes before potatoes are ready, microwave on high power for 1 1/2 minutes, or until butter has melted and liquid is warmed. Plan on roughly 20 to 30 minutes of cooking time for your potatoes, depending on how small you cut your chunks. Your potatoes are done when they break apart easily when pierced with a fork.
This Beef and Guinness Stew is perfect for a rainy weekend. Start this hearty dinner earlier in the day or make it when you aren't time crunched. The prep time takes about 30 minutes, but the stew cooks for 3 hours, leaving you free to do other things while enjoying the delicious aroma of slow simmered food. Root vegetables shine in this wintry stew. The ingredient list is simple, but deliberate, and each element imparts distinct flavor to the finished dish. Brown the cubed beef in batches, being careful not to crowd your pan, and don't rush to stir or turn your meat. Leave it undisturbed and let it brown until it readily releases. This will help you get a nice sear on the meat and help it caramelize, adding extra flavor. Don't worry about getting the cubed meat browned on all sides. If you are able to get a good sear on even one side, it will suffice. 
Aside from the deep brown coating on the meat, you will notice some toasty little bits on the bottom of your pot. These will further flavor your stew when you add stout and deglaze. Five cups of onion sounded like an awful lot, so I used only 2 1/2 cups, half of what was called for, in this recipe. The finished stew was loaded with tender chunks of beef and fork soft vegetables surrounded by a rich, flavor filled broth. Spooned over a pillowy portion of champs, it was delicious. Add this to your menu this week. It might outshine the corned beef. 
Beef and Guinness Stew
3 Tablespoons canola oil, divided
1/4 cup all-purpose flour (1.1 oz)
2 pounds boneless chuck roast, trimmed and cut into 1-inch cubes
1 teaspoon salt

 

5 cups chopped onion
1 Tablespoon tomato paste
4 cups fat-free, lower-sodium beef broth
1 11.2-ounce bottle Guinness Stout
1 Tablespoon raisins
1 teaspoon caraway seeds
1/2 teaspoon black pepper
1 1/2 cups (1/2-inch thick) diagonal slices carrot
1 1/2 cups (1/2-inch thick) diagonal slices parsnip
1 cup (1/2-inch) cubed peeled turnip
2 Tablespoons finely chopped fresh flat-leaf parsley
Warm 1 1/2 tablespoons oil in a Dutch oven over medium-high heat. Place flour in a shallow dish. Sprinkle beef with salt, then dredge beef in flour. Add half of beef to pot and cook, turning to brown and sear on all sides. Using a slotted spoon, remove meat from pot. Repeat with remaining 1 1/2 tablespoons of oil and beef; remove beef from pot. 
Add onion to pan and cook, stirring occasionally, 5 minutes or until tender. Stir in tomato paste; cook 1 minute more, continuing to stir. Add beef broth and beer, using spoon to scrape bottom of pot and loosen any browned bits. Return meat to pan, then stir in raisins, caraway seeds, and pepper; bring to a boil. Reduce heat, cover, and let simmer 1 hour, stirring occasionally. Uncover and bring to a boil, then cook 50 minutes, stirring occasionally. 
Add carrot, parsnip and turnip; cover and reduce heat to low. Simmer for 30 minutes or more, stirring occasionally, until vegetables are tender. Sprinkle with parsley. 
– Cooking Light, September 2021
Irish Champ
1 1/2 pounds russet potatoes, peeled and cut into chunks
2 medium sprigs thyme
1/2 stick (2 ounces) butter
1 cup cream (or 1/2 cup milk and 1/2 cup half and half), plus more as needed
6 spring onions, green part only, thinly sliced
1 Tablespoon chopped parsley
salt and freshly ground black pepper
Fill a large pot with enough water to cover bottom, about 1 1/2 inches deep. Set a steamer basket into pot, then place potatoes and thyme sprigs into steamer basket. Cover and steam until potatoes are tender and soft. Remove and discard thyme sprigs. 
Heat butter and cream in a medium saucepan over low heat until warm. 
Push warm potatoes through a ricer, or use hand mixer set on low speed to mash, blending in warm cream and butter mixture a bit at a time. Mix until soft and smooth, being careful not to over mix. Stir in green onions and parsley. Taste and adjust seasoning with salt and pepper. Serve with Beef and Guinness Stew.   
– recipe by Catherine Fulvio