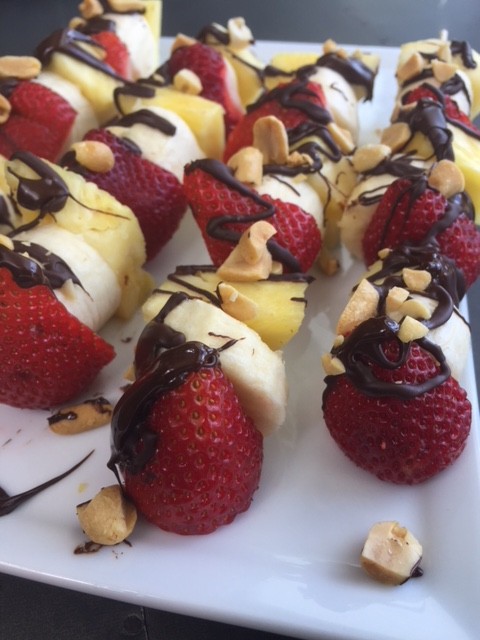 Say goodbye to those school books and celebrate the first days of summer…   Dads, Grads, and everyone else will love these easy Banana Split Kebabs.  Fun to eat and a breeze to make, add these to the menu for your next get together.   If you don't want to serve these frozen, make them close to serving time.  For a fun kids activity,  cut the strawberries and pineapple and store, covered, in the fridge.  Chop the nuts and have the chocolate ready to melt.  The recipe calls for chocolate chips, but you can use any kind of chocolate you like, as long as it is cut into small chunks before you microwave it.  Let kids cut the bananas and thread the fruit onto skewers.  They can drizzle the melted chocolate and sprinkle the chopped peanuts on the finished kebabs.  Otherwise, make them ahead and freeze.  Remove from freezer and let thaw slightly before serving.
Banana Split Kebabs
2 bananas, cut in 1-inch pieces
24 1-inch pieces of fresh pineapple
12 large strawberries, rinsed, dried and halved
2 cups chocolate chips
1/2 cup peanuts, chopped
12 skewers
Thread pieces of banana, pineapple and strawberry onto each skewer, repeating process to assemble remaining skewers.  Place skewers on parchment lined baking sheet.
In a microwave safe bowl, melt chocolate in microwave in 30-second intervals, stirring in between until completely smooth.
Drizzle chocolate over fruit kebab and top with chopped peanuts.
– from Banana Split Kebabs, Today.com